Welcome FOSSlife! A new web magazine is born
Submitted by Roy Schestowitz on Monday 1st of June 2020 06:11:52 PM
Filed under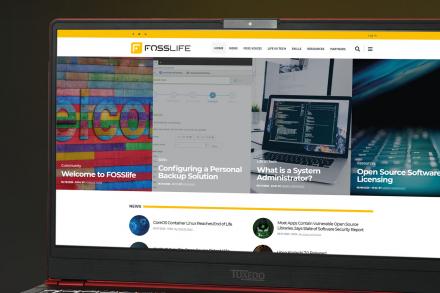 With FOSSlife, a new web magazine was launched today. It's a destination for all who care about the FOSS community and want to follow the trends, tools, projects, programs, and people who define the FOSS experience. The FOSSlife project is proudly supported by Linux Professional Institute (LPI) which is happy to provide a home to this new resource for all existing and future FOSS professionals and enthusiasts.
The FOSS life is about community, it is about advocacy, and it is about bringing people together and building sustainable, accessible solutions. Everyone is invited to become part of this community, which stands for openness and equality like no other. FOSSlife is intended to be a new place to go, both for experienced experts and for those who are interested in the subject and just starting to come to grips with it.
"At the Linux Professional Institute, we are committed to spreading FOSS knowledge as well as the spirit which helped free and open source technology become a worldwide phenomenon," said G. Matthew Rice, Executive Director of the Linux Professional Institute. "It is our mission to promote the use of free and open source by elevating the people who work with it. FOSSlife fits perfectly into this mission, as it helps us share, bundle, and disseminate knowledge about free and open source software and inspire people who are searching for their own approach in gaining this expertise."
»
Printer-friendly version

2093 reads

PDF version
More in Tux Machines
Mozilla Explains VPN and Neglects GNU/Linux

Many of us spend multiple hours a day using the internet to do everyday things like watching videos, shopping, gaming and paying bills, all the way to managing complex work projects and having confidential video calls. A virtual private network (VPN) is one of the best ways to stay private and secure online, and keep your personal data protected. [...] Connecting to a public WiFi network is at times convenient, like when you're without internet service or can't get any bars on your phone. On the other hand, connecting to public WiFi can be a risky endeavor. It's impossible to be sure that someone else isn't connecting to the same network to snoop on what you're doing. Even if your traffic is encrypted they can still see which sites you are visiting. And if you're using an app that doesn't have encryption — and even today, many don't — then they can see everything you are doing. When you're at home, the risk of bad actors showing up on your home network is lower. However, your internet service provider (ISP) can track and share your online activities because all the data that you access on the web is routed through your ISP's network, some of which may not be encrypted. A VPN can prevent ISPs from spying on you by encrypting your traffic to your VPN provider no matter where you are.

Mozilla's VPN service has officially launched in six countries, but Linux users will find they can't take advantage of the tech just yet. The new subscription-based privacy service is available to web surfers in the USA, the UK, Canada, New Zealand and several other locales from today. But, frustratingly for tux fans, it requires a Windows, Android, and/or iOS system to use. The good news is that Mozilla VPN Linux support is on the way. The company hasn't shared an exact timeline on when to expect it but says it is "coming soon" to more devices and platforms. The benefits of using a VPN are fairly well known at this point: better security on public wi-fi; anonymous surfing and no IP logging; and network-level encryption. And since Mozilla VPN runs on over 280 servers in 30+ countries it should provide dependable with less downtime too.

Purism "Investing in Real Convergence" and Purism Librem 14

Like "privacy" and "security" the word "convergence" has become a popular term these days. When words like these become popular, companies tend to redefine them to match whatever they happen to sell. For instance when Google says they protect your privacy they mean "from everyone but us." When Apple says they are secure, they mean "as long as you give us full trust and total control." When most people think of the promise of convergence they think of what I'll refer to as "real convergence"–the idea of a single, portable computer that has your data and applications and that can be a desktop computer, a laptop or a pocket computer. To summarize: real convergence means taking your desktop computer with you in your pocket wherever you go. Fake convergence is the opposite: stretching a phone to fit on a larger screen.

The next generation of Librem laptop brings a lot to the table. Gigabit throughput over native RJ45 enables you to enjoy blazing-fast download speeds, security, and reliability. Compared to the Librem 13, the Librem 14 has a similar device footprint while the Intel 10th Gen Comet Lake i7 is much more powerful.

Approved: Fedora 33 Desktop Variants Defaulting To Btrfs File-System

The Fedora Engineering and Steering Committee formally signed off today on allowing Fedora 33 desktop variants to default to using the Btrfs file-system rather than the existing EXT4 default or other alternatives. About a decade after the Btrfs default for Fedora was originally proposed for multiple release cycles, with the Fedora 33 release due out this autumn is when that milestone may finally be realized. Of course, if issues come up with the Btrfs usage of Fedora, the change could still be reverted, but FESCo gave the go-ahead. As stated, this default change just affects desktop variants of Fedora 33 like Fedora Workstation. [...] Fedora developers are still evaluating possible transparent file-system compression and other features that could get flipped on for Fedora 33. So as it stands now desktop variants of Fedora 33 are positioned to be using Btrfs by default now that FESCo has formally granted approval but we'll see if any issues come up between now and the anticipated October F33 release.

Don't let proprietary digital voting disrupt democracy

Here at the Free Software Foundation (FSF), we fight for the freedom of all software users. We believe that everyone has the right to understand and study the systems that they use, and that not being able to exercise this right is a violation of our freedom. This applies to our personal software usage, but becomes even more important in processes of democracy. It is particularly relevant for the upcoming November 2020 elections in the United States. A free country has the responsibility to make sure all of its citizens can be heard, and that voting processes are transparent and fair. So what happens if people are still self-isolating in November, in order to try and prevent a second wave of the novel coronavirus? As more of our life processes have gone online due to the pandemic, we have seen debates rise over a call for mail-in voting. This discussion seems to be clearing a path for a renewed interest in online voting software as a remote alternative to in-person voting. This is cause for grave concern. I am arguing in this post that it is essential that software used in any part of the voting process be published free software. It is unacceptable for such an important democratic system to be placed in the hands of any for-profit, proprietary software corporation that controls the source code, data management, reporting, updates, and testing. No good can come from requiring a court order to be permitted to study the source code of voting software in order to confirm the process is fair and democratic. But additionally, I might surprise the reader by laying out arguments to say that despite supporting the wish to increase access and ease for all eligible voters, the only truly free, ethical, and democratic voting system is actually a system that steers clear from using software.