Easter egg: DSL router patch merely hides backdoor instead of closing it
Submitted by Rianne Schestowitz on Tuesday 22nd of April 2014 11:35:15 AM
Filed under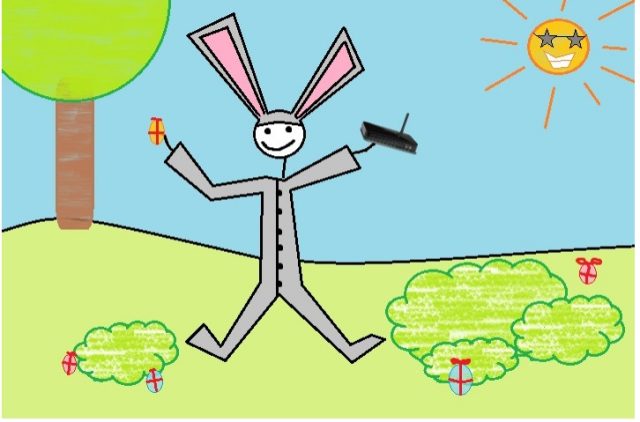 First, DSL router owners got an unwelcome Christmas present. Now, the same gift is back as an Easter egg. The same security researcher who originally discovered a backdoor in 24 models of wireless DSL routers has found that a patch intended to fix that problem doesn't actually get rid of the backdoor—it just conceals it. And the nature of the "fix" suggests that the backdoor, which is part of the firmware for wireless DSL routers based on technology from the Taiwanese manufacturer Sercomm, was an intentional feature to begin with.
Back in December, Eloi Vanderbecken of Synacktiv Digital Security was visiting his family for the Christmas holiday, and for various reasons he had the need to gain administrative access to their Linksys WAG200G DSL gateway over Wi-Fi. He discovered that the device was listening on an undocumented Internet Protocol port number, and after analyzing the code in the firmware, he found that the port could be used to send administrative commands to the router without a password.
After Vanderbecken published his results, others confirmed that the same backdoor existed on other systems based on the same Sercomm modem, including home routers from Netgear, Cisco (both under the Cisco and Linksys brands), and Diamond. In January, Netgear and other vendors published a new version of the firmware that was supposed to close the back door.
More in Tux Machines
New Releases

Notifications Without User Interaction on Ubuntu Are Annoying

The Unity desktop environment has a simple and rather ineffective system notification mechanism and it looks like that's not going to change, not even with the arrival of Unity 8.

Librem Linux Laptop Drops NVIDIA Graphics But Still Coming Up Short Of Goal

One of the oddest things I found about the crowd-funded Librem 15 laptop when writing about it last month was that it wanted to be open-source down to the component firmware/microcode yet they opted to ship with a NVIDIA GPU. In an updated earlier this month, at least they came to their senses and dropped the discrete NVIDIA GPU. While I have no problems recommending NVIDIA graphics for Linux gamers and those wanting the best performance, that's only when using the proprietary drivers, and certainly wouldn't recommend it for a fully open-source system -- NVIDIA on the desktop side doesn't do much for the open-source drivers, let alone down to the firmware/microcode level. Instead the Librem folks have opted to upgrade the design to using an Intel Core i7 4770HQ processor that features more powerful Intel Iris Pro 5200 Graphics, which isn't as powerful as a discrete NVIDIA GPU but at least is more open-source friendly.

Ruby 2.2.0 Released

We are pleased to announce the release of Ruby 2.2.0. Ruby 2.2 includes many new features and improvements for the increasingly diverse and expanding demands for Ruby.