Easter egg: DSL router patch merely hides backdoor instead of closing it
Submitted by Rianne Schestowitz on Tuesday 22nd of April 2014 11:35:15 AM
Filed under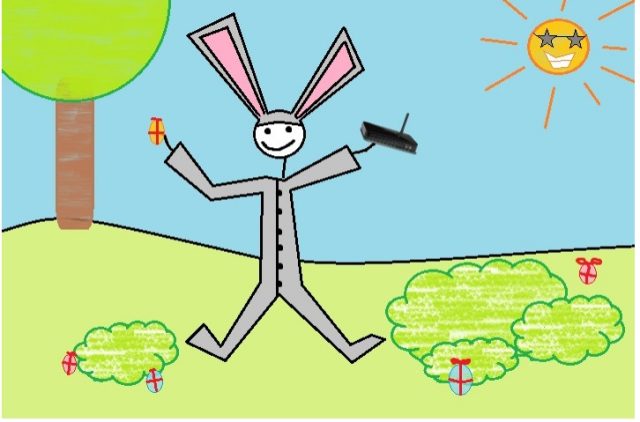 First, DSL router owners got an unwelcome Christmas present. Now, the same gift is back as an Easter egg. The same security researcher who originally discovered a backdoor in 24 models of wireless DSL routers has found that a patch intended to fix that problem doesn't actually get rid of the backdoor—it just conceals it. And the nature of the "fix" suggests that the backdoor, which is part of the firmware for wireless DSL routers based on technology from the Taiwanese manufacturer Sercomm, was an intentional feature to begin with.
Back in December, Eloi Vanderbecken of Synacktiv Digital Security was visiting his family for the Christmas holiday, and for various reasons he had the need to gain administrative access to their Linksys WAG200G DSL gateway over Wi-Fi. He discovered that the device was listening on an undocumented Internet Protocol port number, and after analyzing the code in the firmware, he found that the port could be used to send administrative commands to the router without a password.
After Vanderbecken published his results, others confirmed that the same backdoor existed on other systems based on the same Sercomm modem, including home routers from Netgear, Cisco (both under the Cisco and Linksys brands), and Diamond. In January, Netgear and other vendors published a new version of the firmware that was supposed to close the back door.
More in Tux Machines
Tiny, stackable, Linux-based IoT module hits Kickstarter

On Kickstarter, Onion launched a tiny, Linux-based "Omega" IoT module, along with a dock, stackable expansion modules, a cloud service, and web app tools. Onion's Omega joins a growing number of single board computers and computer-on-modules for Internet of Things applications that have tapped Qualcomm's MIPS-based, WiFi-enabled Atheros AR9331 system-on-chip. For a pledge of $25, Onion's Kickstarter campaign offers the Omega computer-on-module combined with a "dock" that turns it into an sandwich-style single board computer.

Development activity in LibreOffice and OpenOffice

The LibreOffice project was announced with great fanfare in September 2010. Nearly one year later, the OpenOffice.org project (from which LibreOffice was forked) was cut loose from Oracle and found a new home as an Apache project. It is fair to say that the rivalry between the two projects in the time since then has been strong. Predictions that one project or the other would fail have not been borne out, but that does not mean that the two projects are equally successful. A look at the two projects' development communities reveals some interesting differences.

11 Ways That Linux Contributes to Tech Innovation

Over the past six months I've asked new Linux Foundation corporate members on the cutting edge of technology to weigh in on what interesting or innovative trends they're witnessing and the role that Linux plays in them. Here's what engineers, CTOs, and other business leaders from companies including CoreOS, Rackspace, SanDisk, and more had to say.