Easter egg: DSL router patch merely hides backdoor instead of closing it
Submitted by Rianne Schestowitz on Tuesday 22nd of April 2014 11:35:15 AM
Filed under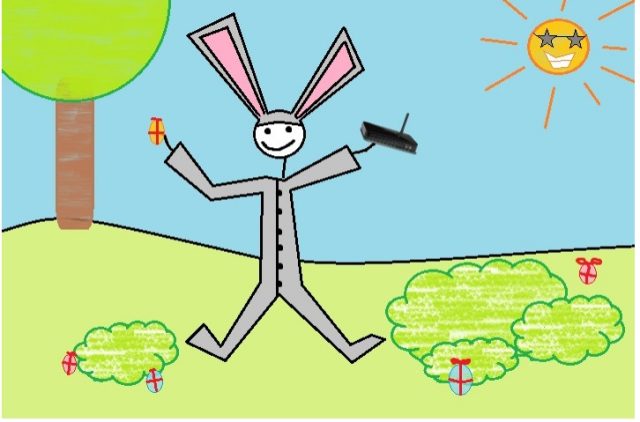 First, DSL router owners got an unwelcome Christmas present. Now, the same gift is back as an Easter egg. The same security researcher who originally discovered a backdoor in 24 models of wireless DSL routers has found that a patch intended to fix that problem doesn't actually get rid of the backdoor—it just conceals it. And the nature of the "fix" suggests that the backdoor, which is part of the firmware for wireless DSL routers based on technology from the Taiwanese manufacturer Sercomm, was an intentional feature to begin with.
Back in December, Eloi Vanderbecken of Synacktiv Digital Security was visiting his family for the Christmas holiday, and for various reasons he had the need to gain administrative access to their Linksys WAG200G DSL gateway over Wi-Fi. He discovered that the device was listening on an undocumented Internet Protocol port number, and after analyzing the code in the firmware, he found that the port could be used to send administrative commands to the router without a password.
After Vanderbecken published his results, others confirmed that the same backdoor existed on other systems based on the same Sercomm modem, including home routers from Netgear, Cisco (both under the Cisco and Linksys brands), and Diamond. In January, Netgear and other vendors published a new version of the firmware that was supposed to close the back door.
More in Tux Machines
today's howtos

Leftovers: Software

Yorba is pleased to announce the release of Geary 0.6.2 (All users are adviced to upgrade to this version) and 0.7.1, Yorba's next-generation mail client for GNOME 3.

Geary, a lightweight email program designed around conversations and built for the GNOME desktop by the Yorba software group, is now at version 0.7.1.

Rygel, a home media solution (UPnP AV MediaServer) that allows users to easily share audio, video, and pictures to other devices, is now at version 0.23.3.

Audacity's been around for a long time—since mid-2000—and for good reason. It's a relatively lightweight, open-source, and completely free audio editor that can handle pretty much every task you throw at it. Need to edit together a podcast? No problem. Looking to do some simple noise reduction? Looking to turn your PC into a music computer? Audacity's got you covered.

Userptr Support Set For AMD Radeon GPUs In Linux 3.18

While it was originally set for Linux 3.17, with the Linux 3.18 kernel that's still months away will be userptr support for the AMD Radeon graphics driver.

Rugged mini-PCs have four gigabit ports, run Ubuntu

Stealth.com has launched four rugged mini-PCs based on 3rd Gen. Intel Core CPUs, featuring four gigabit ports, Ubuntu, and optional PCI and PCIe expansion. The four new LPC480x models are the latest members of the Little PC family of mini-PCs from Stealth.com (formerly Stealth Computer), which include the circa-2011, Intel Atom D525 based LPC-125LPM. The company sells about 50 different LPC models available with Windows or Ubuntu Linux. The systems are designed for embedded control, digital signs, kiosks, mobile navigation, thin-clients, POS, and Human Machine Interface (HMI) applications.