Easter egg: DSL router patch merely hides backdoor instead of closing it
Submitted by Rianne Schestowitz on Tuesday 22nd of April 2014 11:35:15 AM
Filed under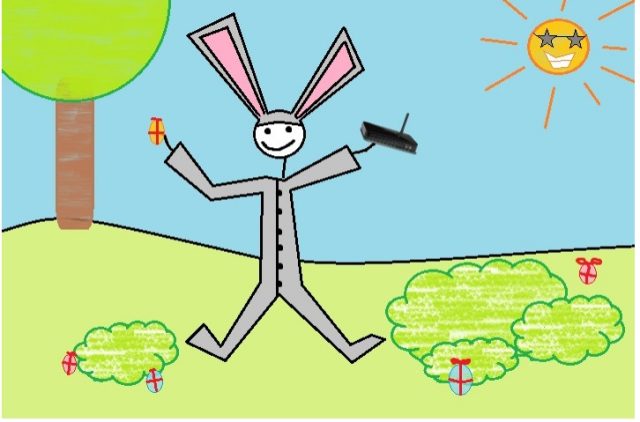 First, DSL router owners got an unwelcome Christmas present. Now, the same gift is back as an Easter egg. The same security researcher who originally discovered a backdoor in 24 models of wireless DSL routers has found that a patch intended to fix that problem doesn't actually get rid of the backdoor—it just conceals it. And the nature of the "fix" suggests that the backdoor, which is part of the firmware for wireless DSL routers based on technology from the Taiwanese manufacturer Sercomm, was an intentional feature to begin with.
Back in December, Eloi Vanderbecken of Synacktiv Digital Security was visiting his family for the Christmas holiday, and for various reasons he had the need to gain administrative access to their Linksys WAG200G DSL gateway over Wi-Fi. He discovered that the device was listening on an undocumented Internet Protocol port number, and after analyzing the code in the firmware, he found that the port could be used to send administrative commands to the router without a password.
After Vanderbecken published his results, others confirmed that the same backdoor existed on other systems based on the same Sercomm modem, including home routers from Netgear, Cisco (both under the Cisco and Linksys brands), and Diamond. In January, Netgear and other vendors published a new version of the firmware that was supposed to close the back door.
More in Tux Machines
KaOS 2015.02 Distro Brings a Unique, Pure KDE Plasma 5 Experience - Screenshot Tour

The KaOS development team was proud to announce on February 24 the immediate availability for download of the KaOS 2015.02 Linux kernel-based operating system for personal computers and laptops. This is the first ever release of the KaOS Linux distribution with the next-generation KDE Plasma desktop environment, powered by the latest KDE Frameworks 5 technology.

Snowden's favourite Linux - Tails - rushes sec-fix version to market

The developers want to kill off the previous version, Tails 1.2.3, as soon as possible, with a list of 14 security issues covering everything from the Tor browser and its network security services (NSS) through to a sudo privilege escalation bug.

5 specialized Linux distributions for computer repair

Computers are incredible tools that let users doing amazing things, but sometimes things go wrong. The problem could be as small as accidentally deleting files or forgetting a password—and as major as having an operating system rendered non-bootable by file system corruption. Or, worst case scenario, a hard drive dying completely. In each of these cases, and many more like them, there are specialized tools that can aid you in fixing problems with a computer or help you be prepared for when something bad does happen.

How To Install League Of Legends Game On Linux

League of Legends (LoL) is a 2009 multiplayer online battle arena video game developed and published by Riot Games for Microsoft Windows and Mac OS X. It is a free-to-play game that is supported by micro-transactions and inspired by the mod Defense of the Ancients for the video game Warcraft III: The Frozen Throne.