Easter egg: DSL router patch merely hides backdoor instead of closing it
Submitted by Rianne Schestowitz on Tuesday 22nd of April 2014 11:35:15 AM
Filed under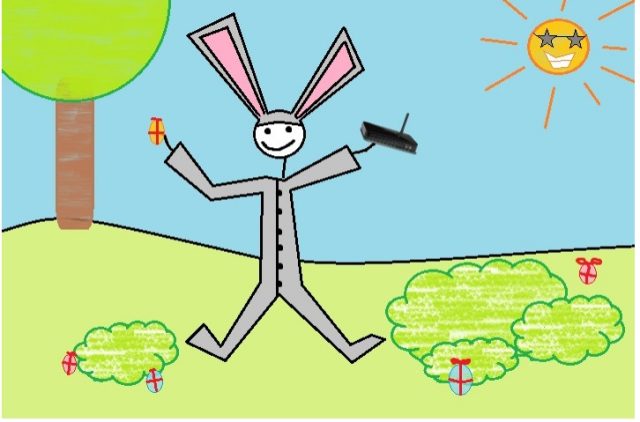 First, DSL router owners got an unwelcome Christmas present. Now, the same gift is back as an Easter egg. The same security researcher who originally discovered a backdoor in 24 models of wireless DSL routers has found that a patch intended to fix that problem doesn't actually get rid of the backdoor—it just conceals it. And the nature of the "fix" suggests that the backdoor, which is part of the firmware for wireless DSL routers based on technology from the Taiwanese manufacturer Sercomm, was an intentional feature to begin with.
Back in December, Eloi Vanderbecken of Synacktiv Digital Security was visiting his family for the Christmas holiday, and for various reasons he had the need to gain administrative access to their Linksys WAG200G DSL gateway over Wi-Fi. He discovered that the device was listening on an undocumented Internet Protocol port number, and after analyzing the code in the firmware, he found that the port could be used to send administrative commands to the router without a password.
After Vanderbecken published his results, others confirmed that the same backdoor existed on other systems based on the same Sercomm modem, including home routers from Netgear, Cisco (both under the Cisco and Linksys brands), and Diamond. In January, Netgear and other vendors published a new version of the firmware that was supposed to close the back door.
More in Tux Machines
today's howtos

Leftovers: Gaming

Grim Fandango Remastered, a remake of the original Grim Fandango game developed by LucasArts, has been released for the Linux platform.

It was brought up today in the forums that it's been three years of having a new LGP CEO while Linux Game Publishing's website remains down for the better part of the year, their web presence is disappearing, and it simply doesn't look like there's a bright 2015 ahead for this one leading provider of games to Linux.

There wasn't anything like Grim Fandango when it first came out in 1998. Nearly two decades later, there's still nothing that comes close.

Homeworld Remastered is a collection of games that contains Homeworld Remastered Edition and Homeworld 2 Remastered Edition that have been released by Gearbox. Linux users are now trying to make enough waves so that the studio hears their plea for a port.

It's quite hard to contain my excitement about this game, but as always we will give it a fair look and tell you what we think about Dying Light. This is not a full review, but a look at what you can expect with the game right now on Linux.

Wine-Staging is the initiative to serve as a staging area for new Wine code not yet ready for proper mainline acceptance, inspired in part by the Linux kernel's staging area. Wine-Staging has already landed the Direct3D CSMT patches for improving performance along with NVIDIA CUDA and GPU PhysX support, among other experimental functionality.

Android Leftovers

The Australian video on demand market kicked things up a notch over the Australia Day long weekend, with both the official launch of StreamCo's Stan service and Foxtel turning on Android tablet support for Presto.

Cyanogen Chief Executive Kirt McMaster is taking the first shot in a revolt against Google. The startup wants to make Android a completely open platform, according to Android Authority. "We're attempting to take Android away from Google," said McMaster, during The Information's "Next Phase of Android" event in San Francisco on Thursday evening.

The iPhone has always been, the consensus goes, the rich man's phone. iOS customers earn more than Android users. They spend more on apps and on in-app purchases. And advertising rates are higher.

Google and Core Security are at odds over the severity of a vulnerability affecting a number of Android mobile devices, details of which were released by the security vendor today.

The first modular smartphone kit to arrive under the Project Ara banner should be launched later this year. While we wait on the big occasion, we thought you'd like to know that developers are working on the modules that will actually let you achieve device customization.

Mobie Is a Tablet That Dual-Boots Ubuntu 14.04 LTS and Windows 8.1

Mobie is a new kind of 2-in-1 tablet developed in Finland that is capable to dual-boot Ubuntu 14.04 LTS and Windows 8.1. It's being launched in a couple of months and it already looks very good, at least on paper.