Easter egg: DSL router patch merely hides backdoor instead of closing it
Submitted by Rianne Schestowitz on Tuesday 22nd of April 2014 11:35:15 AM
Filed under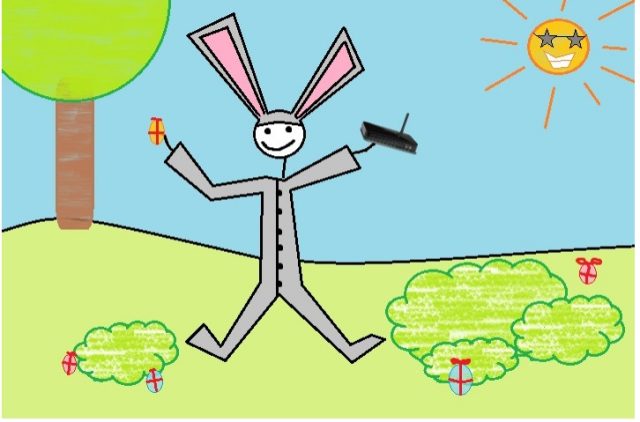 First, DSL router owners got an unwelcome Christmas present. Now, the same gift is back as an Easter egg. The same security researcher who originally discovered a backdoor in 24 models of wireless DSL routers has found that a patch intended to fix that problem doesn't actually get rid of the backdoor—it just conceals it. And the nature of the "fix" suggests that the backdoor, which is part of the firmware for wireless DSL routers based on technology from the Taiwanese manufacturer Sercomm, was an intentional feature to begin with.
Back in December, Eloi Vanderbecken of Synacktiv Digital Security was visiting his family for the Christmas holiday, and for various reasons he had the need to gain administrative access to their Linksys WAG200G DSL gateway over Wi-Fi. He discovered that the device was listening on an undocumented Internet Protocol port number, and after analyzing the code in the firmware, he found that the port could be used to send administrative commands to the router without a password.
After Vanderbecken published his results, others confirmed that the same backdoor existed on other systems based on the same Sercomm modem, including home routers from Netgear, Cisco (both under the Cisco and Linksys brands), and Diamond. In January, Netgear and other vendors published a new version of the firmware that was supposed to close the back door.
More in Tux Machines
NVIDIA Linux Performance-Per-Dollar: What The RX 480 Will Have To Compete Against

There's a lot of benchmarking going on this weekend at Phoronix in preparation for next week's Radeon RX 480 Linux review. Here are some fresh results on the NVIDIA side showing the current performance-per-dollar data for the NVIDIA Maxwell and Pascal graphics cards for seeing what the RX 480 "Polaris 10" card will be competing against under Linux.

RaspAnd Project Brings Android 6.0 Marshmallow to Raspberry Pi 3, Now with GAAPS

Android-x86 and GNU/Linux developer Arne Exton has informed Softpedia today, June 25, 2016, about the immediate availability of a new build of his RaspAnd distribution for Raspberry Pi single-board computers. RaspAnd Build 160625 is the first to move the Android-x86-based distro to the latest Android 6.0.1 Marshmallow mobile operating system created by Google. And in the good tradition of the RaspAnd project, both Raspberry Pi 3 Model B and Raspberry Pi 2 Model B are supported.

BSD Leftovers

The fifth alpha release of the huge FreeBSD 11.0 operating system update is now available for testing. FreeBSD 11.0 is bringing updated KMS drivers, Linux binary compatibility layer improvements, UEFI improvements, Bhyve virtualization improvements, and a wide range of other enhancements outlined via the in-progress release notes.

The HAMMER2 file-system is going on four years in development by the DragonFlyBSD crew, namely by its founder Matthew Dillon. It's still maturing and taking longer than anticipated, but this is yet another open-source file-system.

Debian GNU/Linux 9 "Stretch" to Ship with GCC 6 by Default, Binutils 2.27

Debian developer Matthias Klose has announced that the new GCC 6 compiler, which will be made the default GCC compiler for the upcoming Debian GNU/Linux 9 "Stretch" operating system, is now available in the Debian Testing repos. Debian users who are currently using Debian Testing can make GCC 6 the default compiler by installing the gcc/g++ packages from experimental. If installing it, they are also urged to help fix reported built failures in Debian Testing and Debian Unstable.