PineTime Smartwatch and Good Code Play Bad Apple
Submitted by Roy Schestowitz on Saturday 16th of October 2021 10:31:33 PM
Filed under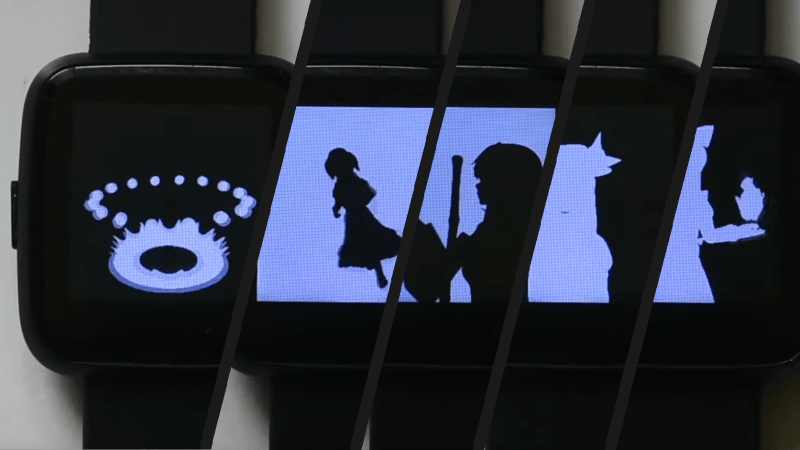 PineTime is the open smartwatch from our friends at Pine64. [TT-392] wanted to prove the hardware can play a full-motion music video, and they are correct, to a point. When you watch the video below, you should notice the monochromatic animation maintaining a healthy framerate, and there lies all the hard work. Without any modifications, video would top out at approximately eight frames per second.
To convert an MP4, you need to break it down into images, which will strip out the sound. Next, you load them into the Linux-only video processor, which looks for clusters of pixels that need changing and ignores the static ones. Relevant pixel selection takes some of the load off the data running to the display and boosts the fps since you don't waste time reminding it that a block of black pixels should stay the way they are. Lastly, the process will compress everything to fit it into the watch's onboard memory. Even though it is a few minutes of black and white pictures, compiling can take a couple of hours.
»
Printer-friendly version

2778 reads

PDF version
More in Tux Machines
Raspberry Pi CM4-based panel PC offers DAQ inputs and M.2 NVMe

Sensoper's 7-inch "SC-PC" HMI panel PC runs Linux on a Raspberry Pi CM4 and supplies GbE, M.2 for NVMe, RS-485, 3x USB, 8x digital inputs, 7x transistor outputs, and 8x analog inputs with a choice of 0-10V or 4-20mA ranges. Michigan-based Sensoper Controls has launched a 7-inch, industrial panel-PC in two variants: an SC-PC-AV8-TO7 model with 8x 0-10V analog inputs and an SC-PC-AM8-TO7 with 4-20mA analog inputs. The otherwise identical panel PCs run Raspbian (Raspberry Pi OS) Linux with pre-installed Node-RED on the Raspberry Pi Compute Module 4.

Android Leftovers

Best Open Source Gantt Chart Software for Linux

Gantt chart is the simplest way to assign resources, manage timelines, and visualize dependencies. It helps you to avoid confusion and cut unproductive events. With a glance, you can have all activities, allocated assets, and the scheduled dates of each. While a Gantt chart is a must for any complex project, in general, you need this project management tool:

NuTyX 21.10.5 available with cards 2.4.140

The NuTyX team is happy to announce the new version of NuTyX 21.10.0 and cards 2.4.138. The xorg-server graphics server version 21.1.1, the Mesa 3D library in 21.2.5, Gtk4 4.4.0 and Qt 5.15.2. The python interpreters are en 3.10.0 et 2.7.18. The XFCE desktop environment is updated to version 4.16. The MATE desktop environment is a 1.26 version . The GNOME desktop environment is also updated to version 40.1.1 The KDE desktop environment is available in Plasma 5.23.3, Framework 5.88.0 and applications in 21.08.3. Available browsers are: Firefox 94.0.2, Chromium 96.0.4664.45, Epiphany 40.3, etc Many desktop applications have been updated as well like Thunderbird 91.2.0, Scribus 1.5.7, Libreoffice 7.1.5.2, Gimp 2.10.28, etc.