Magnus – A Simple Screen Magnifier for Ubuntu
Submitted by Roy Schestowitz on Friday 31st of July 2020 08:04:54 PM
Filed under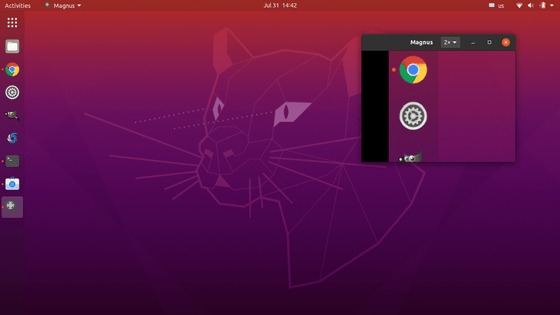 Looking for a desktop magnifier? Besides enabling the built-in screen magnifier, there are a few third-party applications can do the job.
Magnus is a very simple desktop magnifier written in Python 3. It shows the area around the mouse pointer in a separate window magnified two, three, four, or five times. Useful for users who need magnification, whether to help with eyesight or for accurate graphical design or detail work.
»
Printer-friendly version

2521 reads

PDF version
More in Tux Machines
Fete de la Musique and why I don't use Google

Today is Fete de la Musique in the French-speaking world. It feels like the perfect time to release the video of former GNOME employee Magdalen Berns singing Zombie. I recorded this at the Google Mentor Summit in 2014. Magdalen is no longer with us, she died of cancer in 2019. If Magdalen was alive today, would she recognize the GNOME organization? People are gradually coming to realize that the recent attacks on Dr Richard Stallman crossed far too many red lines. Working for a non-profit organization is a privilege and when certain GNOME employees attacked a volunteer, Dr Stallman, they undermined the principle of volunteering everywhere. We already see people who signed the petition in the heat of the moment are asking to remove their names. The choice of the song's title is subject to debate. Are zombies the people trying to stamp out independent thought from leaders like Dr Stallman? Or are they the volunteers silenced by mindless groupthink?

The best 10 videos conferencing tool for enterprises in 2021

Some problems are just too big and complex for any one person who handles them alone, for these challenges we need to collaborate, but what that means? Also: Mike Gabriel: BBB Packaging for Debian, a short Heads-Up

today's howtos

Audiocasts/Shows: XPLR, GNU World Order, and Emacs

My main file manager is LF and most of the file managers I look at are of the same style but today is different, today we're looking at XPLR which is a single pane file manager with extra sub windows that can be 100% customized in Lua.

**gcc-go** and **gcc-java** from the **d** software series of Slackware.

Emacs has a really neat mode built into it called prettify-symbols-mode. You add a block of code into your Emacs config listing words and corresponding symbols. Anytime you type one of the words, Emacs replaces with the symbol or emoji that you specify.