Meet the Frenchman masterminding a Google-free Android
Submitted by Roy Schestowitz on Friday 15th of June 2018 04:37:11 PM
Filed under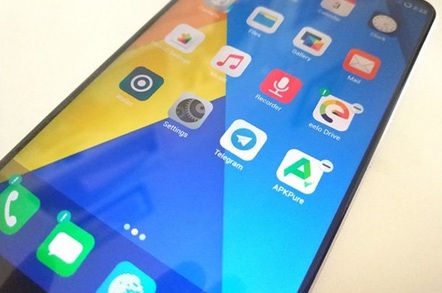 Open source had a moral purpose when it was fighting "The Borg", Microsoft, in the 1990s, but then it fell from view. You could say it has found its mojo again, only this time it is about loosening the grip of companies built on ever more intrusive personal data processing: Google and Facebook. One of the biggest but most promising challenges is creating an Android free of Google's data-slurping.
Four years ago there were four mobile platforms, but since Microsoft and BlackBerry withdrew, it's a duopoly of Apple and Google.
The creation of a new third platform – a Google-free Android – now looks feasible, given the Great Unbundling the European Commission is likely to order. But someone has to build the damn thing – and it's going to be a mammoth task.
»
Printer-friendly version

4009 reads

PDF version
More in Tux Machines
Security: Patches, KeePass2 and Healthcare

Security updates have been issued by Debian (openconnect), Fedora (e2fsprogs, glibc, kernel, and nss), openSUSE (Mesa, php7, and slurm), Oracle (.NET Core, java-1.8.0-openjdk, java-11-openjdk, and thunderbird), Red Hat (java-1.8.0-openjdk, openvswitch, and openvswitch2.11), Scientific Linux (java-1.8.0-openjdk), SUSE (java-11-openjdk, libssh, libvpx, Mesa, and thunderbird), and Ubuntu (libbsd and samba).

KeePass 2.44 was released a days ago as the latest stable mono password manager. Users of any previous 2.x version are recommended to upgrade. KeePass Password Safe was a Windows only password manager. Through the use of Mono, KeePass 2.x works on Linux and Mac OS.

Healthcare is increasingly going mobile, as hospitals and medical practitioners look to reduce waiting room times by harnessing the benefits of treatment on the go. But patients are often placing too much trust in these apps, which can often expose them to fresh security and privacy risks. The rapid growth of mobile healthcare app market was borne more out of necessity than any medical advancement, in the view of Adam Piper, a software developer working in the UK. "If I want to get a doctor's appointment, it has to be today, and by 8.01am all the appointments are gone," Piper told The Daily Swig.

What Must be Considered Before Choosing a Container Platform?

An increasing number of IT groups are incorporating development tools, such as containers, in order to create cloud-native apps that operate in a constant manner across public, private, and hybrid clouds. However, the trickiest part is to find the best container platforms for the organization. It is hard to make the correct decisions regarding container orchestration for managing lifecycles of the containers in order to function at scale and accelerate innovation. Containers can be Linux It is vital for every application to run on Linux since the containers are always running on a Linux host. Containers that are used for managing their lifecycles, work best with Linux. However, these days, Kubernetes is the popular container orchestration platform that was built on Linux concepts and make use of Linux tooling and application programming interfaces (APIs) for managing the containers. The companies are advised to opt for a Linux distribution that they know and trust before taking any decision on the OS for their container platform. Red Hat Enterprise Linux (RHEL), an OS platform, suits well for operating company's containers as it provides stability and security features simultaneously, allowing developers to be agile.

KDE: Krita Weekly, LabPlot and More

With everyone getting back into work, we have managed to control the number of bugs. There are 2 fewer bugs than what I reported last time. I know it is still not a lot, but with Dmitry not available for most of the time and team having to divide its time between the resource rewrite & bug fixing, it is pretty good that the number is decreasing.

We continue working on the plotting capabilities of LabPlot. In the next release we will be adding two new worksheet objects to provide more flexibility and features to create attractive looking visualizations. In this short blog post we want to report on this recent development.

So, today I got finally so tired of navigating (or explicitly stepping over) all the internal functions in gdb (you know, all the inline functions from STL containers, from Boost, from this pointer wrapper class, that string class) that I finally googled 'gdb skip system functions'. And guess what, it's been there since gdb 7.12, from 3 years ago, and it's almost trivial, just adding something like this to ~/.gdbinit:

Wine 5.0 Released