Operating Systems in Tux Machines
Submitted by Roy Schestowitz on Saturday 27th of June 2015 01:14:59 AM
Filed under
Summary: Some numbers to show what goes on in sites that do not share information about their visitors (unlike Windows-centric sites which target non-technical audiences)
THE common perception of GNU/Linux is that it is scarcely used, based on statistics gathered from privacy-hostile Web sites that share (or sell) access log data, embed spyware in all of their pages, and so on. Our sites are inherently different because of a reasonable -- if not sometimes fanatic -- appreciation of privacy at both ends (server and client). People who read technical sites know how to block ads, impede spurious scripts etc. These sites also actively avoid anything which is privacy-infringing, such as interactive 'social' media buttons (these let third parties spy on all visitors in all pages).
Techrights and Tux Machines attract the lion's share our traffic (and server capacity). They both have dedicated servers. These are truly popular and some of the leaders in their respective areas. Techrights deals with threats to software freedom, whereas Tux Machines is about real-time news discovery and organisation (pertaining to Free software and GNU/Linux).
The Varnish layer, which protects both of these large sites (nearly 100,000 pages in each, necessitating a very large cache pool), handles somewhere between a gigabyte to 2.5 gigabytes of data per hour (depending on the time of day, usually somewhere in the middle of this range, on average).
The Apache layer, which now boasts 32 GB of RAM and sports many CPU cores, handled 1,324,232 hits for Techrights (ranked 6636th for traffic in Netcraft) in this past week and 1,065,606 for Tux Machines (ranked 6214th for traffic in Netcraft).
Based on VISITORS Web Log Analyzer, this is what we've had in Techrights:
Windows: (36.2%)
Linux: (31.8%)
Unknown: (e.g. bots/spiders): (23.0%)
Macintosh: (8.8%)
FreeBSD: (0.1%)
As a graph (charted with LibreOffice):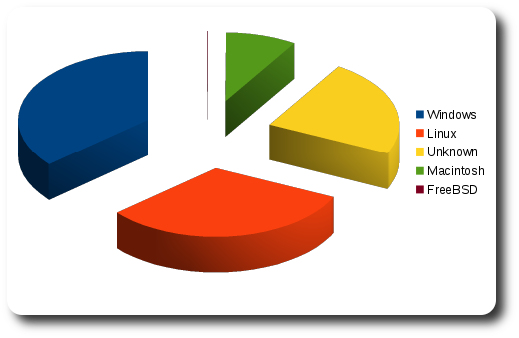 Tux Machines reveals a somewhat different pattern. Based on grepping/filtering the of past month's log at the Apache back end (not Varnish, which would have been a more sensible but harder thing to do), presenting the top 3 only: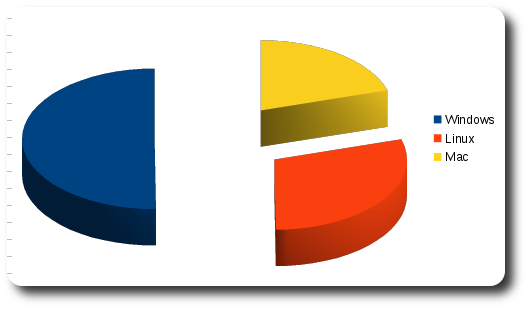 One month is as far as retention goes, so it's not possible to show long-term trends (as before, based on Susan's summary of data). Logs older than that are automatically deleted, as promised, for both sites -- forever! We just need a small tail of data (temporarily) for DDOS prevention. █
»
Printer-friendly version

18647 reads

PDF version
More in Tux Machines
Linux Foundation Zephyr Project Attracts IoT Developers and Tech Giants

The Linux Foundation has always been committed to welcoming companies and organizations of all sizes as part of its heritage and ongoing vision for opening technology for all to experiment with and to build things. The Zephyr Project, an open source project to build a real-time operating system (RTOS) for the Internet of Things (IoT), announced last week they grew their community of contributors with support for more than 100 developer boards and the addition of six new members. These industry and academic leaders include Antmicro, DeviceTone, SiFive, the Beijing University of Posts and Telecommunications, The Institute of Communication and Computer Systems (ICCS) and Northeastern University.

GNU/Linux on Chromebooks

Chromebooks are great because they're simple: there's a lot you can get done with web services without exposing yourself to the troubles and security issues that plague more complex platforms. But if you need to do a bit more with your Chromebook, you have a few options. Most Chromebooks these days allow you to install apps from the Google Play Store, which should fill most productivity gaps. If not, you'll soon have one more option: installing Linux apps. To be clear, you've been able to install Linux apps on Chromebooks for years because Chrome OS is Linux. But, it's about to get much easier.

Google's Chrome OS gets a lot of things right, and the platform has evolved considerably over the years. Not only does it offer an always up-to-date version of the Chrome browser, but there are also Android apps, stylus input, and even Linux support on some devices. However, Chrome OS is far from perfect. You have to make compromises if you choose to live with a Chromebook, but you shouldn't have to make quite this many. Here are the top five things Google should fix.

If you're not considering a Chromebook when you're shopping for a notebook, you're doing it wrong. Google's low-cost laptops are typically light, fast, secure, and have almost everything you need for remote work a.k.a. the Internet. Today, you can get in on the action for a great price. Walmart is selling the Acer Chromebook 14 (CB3-431-C6ZB) for $220. That's about $30 to $40 cheaper than you'd usually pay for this laptop.

Microsoft Versus Linux

OSCON 2018 Events Coverage by LWN

Software patents account for more than half of all utility patents granted in the US over the past few years. Clearly, many companies see these patents as a way to fortune and growth, even while software patents are hated by many people working in the free and open-source movements. The field of patenting has now joined the onward march of artificial intelligence. This was the topic of a talk at OSCON 2018 by Van Lindberg, an intellectual-property lawyer, board member and general counsel for the Python Software Foundation, and author of the book Intellectual Property and Open Source. The disruption presented by deep learning ranges from modest enhancements that have already been exploited—making searches for prior art easier—to harbingers of automatic patent generation in the future.

The O'Reilly Open Source Conference (OSCON) returned to Portland, Oregon in July for its 20th meeting. Previously, we covered some retrospectives and community-management talks that were a big part of the conference. Of course, OSCON is also a technology conference, and there were lots of talks on various open-source software platforms and tools. An attendee who was coming back to OSCON after a decade would have been somewhat surprised by the themes of the general technical sessions, though. Early OSCONs had a program full of Perl, Python, and PHP developer talks, including the famous "State of The Onion" (Perl) keynote. Instead, this year's conference mostly limited the language-specific programming content to the tutorials. Most of the technical sessions in the main program were about platforms, administration, or other topics of general interest, some of which we will explore below.