Operating Systems in Tux Machines
Submitted by Roy Schestowitz on Saturday 27th of June 2015 01:14:59 AM
Filed under
Summary: Some numbers to show what goes on in sites that do not share information about their visitors (unlike Windows-centric sites which target non-technical audiences)
THE common perception of GNU/Linux is that it is scarcely used, based on statistics gathered from privacy-hostile Web sites that share (or sell) access log data, embed spyware in all of their pages, and so on. Our sites are inherently different because of a reasonable -- if not sometimes fanatic -- appreciation of privacy at both ends (server and client). People who read technical sites know how to block ads, impede spurious scripts etc. These sites also actively avoid anything which is privacy-infringing, such as interactive 'social' media buttons (these let third parties spy on all visitors in all pages).
Techrights and Tux Machines attract the lion's share our traffic (and server capacity). They both have dedicated servers. These are truly popular and some of the leaders in their respective areas. Techrights deals with threats to software freedom, whereas Tux Machines is about real-time news discovery and organisation (pertaining to Free software and GNU/Linux).
The Varnish layer, which protects both of these large sites (nearly 100,000 pages in each, necessitating a very large cache pool), handles somewhere between a gigabyte to 2.5 gigabytes of data per hour (depending on the time of day, usually somewhere in the middle of this range, on average).
The Apache layer, which now boasts 32 GB of RAM and sports many CPU cores, handled 1,324,232 hits for Techrights (ranked 6636th for traffic in Netcraft) in this past week and 1,065,606 for Tux Machines (ranked 6214th for traffic in Netcraft).
Based on VISITORS Web Log Analyzer, this is what we've had in Techrights:
Windows: (36.2%)
Linux: (31.8%)
Unknown: (e.g. bots/spiders): (23.0%)
Macintosh: (8.8%)
FreeBSD: (0.1%)
As a graph (charted with LibreOffice):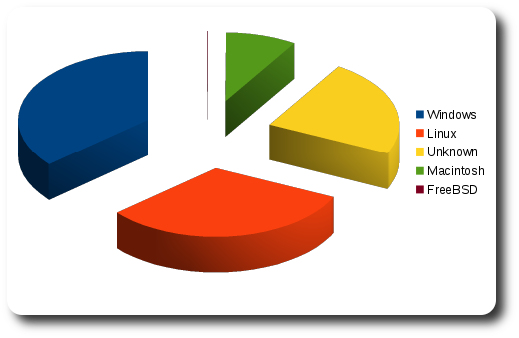 Tux Machines reveals a somewhat different pattern. Based on grepping/filtering the of past month's log at the Apache back end (not Varnish, which would have been a more sensible but harder thing to do), presenting the top 3 only: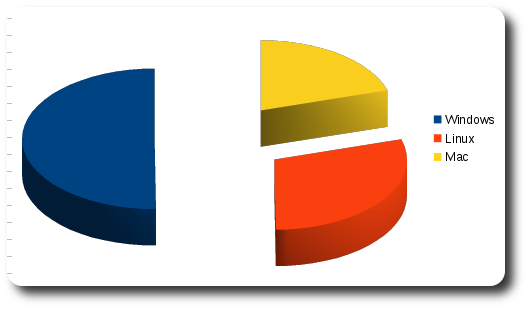 One month is as far as retention goes, so it's not possible to show long-term trends (as before, based on Susan's summary of data). Logs older than that are automatically deleted, as promised, for both sites -- forever! We just need a small tail of data (temporarily) for DDOS prevention. █
More in Tux Machines
6 Reasons Your Favorite Linux OS Is Plagued by Bugs

Linux is one of the best operating systems around, but no OS is perfect. All operating systems end up having bugs of one kind or another, including your favorite Linux distributions. A writer at MakeUseOf has listed six reasons why Linux distributions often have their share of bugs.

today's howtos

Linux and Linux Foundation

Like starting a car with the hood open, sometimes you need to run your program with certain analysis tools attached to get a full sense of what is going wrong – or right. Be it to debug an issue, or simply to learn how that program works, these probing tools can provide a clear picture of what is going on inside the CPU at a given time.

In this week's edition: Linus Torvalds announces Linux 4.11-rc4, early debug with USB3 earlycon, upcoming support for USB-C in 4.12, and ongoing development including various work on boot time speed ups, logging, futexes, and IOMMUs.

Red Hat and Fedora

Oracle announced today, March 28, 2017, the release and general availability of the Oracle Linux 6.9 operating system, the ninth update to the Oracle Linux 6 stable series. Prominent features of Oracle Linux 6.9 include support for TLS (Transport Layer Security) 1.2 on all system components, along with vsftpd support for TLS 1.2 and auditd support for incremental_async, implementation of the cpuid utility supporting AMD, Intel, and VIA CPUs, improved SSSD (System Security Services Daemon) support for Active Directory (AD), and better support when running as a Hyper-V guest.

Today, March 28, 2017, CloudLinux's Mykola Naugolnyi announced the immediate availability of a new Beta kernel versions for users of the CloudLinux 7 operating system. It's been a while since CloudLinux 7 users using the Beta channel received an updated kernel, and today's 3.10.0-427.36.1.lve1.4.42 build addresses quite a bunch of issues and security flaws discovered lately. For example, is attempts to fix a deadlock with the HCP server backup manager developed by R1Soft.

Red Hat on Monday announced a new Application Platform Partner Initiative at its North America Partner Conference in Las Vegas. The goal is to provide a more robust ecosystem for companies engaging in digital transformation.

OpenStack drove a chunk of Red Hat's largest deals during the fourth quarter, with cloud proving more lucrative than its trademark Linux business. One-third of what Red Hat called its largest deals in the three months to February 28 contained an OpenStack private cloud component. More than a third involved Red Hat's Ansible automation management technology.

At the end of January, the submission phase for Fedora 26 Supplementary Wallpapers opened. Now, the submission phase is closed and the voting phase is now open. If you have a FAS account and meet the CLA+1 group requirement, you can cast your vote in Nuancier.