Operating Systems in Tux Machines
Submitted by Roy Schestowitz on Saturday 27th of June 2015 01:14:59 AM
Filed under
Summary: Some numbers to show what goes on in sites that do not share information about their visitors (unlike Windows-centric sites which target non-technical audiences)
THE common perception of GNU/Linux is that it is scarcely used, based on statistics gathered from privacy-hostile Web sites that share (or sell) access log data, embed spyware in all of their pages, and so on. Our sites are inherently different because of a reasonable -- if not sometimes fanatic -- appreciation of privacy at both ends (server and client). People who read technical sites know how to block ads, impede spurious scripts etc. These sites also actively avoid anything which is privacy-infringing, such as interactive 'social' media buttons (these let third parties spy on all visitors in all pages).
Techrights and Tux Machines attract the lion's share our traffic (and server capacity). They both have dedicated servers. These are truly popular and some of the leaders in their respective areas. Techrights deals with threats to software freedom, whereas Tux Machines is about real-time news discovery and organisation (pertaining to Free software and GNU/Linux).
The Varnish layer, which protects both of these large sites (nearly 100,000 pages in each, necessitating a very large cache pool), handles somewhere between a gigabyte to 2.5 gigabytes of data per hour (depending on the time of day, usually somewhere in the middle of this range, on average).
The Apache layer, which now boasts 32 GB of RAM and sports many CPU cores, handled 1,324,232 hits for Techrights (ranked 6636th for traffic in Netcraft) in this past week and 1,065,606 for Tux Machines (ranked 6214th for traffic in Netcraft).
Based on VISITORS Web Log Analyzer, this is what we've had in Techrights:
Windows: (36.2%)
Linux: (31.8%)
Unknown: (e.g. bots/spiders): (23.0%)
Macintosh: (8.8%)
FreeBSD: (0.1%)
As a graph (charted with LibreOffice):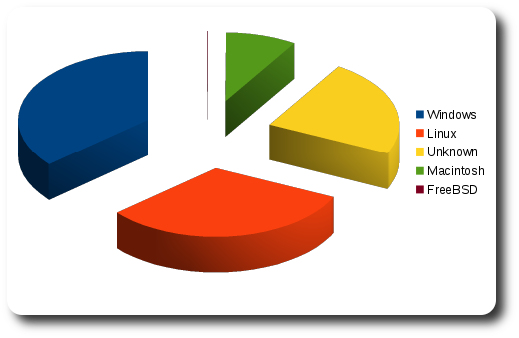 Tux Machines reveals a somewhat different pattern. Based on grepping/filtering the of past month's log at the Apache back end (not Varnish, which would have been a more sensible but harder thing to do), presenting the top 3 only: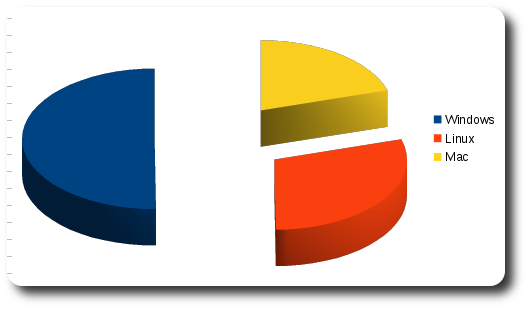 One month is as far as retention goes, so it's not possible to show long-term trends (as before, based on Susan's summary of data). Logs older than that are automatically deleted, as promised, for both sites -- forever! We just need a small tail of data (temporarily) for DDOS prevention. █
»
Printer-friendly version

12944 reads

PDF version
More in Tux Machines
Games Leftovers

BatMUD [Official Site], a text-based multiplayer game that's been around in some form since 1990 is still alive and works well on Linux.

Here's one for the lovers of puzzle games, CompliKATed [Steam, Official Site] is on Linux and ready to fry your brain. It certainly gave my brain a good workout.

If you're short on time, but fancy a trip through a short Myst-like experience then Arkaia: The Enigmatic Isle [Steam, Official Site] is an interesting choice.

OSS Leftovers

One of today's leading tech conferences, the Open Source Monitoring Conference (OSMC), is back to bring together some of the brightest monitoring experts from different parts of the world. The four-day event will be held at Holiday Inn Nuremberg City Conference in Germany starting today, November 21st, until November 24th.

Most people consider a college education the key to future success, but for many students, the cost is insurmountable. The growing open educational resource (OER) movement is attempting to address this problem by providing a high-quality, low-cost alternative to traditional textbooks, while at the same time empowering students and educators in innovative ways. One of the leaders in this movement is Robin DeRosa, a professor at Plymouth State University in New Hampshire. I have been enthusiastically following her posts on Twitter and invited her to share her passion for open education with our readers. I am delighted to share our discussion with you.

Android Leftovers

Linux 4.10 To Linux 4.15 Kernel Benchmarks

The ThinkPad X1 Carbon has been enjoying its time on Linux 4.15. In addition to the recent boot time tests and kernel power comparison, here are some raw performance benchmarks looking at the speed from Linux 4.10 through Linux 4.15 Git. With this Broadwell-era Core i7 5600U laptop with 8GB RAM, HD Graphics, and 128GB SATA 3.0 SSD with Ubuntu 17.10 x86_64, the Linux 4.10 through 4.15 Git mainline kernels were benchmarked. Each one was tested "out of the box" and the kernel builds were obtained from the Ubuntu Mainline Kernel archive.