Operating Systems in Tux Machines
Submitted by Roy Schestowitz on Saturday 27th of June 2015 01:14:59 AM
Filed under
Summary: Some numbers to show what goes on in sites that do not share information about their visitors (unlike Windows-centric sites which target non-technical audiences)
THE common perception of GNU/Linux is that it is scarcely used, based on statistics gathered from privacy-hostile Web sites that share (or sell) access log data, embed spyware in all of their pages, and so on. Our sites are inherently different because of a reasonable -- if not sometimes fanatic -- appreciation of privacy at both ends (server and client). People who read technical sites know how to block ads, impede spurious scripts etc. These sites also actively avoid anything which is privacy-infringing, such as interactive 'social' media buttons (these let third parties spy on all visitors in all pages).
Techrights and Tux Machines attract the lion's share our traffic (and server capacity). They both have dedicated servers. These are truly popular and some of the leaders in their respective areas. Techrights deals with threats to software freedom, whereas Tux Machines is about real-time news discovery and organisation (pertaining to Free software and GNU/Linux).
The Varnish layer, which protects both of these large sites (nearly 100,000 pages in each, necessitating a very large cache pool), handles somewhere between a gigabyte to 2.5 gigabytes of data per hour (depending on the time of day, usually somewhere in the middle of this range, on average).
The Apache layer, which now boasts 32 GB of RAM and sports many CPU cores, handled 1,324,232 hits for Techrights (ranked 6636th for traffic in Netcraft) in this past week and 1,065,606 for Tux Machines (ranked 6214th for traffic in Netcraft).
Based on VISITORS Web Log Analyzer, this is what we've had in Techrights:
Windows: (36.2%)
Linux: (31.8%)
Unknown: (e.g. bots/spiders): (23.0%)
Macintosh: (8.8%)
FreeBSD: (0.1%)
As a graph (charted with LibreOffice):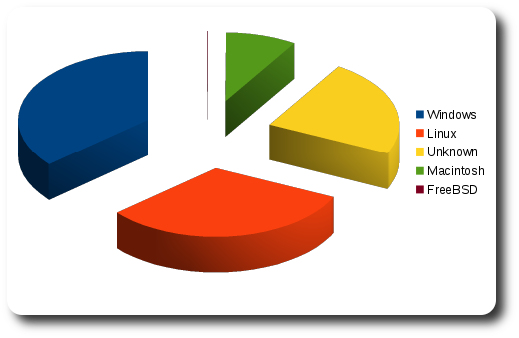 Tux Machines reveals a somewhat different pattern. Based on grepping/filtering the of past month's log at the Apache back end (not Varnish, which would have been a more sensible but harder thing to do), presenting the top 3 only: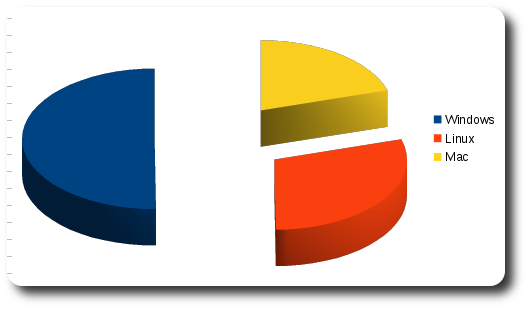 One month is as far as retention goes, so it's not possible to show long-term trends (as before, based on Susan's summary of data). Logs older than that are automatically deleted, as promised, for both sites -- forever! We just need a small tail of data (temporarily) for DDOS prevention. █
»
Printer-friendly version

12254 reads

PDF version
More in Tux Machines
LWN (Now Open Access): Kernel Configuration, Linux 4.14 Merge Window, Running Android on a Mainline Graphics Stack

The kernel's configuration system can be challenging to deal with; Linus Torvalds recently called it "one of the worst parts of the whole project". Thus, anything that might help users with the process of configuring a kernel build would be welcome. A talk by Junghwan Kang at the 2017 Open-Source Summit demonstrated an interesting approach, even if it's not quite ready for prime time yet. Kang is working on a Debian-based, cloud-oriented distribution; he wanted to tweak the kernel configuration to minimize the size of the kernel and, especially, to reduce its attack surface by removing features that were not needed. The problem is that the kernel is huge, and there are a lot of features that are controlled by configuration options. There are over 300 feature groups and over 20,000 configuration options in current kernels. Many of these options have complicated dependencies between them, adding to the challenge of configuring them properly.

September 8, 2017 As of this writing, just over 8,000 non-merge changesets have been pulled into the mainline kernel repository for the 4.14 development cycle. In other words, it looks like the pace is not slowing down for this cycle either. The merge window is not yet done, but quite a few significant changes have been merged so far. Read on for a summary of the most interesting changes entering the mainline in the first half of this merge window.

The Android system may be based on the Linux kernel, but its developers have famously gone their own way for many other parts of the system. That includes the graphics subsystem, which avoids user-space components like X or Wayland and has special (often binary-only) kernel drivers as well. But that picture may be about to change. As Robert Foss described in his Open Source Summit North America presentation, running Android on the mainline graphics subsystem is becoming possible and brings a number of potential benefits. He started the talk by addressing the question of why one might want to use mainline graphics with Android. The core of the answer was simple enough: we use open-source software because it's better, and running mainline graphics takes us toward a fully open system. With mainline graphics, there are no proprietary blobs to deal with. That, in turn, makes it easy to run current versions of the kernel and higher-level graphics software like Mesa.

Beautify Your KDE Plasma 5 Desktop Environment with Freshly Ported Adapta Theme

Good morning! It's time to beautify your KDE Plasma 5 desktop environment, and we have just the perfect theme for that as it looks like the popular Adapta GTK theme was recently ported to Plasma 5.

Roughing it, with Linux

I have been traveling for about two weeks now, spending 10 days camping in Iceland and now a few days on the ferry to get back. For this trip I brought along my Samsung N150 Plus (a very old netbook), loaded with openSUSE Linux 42.3.

Red Hat: Ansible Tower, Patent Promise, and Shares Declining

Red Hat recently shared revealed its agentless automation platform is spreading among enterprises in APAC countries like Australia, China, India and Singapore. The company asserts its Ansible Tower helps enterprises cut through the complexities of modern IT environments with powerful automation capabilities that improve productivity and reduce downtime. "Today's business demands can mean even greater complexity for many organisations. Such dynamic environments can necessitate a new approach to automation that can improve speed, scale and stability across IT environments," says head of APAC office of technology at Red Hat, Frank Feldmann.

Red Hat, the world's biggest open source company, has expanded its commitment on patents, which had originally been not to enforce its patents against free and open source software.

Open-source software provider Red Hat has revised its Patent Promise, which was initially intended to discourage patent aggression against free and open-source software. The expanded version of the defensive patent aggregation scheme extends the zone of non-enforcement to all of Red Hat's patents and all software under "well-recognised" open-source licenses. In its original Patent Promise in 2002, Red Hat said software patents are "inconsistent with open-source and free software".