Operating Systems in Tux Machines
Submitted by Roy Schestowitz on Saturday 27th of June 2015 01:14:59 AM
Filed under
Summary: Some numbers to show what goes on in sites that do not share information about their visitors (unlike Windows-centric sites which target non-technical audiences)
THE common perception of GNU/Linux is that it is scarcely used, based on statistics gathered from privacy-hostile Web sites that share (or sell) access log data, embed spyware in all of their pages, and so on. Our sites are inherently different because of a reasonable -- if not sometimes fanatic -- appreciation of privacy at both ends (server and client). People who read technical sites know how to block ads, impede spurious scripts etc. These sites also actively avoid anything which is privacy-infringing, such as interactive 'social' media buttons (these let third parties spy on all visitors in all pages).
Techrights and Tux Machines attract the lion's share our traffic (and server capacity). They both have dedicated servers. These are truly popular and some of the leaders in their respective areas. Techrights deals with threats to software freedom, whereas Tux Machines is about real-time news discovery and organisation (pertaining to Free software and GNU/Linux).
The Varnish layer, which protects both of these large sites (nearly 100,000 pages in each, necessitating a very large cache pool), handles somewhere between a gigabyte to 2.5 gigabytes of data per hour (depending on the time of day, usually somewhere in the middle of this range, on average).
The Apache layer, which now boasts 32 GB of RAM and sports many CPU cores, handled 1,324,232 hits for Techrights (ranked 6636th for traffic in Netcraft) in this past week and 1,065,606 for Tux Machines (ranked 6214th for traffic in Netcraft).
Based on VISITORS Web Log Analyzer, this is what we've had in Techrights:
Windows: (36.2%)
Linux: (31.8%)
Unknown: (e.g. bots/spiders): (23.0%)
Macintosh: (8.8%)
FreeBSD: (0.1%)
As a graph (charted with LibreOffice):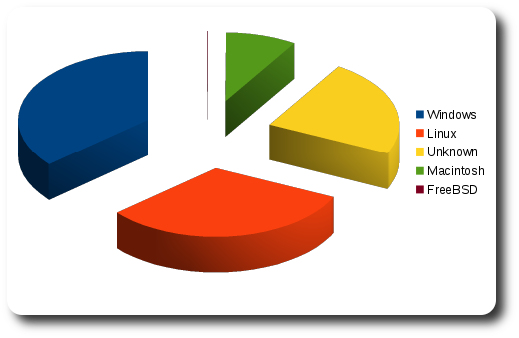 Tux Machines reveals a somewhat different pattern. Based on grepping/filtering the of past month's log at the Apache back end (not Varnish, which would have been a more sensible but harder thing to do), presenting the top 3 only: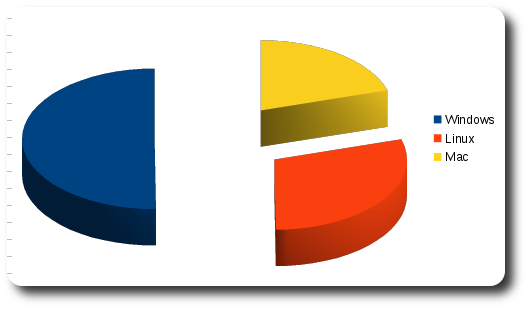 One month is as far as retention goes, so it's not possible to show long-term trends (as before, based on Susan's summary of data). Logs older than that are automatically deleted, as promised, for both sites -- forever! We just need a small tail of data (temporarily) for DDOS prevention. █
»
Printer-friendly version

22402 reads

PDF version
More in Tux Machines
Devices: Indigo Igloo, Raspberry Pi Projects and Ibase

Researchers employed the PR2 robot running Ubuntu 14.04 and an open-source Robot Operating System called Indigo Igloo for the study. The team made adjustments to the robot including padding metal grippers and adding "fabric-based tactile sensing" in certain areas.

Are you new to the Internet of Things and wonder what IoT devices can do for you? Or do you just have a spare Raspberry Pi hanging around and are wondering what you can do with it? Either way, there are plenty of ways to put that cheap little board to work. Some of these projects are easy while others are much more involved. Some you can tackle in a day while others will take a while. No matter what, you're bound to at least get some ideas looking at this list.

Ibase's 21.5-inch "UPC-7210" and "UPC-6210" panel PCs run Linux or Windows on 7th Gen Kaby Lake-U and Bay Trail CPUs, respectively. Highlights include 64GB SSDs, mini-PCIe, mSATA, and IP65 protection.

NexDock 2 Turns Your Android Phone or Raspberry Pi into a Laptop

Ever wished your Android smartphone or Raspberry Pi was a laptop? Well, with the NexDock 2 project, now live on Kickstarter, it can be! Both the name and the conceit should be familiar to long-time gadget fans. The original NexDock was a 14.1-inch laptop shell with no computer inside. It successfully crowdfunded back in 2016. The OG device made its way in to the hands of thousands of backers. While competent enough, some of-the-time reviews were tepid about the dock's build quality. After a brief stint fawning over Intel's innovative (now scrapped) Compute Cards, the team behind the portable device is back with an updated, refined and hugely improved model.

Graphics: Libinput 1.13 RC2, NVIDIA and AMD

New Release of GNU Parallel and New FSF-Endorsed Products From ThinkPenguin

GNU Parallel 20190322 ('FridayforFuture') has been released. It is available for download at: http://ftpmirror.gnu.org/parallel/ The change in signalling makes this release experimental for users that send SIGTERM to GNU Parallel.

Thursday, March 21st, 2019 -- The Free Software Foundation (FSF) today awarded Respects Your Freedom (RYF) certification to seven devices from ThinkPenguin, Inc.: The Penguin Wireless G USB Adapter (TPE-G54USB2), the Penguin USB Desktop Microphone for GNU / Linux (TPE-USBMIC), the Penguin Wireless N Dual-Band PCIe Card (TPE-N300PCIED2), the PCIe Gigabit Ethernet Card Dual Port (TPE-1000MPCIE), the PCI Gigabit Ethernet Card (TPE-1000MPCI), the Penguin 10/100 USB Ethernet Network Adapter v1 (TPE-100NET1), and the Penguin 10/100 USB Ethernet Network Adapter v2 (TPE-100NET2). The RYF certification mark means that these products meet the FSF's standards in regard to users' freedom, control over the product, and privacy. [...] "I've always believed that the biggest difficulty for users in the free software world has been in obtaining compatible hardware, and so I'm glad to be participating in the expansion of the RYF program" said Christopher Waid, founder and CEO of ThinkPenguin. ThinkPenguin, Inc. was one of the first companies to receive RYF certification, gaining their first and second certifications in 2013, and adding several more over the years since. "ThinkPenguin has excelled for years in providing users with the tools they need to control their own computing. We are excited by these new additions today, and look forward to what they have in store for the future," said the FSF's licensing and compliance manager, Donald Robertson, III.

The Free Software Foundation has announced the latest batch of hardware it has certified for "Respecting Your Freedom" as part of its RYF program. Seven more devices from Linux-focused e-tailer Think Penguin have been certified for respecting your freedoms and privacy in that no binary blobs are required for use nor any other restrictions on the hardware's use or comprising the user's privacy.