Kali NetHunter turns Android device into hacker Swiss Army knife
Submitted by Rianne Schestowitz on Tuesday 23rd of September 2014 07:06:30 PM
Filed under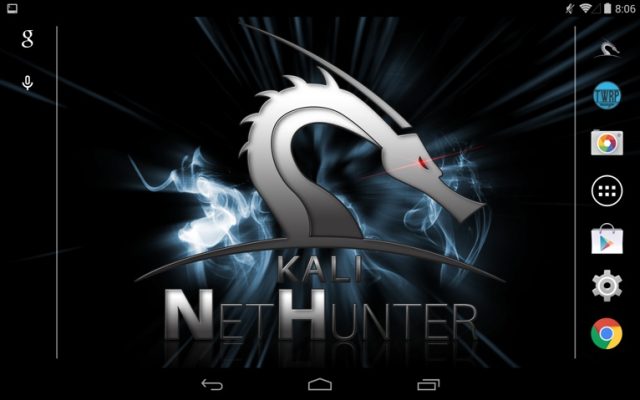 One of the tools we've leaned on heavily in some of our lab testing of software privacy and security is Kali Linux. The Debian-based operating system comes packaged with a collection of penetration testing and network monitoring tools curated and developed by the security training company Offensive Security. Today, the Kali developer team and Offensive Security released a new Kali project that runs on a Google Nexus device. Called NetHunter, the distribution provides much of the power of Kali with the addition of a browser-driven set of tools that can be used to launch attacks on wireless networks or on unattended computers via a USB connection.
»
Printer-friendly version

48746 reads

PDF version
More in Tux Machines
New in Linux 5.12

Voltage, temperature, and fan speed reporting among desktop motherboards under Linux remains one of the unfortunate areas even in 2021... Many SIO ICs remain publicly undocumented and the Linux driver support is often left up to the community and usually through reverse-engineering. Thus the mainline Linux kernel support is left to suffer especially among newer desktop motherboards.

While the Flash-Friendly File-System (F2FS) allows selecting between your choice of optional compression algorithms like LZO, LZ4, and Zstd -- plus even specifying specific file extensions to optionally limit the transparent file-system compression to -- it doesn't allow easily specifying a compression level. That is fortunately set to change with the Linux 5.12 kernel this spring. Queued now into the F2FS "dev" tree ahead of the Linux 5.12 merge window is a patch that's been floating around for some weeks to allow easily configuring the compression level. The compress_algorithm mount option is expanded to allow also specifying a level, such that the format supported is [algorithm]:[level] should you want to override any level preference like with the LZ4 and Zstd compression algorithms.

Security and Proprietary Software

7 Linux Distros to Look Forward in 2021

Here is a list of most anticipated Linux distributions you should keep an eye on in the year 2021.

Games Leftovers

Sign up for the Public Domain Game Jam on itch.io »

With the following commit, Thomas Frohwein (thfr@) added a joystick/gamecontroller driver to -current: [...]

For those interested in Godot as the premiere open-source 2D/3D game engine or just looking for some interesting technical talks to enjoy this weekend, the first GodotCon Online is today. GodotCon 2021 is the open-source game engine's first entirely online conference for developers, users, and other contributors to this promising open-source project. The YouTube-based event has been running from 8:45 UTC today until 16:00 UTC, but fear not if you missed out as you can already go back and listen to the prior talks in the stream. The recordings will remain available for those wanting to enjoy it in the days ahead. All of the content is free of charge.