Mozilla Marches Ahead with Ads for Firefox
Submitted by Rianne Schestowitz on Friday 29th of August 2014 03:48:21 PM
Filed under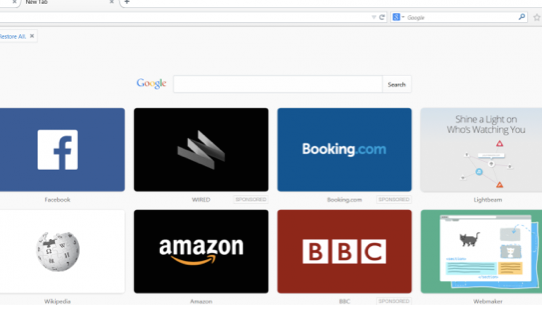 This November, Mozilla is up for renegotiation with Google for placement of Google search as the default search in Firefox and for the related subsidies that Google pays Mozilla, which reached almost $300 million last year. That comprised the majority of Mozilla's income. With Chrome establishing itself as a leader in the browser wars, its unclear what relationship Google will continue to pursue with Mozilla.
More in Tux Machines
Linux Foundation releases PARANOID internal infosec guide

Linux Foundation project director Konstantin Ryabitsev has publicly-released the penguinistas' internal hardening requirements to help sysadmins and other paranoid tech bods and system administrators secure their workstations. The baseline hardening recommendations are designed that balance security and convenience for its many remote admins, rather than a full-blown security document.

Second Alpha Build of Liquid Lemur Linux 2.0 Brings LibreOffice 5, Based on Debian 8

Edward Snyder, the creator and maintainer of the Debian-based Liquid Lemur Linux distribution, has announced the release and immediate availability for download of the second Alpha build of the upcoming Liquid Lemur Linux 2.0 distro.

Manjaro Linux 0.8.13.1 Fluxbox Edition Gets Linux Kernel 4.1 LTS, Download Now

The Manjaro Linux team, through Bernhard Landauer, has proudly announced the release of an updated version of the Manjaro Linux Fluxbox Edition, namely 0.8.13.1, which features an updated Linux kernel and numerous improvements.

NVIDIA reveals GPUs for blade servers, Linux desktop support

VMworld 2015 NVIDIA has announced the second version of its Grid desktop virtualisation software, complete with a pair of GPUs for blade servers. NVIDIA is pitching GRID as a hardware offering tuned to the needs of graphically-demanding desktop virtualisation (VDI) workloads. If that sounds a bit exotic, consider environments like the resources industry, where on-site engineers need CAD and modelling tools, but miners are loathe to deploy desktops in the remote sites where stuff gets dug out of the ground. VDI works a treat in such spots.