Meet Cornelius Schumacher - Akademy Keynote Speaker
Submitted by Rianne Schestowitz on Wednesday 27th of August 2014 05:27:04 PM
Filed under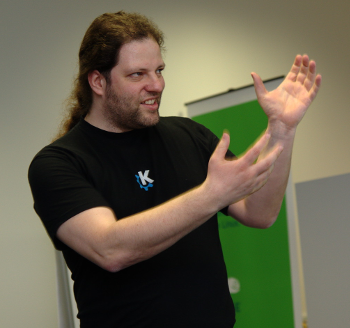 At Akademy 2014, outgoing KDE e.V. Board President Cornelius Schumacher will give the community keynote. He has attended every Akademy and has been amazed and inspired at every one of them. If you want more of what KDE can bring to your life, Cornelius's talk is the perfect elixir.
Here are glimpses of Cornelius that most of us have never seen. They give a sense of what has made him a successful leader of KDE for several years.
More in Tux Machines
Why the Open Source Stars Must Align

Open source projects like OpenStack, Docker, OPNFV and OpenDaylight are more supported and better funded than ever before. They mark a broader trend of large, active and well-resourced open source projects that are among the leaders in Big Data, cloud computing, operating systems and development practices. Open source has come a long way in 30 years – and its success marks a new era for the overall OSS community. But success does not come without potential pitfalls. One of the greatest obstacles to project success isn't the proprietary competition – it's the lack of communication between large open source projects like OpenStack and Docker.

Myth Busting the Open-Source Cloud Part 1

On the contrary, open-source cloud computing products are designed from the outset with security in mind. For example, there are features such as identity management to monitor who has access to content, and data encryption to safeguard information while it's at rest or in transit. Furthermore, open-source cloud software is peer-reviewed by community participants, leading to continuous improvements in the quality of security features and mechanisms. This community also monitors and rapidly discloses vulnerabilities and issues, and provides security updates to address them.

What does an adult look like in an open source community?

You're no longer "just an adult." You're now trusted and looked to for opinions on how the community should grow. You're a community elder. You embody the history. You keep the history. You work together with other adults and elders to guide and make the community stronger. And to a certain extent, the community once again looks after you, just as it did in the first phase.