Meet Cornelius Schumacher - Akademy Keynote Speaker
Submitted by Rianne Schestowitz on Wednesday 27th of August 2014 05:27:04 PM
Filed under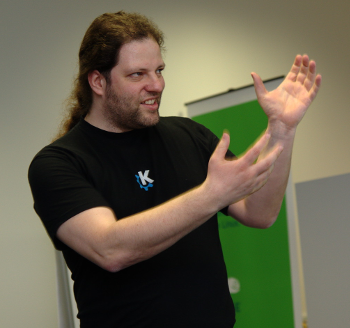 At Akademy 2014, outgoing KDE e.V. Board President Cornelius Schumacher will give the community keynote. He has attended every Akademy and has been amazed and inspired at every one of them. If you want more of what KDE can bring to your life, Cornelius's talk is the perfect elixir.
Here are glimpses of Cornelius that most of us have never seen. They give a sense of what has made him a successful leader of KDE for several years.
More in Tux Machines
Ubuntu 14.10 Released, openSUSE GNOME Peek, and Debian Multimedia

ubuntuThe release of Ubuntu 14.10, codenamed Utopic Unicorn, was the big news today. But in other news, Kostas Koudaras has a sneak peek of GNOME in upcoming openSUSE 13.2 and Alessio Treglia shared some bits on Debian 8.0 multimedia. Miguel de Icaza announces Mono for the Unreal Engine and, finally, Erich Schubert says avoiding systemd isn't hard at all.

eBay joins open-source community with ultra-fast OLAP engine for Hadoop

Like arch-rival Amazon.com, the soon-to-split eBay Inc. is something of an oddity in that it hasn't historically been a big contributor to the open-source community. But the e-commerce pioneer hopes to change that with the release of the source-code for a homegrown online analytics processing (OLAP) engine that promises to speed up Hadoop while also making it more accessible to everyday enterprise users.

DHS report makes recommendations for greater open source software use in government

A report commissioned by the Homeland Security Department's Science and Technology Directorate say barriers to using and developing open source software must be addressed as IT budgets across government continue to tighten.

Calculate Linux Provides Consistency by Design

Calculate Linux has a rather interesting strategy for desktop environments. It is characterized by two flavors with the same look and feel. That does not mean that the inherent functionality of the KDE and Xfce desktops are compromised. Rather, the Calculate Linux developers did what you seldom see within a Linux distribution with more than one desktop option: They unified the design.