Meet Cornelius Schumacher - Akademy Keynote Speaker
Submitted by Rianne Schestowitz on Wednesday 27th of August 2014 05:27:04 PM
Filed under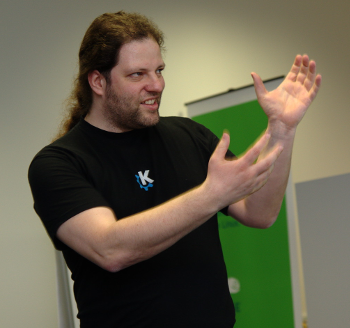 At Akademy 2014, outgoing KDE e.V. Board President Cornelius Schumacher will give the community keynote. He has attended every Akademy and has been amazed and inspired at every one of them. If you want more of what KDE can bring to your life, Cornelius's talk is the perfect elixir.
Here are glimpses of Cornelius that most of us have never seen. They give a sense of what has made him a successful leader of KDE for several years.
More in Tux Machines
Arch Linux 2015.03.01 Is Now Available for Download

A brand-new ISO image of the lightweight, highly customizable and powerful Arch Linux computer operating system has been released today, March 1, 2015, for those who want to deploy the acclaimed distribution on new computers.

Cuberox, App-Driven Linux-Based Cube, Has Six Touch Screens

Vancouver-based startup Cuberox launched a new Kickstarter campaign on Tuesday to raise funds for a Linux-based cube of the same name. This gadget sports a touch-enabled screen on each side and is capable of running six apps simultaneously. The campaign is shooting to acquire $150,000 in funding before the March 29, 2015 deadline.

Rancher Labs builds Linux system for Docker

As Docker continues to gain popularity, more and more minimalist operating systems are emerging to run the platform in production and at scale. Rancher Labs recently announced a new open-source operating system designed explicitly for Docker. While Docker is able run on almost any Linux distribution, RancherOS was conceptualized out of the company's own needs, according to Sheng Liang, founder and CEO of Rancher Labs.

The state of Linux gaming in the SteamOS era

For decades after Linux's early '90s debut, even the hardest of hardcore boosters for the open source operating system had to admit that it couldn't really compete in one important area of software: gaming. "Back in around 2010 you only had two choices for gaming on Linux," Che Dean, editor of Linux gaming news site Rootgamer recalls. "Play the few open source titles, Super Tux Kart and so on, or use WINE to play your Windows titles."