Meet Cornelius Schumacher - Akademy Keynote Speaker
Submitted by Rianne Schestowitz on Wednesday 27th of August 2014 05:27:04 PM
Filed under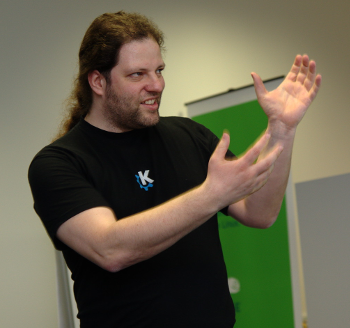 At Akademy 2014, outgoing KDE e.V. Board President Cornelius Schumacher will give the community keynote. He has attended every Akademy and has been amazed and inspired at every one of them. If you want more of what KDE can bring to your life, Cornelius's talk is the perfect elixir.
Here are glimpses of Cornelius that most of us have never seen. They give a sense of what has made him a successful leader of KDE for several years.
More in Tux Machines
Project Halium Seeks A Unified Mobile GNU/Linux

New forks of GNU/Linux come out all the time, but some, like the newly unveiled Project Halium, actively seek to unite a given landscape. In this case the mobile world. Rather than being yet another version of Linux on mobile devices, like SailfishOS or Ubuntu Touch, Project Halium's goal is to create a base that anybody can work off of to integrate all sorts of Linux code into the Android stack smoothly. Ideally, Project Halium wants to not only build out a base framework that anybody can use to hook their Linux project into Android's soft underbelly of code and run it on an Android device, but they want to be the de facto example of such, in much the same way that saying the word "Linux" out in public will make many people immediately think of Ubuntu.

3 Linux questions from the community

In the last The Queue, I flipped the script and asked you questions as opposed to answering them. It was so well received, I'm going to keep it going with three more questions this month. I'll resume answering next month, so don't forget you can fill the queue with your questions about Linux, building and maintaining communities, contributing to an open source project, and anything else you'd like to know. While the previous two questions were a bit philosophical, this month we'll keep it fun.

Flatpak 0.9.3 Linux App Sandboxing Framework Released with Many Builder Changes

Alex Larsson from the Flatpak team announces the release and immediate availability of the third maintenance update to the Flatpak 0.9 series of the open-source Linux application sandboxing and distribution framework.

New CloudLinux 7 Beta Linux Kernel Available for Testing, Two Crashes Addressed

CloudLinux's Mykola Naugolnyi announced today, April 26, 2017, the availability of a new Beta kernel for users of the CloudLinux 7 operating system series, addressing various vulnerabilities discovered lately.