New Human Interface Guidelines for GNOME and GTK+
Submitted by Rianne Schestowitz on Thursday 21st of August 2014 12:09:41 PM
Filed under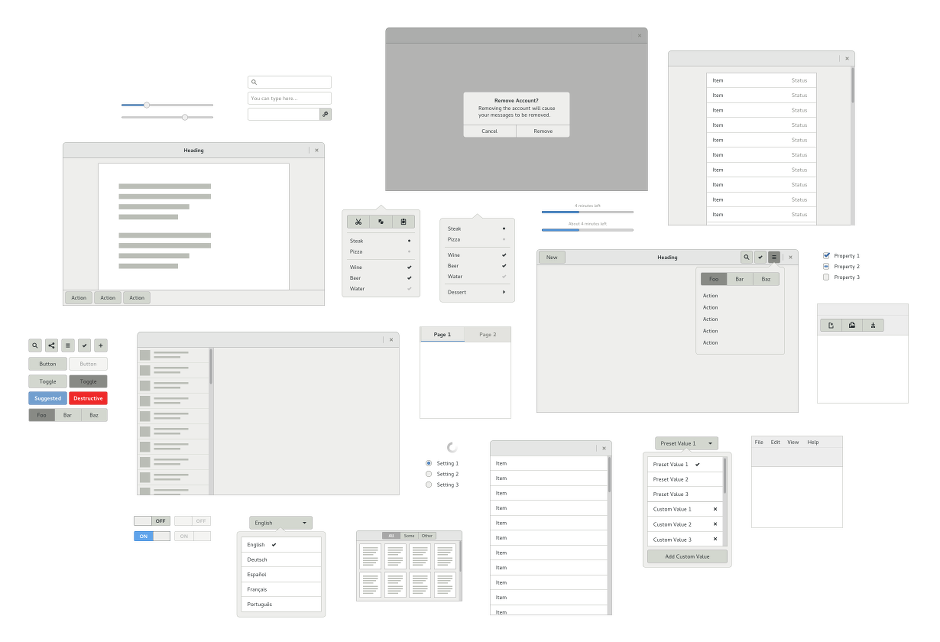 I've recently been hard at work on a new and updated version of the GNOME Human Interface Guidelines, and am pleased to announce that this will be ready for the upcoming 3.14 release.
Over recent years, application design has evolved a huge amount. The web and native applications have become increasingly similar, and new design patterns have become the norm. During that period, those of use in the GNOME Design Team have worked with developers to expand the range of GTK+'s capabilities, and the result is a much more modern toolkit.
More in Tux Machines
Cinnamon 2.8.6 Desktop Environment Is Out for Linux Mint 17.3 "Rosa"

The developers behind the popular Cinnamon open-source desktop environment, a fork of the GNOME Shell user interface of the acclaimed GNOME 3 desktop environment, have released a new maintenance build for the Cinnamon 2.8 series.

KDE Plasma 5.5

KDE developer Kai Uwe has just published a lengthy article where he talks about developing a Windows 8-inspired theme for the upcoming KDE Plasma 5.5 desktop environment.

Kai Uwe has been working on some experimental hacks to resemble Windows 8, although Microsoft's default interface has changed with Windows 10. He's calling this work "U-Bahn" (the German equivalent of a Metro subsystem system) in reference to Microsoft at the time calling it Metro. This was just some brief hacking and he's not planning to see this U-Bahn project through to the end.

While applets can be installed through "Get Hot New Stuff" and distribution repositories, there's also the classic .plasmoid file. A feature suggested by one of my colleagues – fresh KDE Plasma user – was to drag .plasmoid files onto the desktop or panel and have them installed. After Marco Martin implemented the neccessary KPackage plumbing this is now possible.

Security Leftovers

As kernel security maintainer James Morris noted in the introduction to a 2015 Kernel Summit session, a lot of progress has been made with regard to kernel security in the last 10-15 years. That said, there are lot of things we could be doing better, and one could make the case that we have fallen behind the state of the art in a number of areas, including self-protection and hardening. On that note, he stepped aside and let Kees Cook give the group the bad news about what needs to be done to improve the kernel's security.

Canonical has revealed information in a security notice about a dpkg vulnerability that has been identified and fixed in Ubuntu 15.10, Ubuntu 15.04, Ubuntu 14.10, and Ubuntu 14.04 LTS.

Happy Thanksgiving to those who celebrate it, from all of us here at LWN.

Leftovers: Gaming

0 A.D. Alpha 19 features new victory modes, a ceasefire game mode, attack coordination, new animals, SDL2 by default for the Linux build, and a variety of other enhancements.

I have it straight from the developer that Dying Light's DLC The Following will be on Linux, after I saw reports and speculation that it wouldn't be. The price is also set to rise, so you may want to pickup the season pass soon due to how big it is.

The first flipper pinball machine was released 68 years and 1 month ago and yet there is only a handful of open source, cross-platform pinball video games available! Oh well, let's take them for a spin, shall we?