Intel's Latest Linux Graphics Code Competes Against OS X 10.9
Submitted by Rianne Schestowitz on Thursday 21st of August 2014 12:03:40 PM
Filed under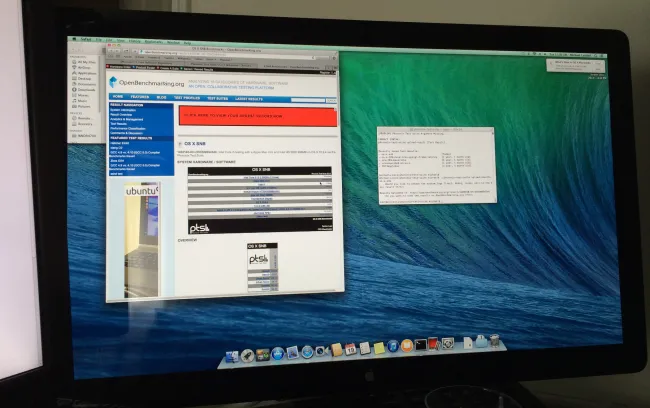 Tests I carried out last month with a Haswell-based Apple MacBook Air showed Linux largely smashing OS X 10.9 with the latest open-source graphics driver code on Linux over Apple's OpenGL driver. Today I'm testing the latest OS X 10.9.4 state against the newest Linux kernel and Intel Mesa driver code on Ubuntu while this time using an older Sandy Bridge era Apple Mac Mini.
More in Tux Machines
Lumina Desktop 0.8.6 Released!

Just in time for PC-BSD & FreeBSD 10.2 (coming soon), the Lumina desktop has been updated to version 0.8.6! This version contains a number of updates for non-English users (following up all the new translations which are now available), as well as a number of important bug-fixes, and support for an additional FreeDesktop specification. The PC-BSD "Edge" packages have already been updated to this version and the FreeBSD ports tree will be getting this update very soon as well.

Find The Perfect Linux-Compatible PC With Ubuntu's Hardware Database

Some PCs are more difficult to run Linux on than others — it's all about the drivers. Some laptops are available with Linux pre-installed, but plenty aren't — even though they may make great Linux PCs. The Ubuntu Certified Hardware database helps you find Linux-compatible PCs. Most computers can run Linux, but some are much easier than others. Certain hardware manufacturers (whether it's Wi-Fi cards, video cards, or other buttons on your laptop) are more Linux-friendly than others, which means installing drivers and getting things to work will be less of a hassle.

GNOME Software Package Manager App Updated for GNOME 3.16 to Fix Multiple Bugs

The GNOME Project released earlier today, August 3, the fifth maintenance release of the stable GNOME Software package manager application for the GNOME 3.16 desktop environment, a version that fixes seven issues.

Linux Kernel 4.1.4 LTS Released with Numerous Updated Drivers, ARM64 Improvements

Today, August 3, Greg Kroah-Hartman announced the release and immediate availability for download of the fourth maintenance release of the stable, long-term supported Linux 4.1 kernel.