Computer Dating, Linux Style
Submitted by Rianne Schestowitz on Thursday 7th of August 2014 07:31:11 AM
Filed under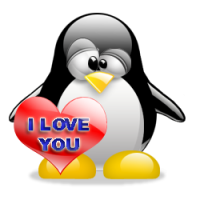 Look…let's face this together. Dating can suck.
When you're young, it's an adventure. One has relatively little baggage, the emotional scars are few and you haven't even begun to think about dating's therapeutic value yet. In other words, the dating world is your oyster.
Then you find yourself at midlife, when you've accumulated a large pool of of crises. You know, stuff like that divorce or two under your belt, some strong political or religious beliefs that are deeply ingrained and…oh yeah…that messy conviction for hacking that's still on your record. These are things that tend to narrow down the potential list of candidates for life-long bliss.
»
Printer-friendly version

862 reads

PDF version
More in Tux Machines
Debian and Ubuntu Leftovers

Tizen: India, Games, Update

Running Radeon RX Vega On Linux 4.15, NVIDIA/Radeon Benchmarks

With AMDGPU DC having been merged a few days ago for the Linux 4.15 merge window, it's now possible to run the Radeon RX Vega graphics cards with display support using the mainline kernel without having to resort to using a patched/third-party kernel build or using the AMDGPU-PRO hybrid driver. Here are some tests I have carried out with the Radeon RX Vega 56, RX Vega 64, and other graphics cards from Linux 4.15 Git compared to a few NVIDIA GPUs. Also: NVIDIA's Binary Driver Doesn't Yet Play Nicely With Linux 4.15 Less related: 'Urgent data corruption issue' destroys filesystems in Linux 4.14

Wine and Games

Free software developer Roderick Colenbrander has made public his Wine-Vulkan repository that he is using to stage his work around better Vulkan support within Wine. Roderick's Wine-Vulkan patches are in a state for experimenting with Vulkan on Wine and implements Vulkan 1.0.51 with few optional extensions currently. This is enough to run the Vulkan information utility, a Vulkan cube demo, and the vkQuake game along with other basic Vulkan apps. Both 32-bit and 64-bit programs should be working now.

I absolutely love watching Overload [Steam, Official Site] progress, as each fresh update makes the game even more fun. Let's take a look at what's new this time. Two major new additions for the 0.8 update are the new challenge map "Backfire" and a new cloaked Phantom robot. Together, they're a pretty awesome boost for an already extremely fun game. The stealthy robot certainly does mix things up a bit!