Computer Dating, Linux Style
Submitted by Rianne Schestowitz on Thursday 7th of August 2014 07:31:11 AM
Filed under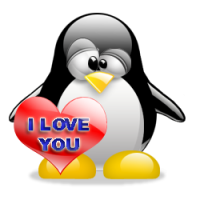 Look…let's face this together. Dating can suck.
When you're young, it's an adventure. One has relatively little baggage, the emotional scars are few and you haven't even begun to think about dating's therapeutic value yet. In other words, the dating world is your oyster.
Then you find yourself at midlife, when you've accumulated a large pool of of crises. You know, stuff like that divorce or two under your belt, some strong political or religious beliefs that are deeply ingrained and…oh yeah…that messy conviction for hacking that's still on your record. These are things that tend to narrow down the potential list of candidates for life-long bliss.
More in Tux Machines
Leftovers: KDE Software

For anyone who has been paying any attention of PyKDE5 over the last year or so, it is no secret that development and maintenance has been at a standstill. I've been very busy with a family and small children, and that eats time like you wouldn't believe. (Unit number 2 is almost 6 months now, healthy and happy I can report.) But another important factor is that my interests have shifted towards web related technologies over the last few years.

qt-kde-620x350Here's the latest and greatest of KDE's software collection (Frameworks, Plasma, Applications). SInce my last 'ktown' release, all of KDE's sources have been renewed, and today I am making public a package set for KDE 5 aka Plasma 5 with version 5_15.03: my March '15 release.

OpenELEC 5.0.7 released

The OpenELEC team is proud to announce OpenELEC 5.0.7. OpenELEC-5.0 is the next stable release, which is a feature release and the successor of OpenELEC-4.2.

Dekko 0.5 Beta (Email Client For Ubuntu Touch) Has Been Released

As you may know, Canonical has started working at Dekko, its own email client for Ubuntu Touch, using the lightweight Trojita email client as code-base.

Running FreeBSD on the server: a sysadmin speaks

For years now, Linux has been all the rage. But in recent times, there have been murmurings among some veterans — long-time users — after the introduction of systemd, the init system that seems to overstep its boundaries.