GTK+ 3 Plugins in WebKitGTK+ and Evince Browser Plugin
Submitted by Rianne Schestowitz on Wednesday 6th of August 2014 05:19:21 PM
Filed under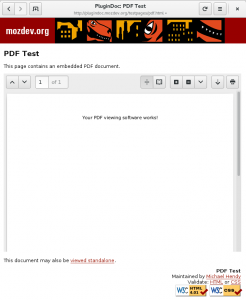 The WebKit2 GTK+ API has always been GTK+ 3 only, but WebKitGTK+ still had a hard dependency on GTK+ 2 because of the plugin process. Some popular browser plugins like flash or Java use GTK+ 2 unconditionally (and it seems they are not going to be ported to GTK+ 3, at least not in the short term). These plugins stopped working in Epiphany when it switched to GTK+ 3 and started to work again when Epiphany moved to WebKit2.
To support GTK+ 2 plugins we had to build the plugin process with GTK+ 2, but also some parts of WebCore and WebKit2 (the ones depending on GTK+ and used by the plugin process) were built twice. As a result we had a WebKitPluginProcess binary of ~40MB, that was always used for all the plugins. This kind of made sense, since there were no plugins using GTK+ 3, and the GTK+ 2 dependency was harmless for plugins not using GTK+ at all. However, we realized we were making a rule for the exception, since most of the plugins don't even use GTK+, and there weren't plugins using GTK+ 3 because they were not supported by any browser (kind of chicken-egg problem).
More in Tux Machines
Wine 2.7 Has Been Released

Canonical Releases Snapd 2.25 Snappy Daemon for Ubuntu Linux, Here Is What's New

Canonical's Snappy team, through Michael Vogt, announced today, April 28, 2017, the release and immediate availability of the Snapd 2.25 Snappy daemon for all supported Ubuntu Linux OSes, as well as other GNU/Linux distributions.

Ubuntu Devs Work on Rebasing Ubuntu 17.10 (Artful Aardvark) to Linux Kernel 4.11

It looks like the Ubuntu Kernel team is back at work after taking a short break, and they recently published another installation of their bi-weekly newsletter to inform the Ubuntu Linux community about what to expect in the coming weeks.

Linux Mint-using terror nerd awaits sentence for training Islamic State

A paranoid Welsh Muslim who wore gloves while typing on his laptop, admitted being part of Islamic State, and, gasp, harbored a copy of Linux Mint, has been described as a "new and dangerous breed of terrorist." Samata Ullah, 34, who also used voice modulation software to disguise his thick Welsh accent while making instructional videos about encryption, pleaded guilty to five terrorism charges at Cardiff Crown Court. He was due to be sentenced Friday afternoon.