GTK+ 3 Plugins in WebKitGTK+ and Evince Browser Plugin
Submitted by Rianne Schestowitz on Wednesday 6th of August 2014 05:19:21 PM
Filed under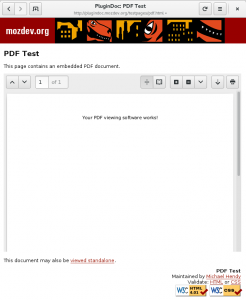 The WebKit2 GTK+ API has always been GTK+ 3 only, but WebKitGTK+ still had a hard dependency on GTK+ 2 because of the plugin process. Some popular browser plugins like flash or Java use GTK+ 2 unconditionally (and it seems they are not going to be ported to GTK+ 3, at least not in the short term). These plugins stopped working in Epiphany when it switched to GTK+ 3 and started to work again when Epiphany moved to WebKit2.
To support GTK+ 2 plugins we had to build the plugin process with GTK+ 2, but also some parts of WebCore and WebKit2 (the ones depending on GTK+ and used by the plugin process) were built twice. As a result we had a WebKitPluginProcess binary of ~40MB, that was always used for all the plugins. This kind of made sense, since there were no plugins using GTK+ 3, and the GTK+ 2 dependency was harmless for plugins not using GTK+ at all. However, we realized we were making a rule for the exception, since most of the plugins don't even use GTK+, and there weren't plugins using GTK+ 3 because they were not supported by any browser (kind of chicken-egg problem).
More in Tux Machines
Lumina Desktop 1.1 Released

The BSD-focused, Qt-powered Lumina Desktop Environment is out with its version 1.1 update. The developers behind the Lumina Desktop Environment consider it a "significant update" with both new and reworked utilities, infrastructure improvements, and other enhancements. Lumina 1.1 adds a pure Qt5 calculator, text editor improvements, the file manager has been completely overhauled, system application list management is much improved, and there is a range of other improvements.

Radeon vs. Nouveau Open-Source Drivers On Mesa Git + Linux 4.9

For your viewing pleasure this Friday are some open-source AMD vs. NVIDIA numbers when using the latest open-source code on each side. Linux 4.9-rc1 was used while Ubuntu 16.10 paired with the Padoka PPA led to Mesa Git as of earlier this week plus LLVM 4.0 SVN. As covered recently, there are no Nouveau driver changes for Linux 4.9 while we had hoped the boost patches would land. Thus the re-clocking is still quite poor for this open-source NVIDIA driver stack. For the Nouveau tests I manually re-clocked each graphics card to the highest performance state (0f) after first re-clocking the cards to the 0a performance state for helping some of the GPUs that otherwise fail with memory re-clocking at 0f, as Nouveau developers have expressed this is the preferred approach for testing.

Ubuntu MATE, Not Just a Whim

I've stated for years how much I dislike Ubuntu's Unity interface. Yes, it's become more polished through the years, but it's just not an interface that thinks the same way I do. That's likely because I'm old and inflexible, but nevertheless, I've done everything I could to avoid using Unity, which usually means switching to Xubuntu. I actually really like Xubuntu, and the Xfce interface is close enough to the GNOME 2 look, that I hardly miss the way my laptop used to look before Unity. I wasn't alone in my disdain for Ubuntu's flagship desktop manager switch, and many folks either switched to Xubuntu or moved to another Debian/Ubuntu-based distro like Linux Mint. The MATE desktop started as a hack, in fact, because GNOME 3 and Unity were such drastic changes. I never really got into MATE, however, because I thought it was going to be nothing more than a hack and eventually would be unusable due to old GNOME 2 libraries phasing out and so forth.

EU-Fossa project submits results of code audits

The European Commission's 'EU Free and Open Source Software Auditing' project (EU-Fossa) has sent its code review results to the developers of Apache HTTP server target and KeePass. The audit results are not yet made public, however, no critical vulnerabilities were found.