GTK+ 3 Plugins in WebKitGTK+ and Evince Browser Plugin
Submitted by Rianne Schestowitz on Wednesday 6th of August 2014 05:19:21 PM
Filed under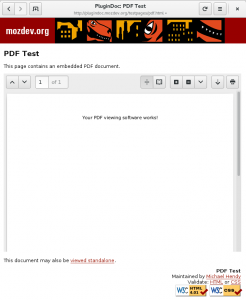 The WebKit2 GTK+ API has always been GTK+ 3 only, but WebKitGTK+ still had a hard dependency on GTK+ 2 because of the plugin process. Some popular browser plugins like flash or Java use GTK+ 2 unconditionally (and it seems they are not going to be ported to GTK+ 3, at least not in the short term). These plugins stopped working in Epiphany when it switched to GTK+ 3 and started to work again when Epiphany moved to WebKit2.
To support GTK+ 2 plugins we had to build the plugin process with GTK+ 2, but also some parts of WebCore and WebKit2 (the ones depending on GTK+ and used by the plugin process) were built twice. As a result we had a WebKitPluginProcess binary of ~40MB, that was always used for all the plugins. This kind of made sense, since there were no plugins using GTK+ 3, and the GTK+ 2 dependency was harmless for plugins not using GTK+ at all. However, we realized we were making a rule for the exception, since most of the plugins don't even use GTK+, and there weren't plugins using GTK+ 3 because they were not supported by any browser (kind of chicken-egg problem).
More in Tux Machines
The Wacom Linux Driver Continues To Be Improved, New Features In Linux 4.3

Jiri Kosina sent in his pull requests for code he maintains within the mainline Linux kernel, with one of the notable subsystems being the HID updates. Most notable to the HID feature updates for Linux 4.3 are yet more Wacom driver improvements, which are a mention for almost every kernel cycle. Wacom highlights for Linux 4.3 include support for the Express Key Remote and various bug-fixes and feature work.

5 Reasons Not To "Not Use Linux"

2000+ people have already watched Tim's video and that is potentially 2000 people that might not use Linux based on invalid arguments. Hopefully a few more people will read this article and therefore redress the balance somewhat. Before I go I wanted to mention that Tim has produced his own counter argument called "5 Reasons To Use Linux". The points in that video state that Linux is multikernel, is open source, has support for many different hardware devices such as the Raspberry PI, has lots of distros (which kind of counters against point 5 in the reasons not to use Linux) and finally it is free.

x86 Systems Will See Some Boot Time Optimizations With Linux 4.3

Ingo Molnar sent in his several Git pull requests today for the code he maintains within the Linux kernel. Of Molnar's pull requests, the x86/boot changes caught my attention. He mentions "more boot time optimizations."

[Chrome 45] Stable Channel Update

The Chrome team is delighted to announce the promotion of Chrome 45 to the stable channel for Windows, Mac and Linux.