GTK+ 3 Plugins in WebKitGTK+ and Evince Browser Plugin
Submitted by Rianne Schestowitz on Wednesday 6th of August 2014 05:19:21 PM
Filed under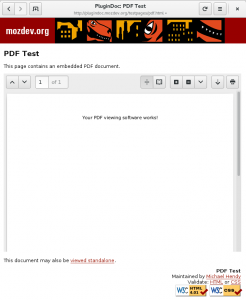 The WebKit2 GTK+ API has always been GTK+ 3 only, but WebKitGTK+ still had a hard dependency on GTK+ 2 because of the plugin process. Some popular browser plugins like flash or Java use GTK+ 2 unconditionally (and it seems they are not going to be ported to GTK+ 3, at least not in the short term). These plugins stopped working in Epiphany when it switched to GTK+ 3 and started to work again when Epiphany moved to WebKit2.
To support GTK+ 2 plugins we had to build the plugin process with GTK+ 2, but also some parts of WebCore and WebKit2 (the ones depending on GTK+ and used by the plugin process) were built twice. As a result we had a WebKitPluginProcess binary of ~40MB, that was always used for all the plugins. This kind of made sense, since there were no plugins using GTK+ 3, and the GTK+ 2 dependency was harmless for plugins not using GTK+ at all. However, we realized we were making a rule for the exception, since most of the plugins don't even use GTK+, and there weren't plugins using GTK+ 3 because they were not supported by any browser (kind of chicken-egg problem).
More in Tux Machines
Canonical Patches Four Linux Kernel Vulnerabilities in Ubuntu 15.04 and Ubuntu 14.04

Today, July 28, Canonical published details about new Linux kernel updates for its Ubuntu 15.04 (Vivid Vervet) and Ubuntu 14.04 LTS (Trusty Tahr) operating systems, urging users to update the installations as soon as possible.

Ubuntu Software Center Is Really Hated by the Community, but Why?

Ubuntu MATE recently decided to drop the Ubuntu Software Center and it will not longer be available with the upcoming 15.10 Alpha 2 release. This is interesting in itself, but this editorial is about another aspect. From the looks of it, a very large part of the Ubuntu and Linux community really hates the Ubuntu Software Center.

Wine Announcement

The Wine development release 1.7.48 is now available. What's new in this release (see below for details): - Fleshed out OpenMP implementation. - I/O stream support in the MSVCIRT C++ runtime. - Support for pixel snapping in DirectWrite. - More support for OpenGL core contexts. - Various bug fixes.

Canonical Closes QEMU Vulnerabilities in Ubuntu 15.04 and Ubuntu 14.04 LTS

Three QEMU vulnerabilities have been found and corrected in Ubuntu 15.04 and Ubuntu 14.04 LTS operating systems by Canonical.