GTK+ 3 Plugins in WebKitGTK+ and Evince Browser Plugin
Submitted by Rianne Schestowitz on Wednesday 6th of August 2014 05:19:21 PM
Filed under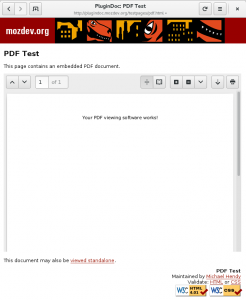 The WebKit2 GTK+ API has always been GTK+ 3 only, but WebKitGTK+ still had a hard dependency on GTK+ 2 because of the plugin process. Some popular browser plugins like flash or Java use GTK+ 2 unconditionally (and it seems they are not going to be ported to GTK+ 3, at least not in the short term). These plugins stopped working in Epiphany when it switched to GTK+ 3 and started to work again when Epiphany moved to WebKit2.
To support GTK+ 2 plugins we had to build the plugin process with GTK+ 2, but also some parts of WebCore and WebKit2 (the ones depending on GTK+ and used by the plugin process) were built twice. As a result we had a WebKitPluginProcess binary of ~40MB, that was always used for all the plugins. This kind of made sense, since there were no plugins using GTK+ 3, and the GTK+ 2 dependency was harmless for plugins not using GTK+ at all. However, we realized we were making a rule for the exception, since most of the plugins don't even use GTK+, and there weren't plugins using GTK+ 3 because they were not supported by any browser (kind of chicken-egg problem).
More in Tux Machines
Open-Source Chat Platform Scrollback Raises $400,000 Seed Round

Scrollback, a free open-source chat platform for online communities, has raised $500,000 Singaporean dollars (about $400,000) led by Jungle Ventures, with participation from Singapore's National Research Foundation, Crystal Horse Investments, Singapore Angel Network, Roland Turner, and other angel investors.

An open source Christmas with Kano

So this season, what every open sourc-erer wants might just be Kano, a computer kit that comes will all the functions needed to build it and learn to code afterwards.

Particulate sensor developed using open source approach

A New York based start up company has used an open source approach, as well as funding from Kickstarter, to develop AirBeam – a handheld sensor which determines the concentration of particles in the air measuring 2.5µm or less. [...] The AirCasting app and website code is available on GitHub as open source, along with the AirBeam firmware and electronic schematics. The STL files for 3D printing the AirBeam and LiteBeam enclosures can be downloaded from www.shapeways.com.

Brocade relying on open source and 'natural tension' for growth

In line with this prediction, Brocade has been working towards changing its business tactics from being known as a hardware enterprise storage provider to also becoming an additional player in the software-defined network market — one in which rival Cisco has also been dipping its toes.