GTK+ 3 Plugins in WebKitGTK+ and Evince Browser Plugin
Submitted by Rianne Schestowitz on Wednesday 6th of August 2014 05:19:21 PM
Filed under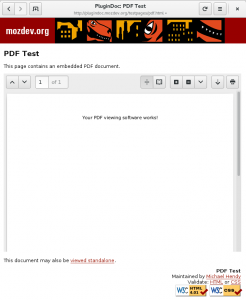 The WebKit2 GTK+ API has always been GTK+ 3 only, but WebKitGTK+ still had a hard dependency on GTK+ 2 because of the plugin process. Some popular browser plugins like flash or Java use GTK+ 2 unconditionally (and it seems they are not going to be ported to GTK+ 3, at least not in the short term). These plugins stopped working in Epiphany when it switched to GTK+ 3 and started to work again when Epiphany moved to WebKit2.
To support GTK+ 2 plugins we had to build the plugin process with GTK+ 2, but also some parts of WebCore and WebKit2 (the ones depending on GTK+ and used by the plugin process) were built twice. As a result we had a WebKitPluginProcess binary of ~40MB, that was always used for all the plugins. This kind of made sense, since there were no plugins using GTK+ 3, and the GTK+ 2 dependency was harmless for plugins not using GTK+ at all. However, we realized we were making a rule for the exception, since most of the plugins don't even use GTK+, and there weren't plugins using GTK+ 3 because they were not supported by any browser (kind of chicken-egg problem).
More in Tux Machines
today's howtos

Leftovers: Ubuntu

The Ubuntu Phone is getting better, and with every new iteration of the OTA, my little BQ Aquaris E4.5 is gaining more speed and functionality. Like in the air force, with an avionics upgrade, which transforms ancient wings into a powerful and modern bird of prey. Only the pace of advancement is lagging behind the market. See what Android and iOS can do, even Windows Phone, and you realize how late and insufficiently meaningful the Ubuntu Phone really is. This has to change, massively. This latest round does bring some fine goods to the table - more speed and stability, better icons, more overall visual polish, incremental improvements in the applications and the scopes. But that's not enough to win the heart of the average user. A more radical, app-centric effort is required. More focus on delivering the mobile experience, be it as it may. Ubuntu cannot revolutionalize that which is already considered the past. It can only join the club and enjoy the benefits of a well-established reality. And that is a kickass app stack that makes the touch device worth using in the first place. Still, it's not all gloomy. E4.5 is a better product now than it was a year ago, fact. Ubuntu Phone is a better operating system than it was even this spring, fact. So maybe one day we will see Ubuntu become an important if not dominant player in the phone and tablet space. It sure is heading in the right direction, my only fear is the availability of resources to pull off this massive rehaul that is needed to make it stand up to the old and proven giants. And that's it really. If you're keen on Linux (not Android) making it in the mobile world, do not forget to check my Ubuntu tablet review! Especially the convergence piece. On that merry note, you do remember that I'm running a wicked contest this year, too? He/she who reads my books might get a chance to win an M10 tablet. Indeed. Off you go, dear readers. Whereas I will now run the same set of tests we did here on the Aquaris tablet, and see how it likes the OTA-12 upgrade. The end.

Leftovers: OSS and Sharing

GNU News

ELI5: Leah Rowe made this commit to the Libreboot website earlier today with the comment "typofix". In fact, it was more than a typo-fix as it shows that the FSF employee either no longer or never did give permission for the opposition against the FSF.

Leah Rowe is still libreboot's maintainer, and the GNU project has zero right to keep libreboot under its umbrella. If the maintainer of a GNU project steps down without intending for that project to leave GNU, then fine. But if a maintainer stays on as that projects maintainer while stating the projects intention to leave GNU, then GNU should honour that request.

At the GNU Tools Cauldron earlier this month in the UK there was a presentation on forthcoming improvements to the GNU Tools, presented by Nick Clifton as part of the Red Hat Tools Team.