Web app dev kit supports Android and Ubuntu
Submitted by Roy Schestowitz on Tuesday 5th of August 2014 01:41:16 AM
Filed under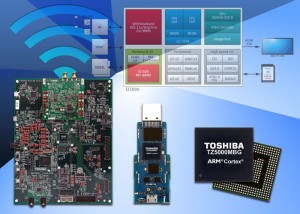 Toshiba Electronics has introduced two starter kits for early development of web applications using the Toshiba TZ5000 Application Processor Lite (ApP Lite) series.
The RBTZ5000-2MA-A1 and RBTZ5000-6MA-A1 starter kits provide drivers for internet applications using HTML5.
Both kits provide drivers for video playback using Wireless LAN and HDMI output, with the RBTZ5000-2MA-A1 on Ubuntu Linux, and the RBTZ5000-6MA-A1 on an Android 4.4 platform.
More in Tux Machines
Mozilla involves the community in its "open-source" rebrand

Mozilla is bending the terms of the rebrand with a "branding without walls" open-source initiative.

RPi 3 add-on loads up on sensors, wireless radios

Matrix Labs's FPGA-driven "Matrix Creator" IoT daughter board for the Raspberry Pi 3 is loaded with sensors, 802.15.4 radios, and a mic array. The disc-shaped Matrix Creator add-on for the Raspberry Pi is based on AdMobilize's successfully Kickstartered Matrix home automation and surveillance hub. AdMobilize spun off Matrix Labs, which has now built this cheaper, board-level version of the product.

Canonical Releases Snapcraft 2.12 Snaps Creator with New Parts Ecosystem, More

Today, June 29, 2016, Canonical has had the great pleasure of announcing the release of the highly anticipated Snapcraft 2.12 Snappy creator tool for the Ubuntu Linux operating system.

AMDGPU-PRO Driver 16.30 Officially Released with Support for Ubuntu 16.04 LTS

Today, June 29, 2016, AMD released the final version of the AMDGPU-Pro 16.30 graphics driver for GNU/Linux operating systems, bringing support for new technologies like the Vulkan API.