Web app dev kit supports Android and Ubuntu
Submitted by Roy Schestowitz on Tuesday 5th of August 2014 01:41:16 AM
Filed under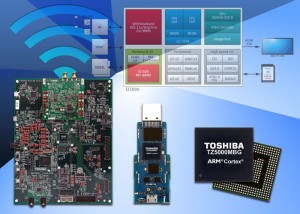 Toshiba Electronics has introduced two starter kits for early development of web applications using the Toshiba TZ5000 Application Processor Lite (ApP Lite) series.
The RBTZ5000-2MA-A1 and RBTZ5000-6MA-A1 starter kits provide drivers for internet applications using HTML5.
Both kits provide drivers for video playback using Wireless LAN and HDMI output, with the RBTZ5000-2MA-A1 on Ubuntu Linux, and the RBTZ5000-6MA-A1 on an Android 4.4 platform.
More in Tux Machines
Ubuntu 15.04 Now Based on Linux Kernel 3.18.4, Devs Are Tracking the 3.19 Branch

A new Linux kernel has been made available for Ubuntu 15.04 (Vivid Vervet) and the developers are also tracking the current 3.19 branch of the kernel, which will eventually be adopted after it reaches a stable state.

Ubuntu Users See Private, Hybrid Cloud Expansion

Canonical, the company behind the open source cross-platform operating system Ubuntu, released its annual cloud and server survey this week that seeks to cast more light on the makeup of cloud infrastructure, how it is managed, and what is driving cloud adoption. Canonical said it surveyed 3,100 customers, most of whom are Ubuntu server and cloud users, about the makeup of their cloud infrastructure and how it is being used.

Papyros Is a Linux OS That Follows Google's Material Design and It Looks Stunning

Papyros is a new Linux distribution in the making that will use the Material Design style from Google. There is nothing to test so far, but the progress made by the developers is impressive and it's very likely that this will become one of the most interesting distros available.

Variety Review – A Wallpaper Manager You Didn't Know You Wanted

Variety is an application that manages your wallpapers and is open source. You might ask, what's so special about that? Well, the truth is that you don't know you want one until you've actually tried it.