Web app dev kit supports Android and Ubuntu
Submitted by Roy Schestowitz on Tuesday 5th of August 2014 01:41:16 AM
Filed under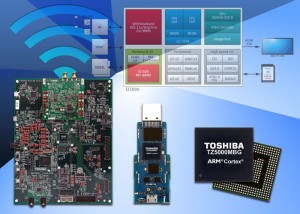 Toshiba Electronics has introduced two starter kits for early development of web applications using the Toshiba TZ5000 Application Processor Lite (ApP Lite) series.
The RBTZ5000-2MA-A1 and RBTZ5000-6MA-A1 starter kits provide drivers for internet applications using HTML5.
Both kits provide drivers for video playback using Wireless LAN and HDMI output, with the RBTZ5000-2MA-A1 on Ubuntu Linux, and the RBTZ5000-6MA-A1 on an Android 4.4 platform.
More in Tux Machines
PuppEX Linux Live CD Now Based on Puppy Xenial, Compatible with Ubuntu 16.04 LTS

Arne Exton informs us about the availability of a new stable build of its Puppy-derived PuppEX Linux Live CD distribution, version 160822, which is now using the latest kernel and software applications.

KDevelop 5.0 Open-Source IDE Officially Released with New C/C++ Language Support

After being in development for the past two years, the open-source KDevelop IDE (Integrated Development Environment) software has finally reached the 5.0 milestone.

Open source drone controller has an FPGA-enhanced brain

Aerotenna has launched an open source, $499 "OcPoc" drone flight controller that runs Linux on an Altera Cyclone V ARM/FPGA SoC. Lawrence, Kansas based Aerotenna, which bills itself as "the leading provider of innovative microwave sensors and flight control systems," describes OcPoC (Octagonal Pilot on Chip) as a ready-to-fly, open source flight control platform. The system integrates an IMU, barometer, GPS, and a CSI-camera interface.

Linux Kernel 3.16.37 LTS Is a Massive Update with Tons of Networking Changes

Immediately after announcing the release of Linux kernel 3.2.82 LTS, maintainer Ben Hutchings proudly informed the community about the availability of the thirty-seventh maintenance update to the Linux 3.16 LTS kernel series.