FSF congratulates UK Government on choosing Open Document Format
Submitted by Rianne Schestowitz on Wednesday 30th of July 2014 02:48:45 AM
Filed under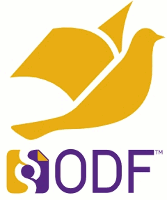 If you live in the UK, you'll soon be able to fill out government paperwork with your freedoms intact. The British government announced last week that Open Document Format (ODF), HTML, and PDF will be the official file formats used by all government agencies.
More in Tux Machines
Leftovers: Software

today's howtos

Kubuntu has fully matured and stabilized and comes with the brand new KDE Plasma workspaces and other KDE technologies. Like any other operating system Kubuntu also needs a little bit of work to get it ready for you. There are a few things which are optional and I have added them here based on my own usage, you may not need them.

Leftovers: Gaming

Sorry, Windows 9 Fans, This Is How Multiple Desktops Should Work – Video

The Linux platform has always taken pride in this cool feature. Having multiple desktops is a great way to increase the productivity and there are numerous means to implement it. Lots of Linux distributions have this option, which is used in various ways.