Linux Mint 17: Fresh and Long-Lasting
Submitted by Rianne Schestowitz on Monday 30th of June 2014 09:42:58 PM
Filed under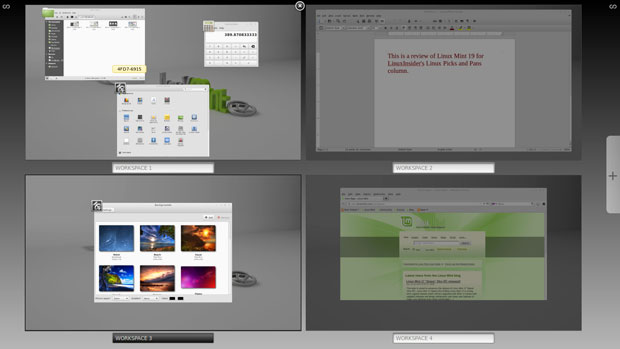 Linux Mint 17 is very impressive, but it is often said that the devil is in the details. With Linux Mint 17, the accumulated details are very devilish indeed. The development team did a hell of a job making this Linux distro smoother and better. The GUI for System Settings has a more consistent look. The categories are better organized and separated into subsections.
More in Tux Machines
The Machine with Open Source Carbon OS is the Next Big Thing – if HP can deliver

HP has recently been facing some serious difficulties and has opted to betting all its resources on the new PC called 'The Machine'. Probably the most intriguing thing about the machine is that it will rewrite basic computing on a very fundamental level. While the topic has been covered extensively, I realized we haven't actually touched it here and thought it was about time.

YEAR of the PENGUIN: A Linux mobile in 2015?

It's nearly impossible to sum up an entire year of developments in something as large and nebulous as the world of desktop Linux, especially in a year like this one which has seen some the best releases that projects like Mint, Fedora and openSUSE have put out to date. At the same time the distro that's closest to being a household name, Ubuntu, has been nearly silent since 14.04 arrived in April. To paraphrase author Charles Dickens, the past year of Linux releases has been both the best of times and the worst of times. At the very moment that Linux desktops seem to be reaching new levels of sophistication, polish and "just works" ease-of-use, the entire future of the desktop computer (by which I also mean laptop) feels in doubt.

Jolla's Sailfish OS Update 10 Is Now Available

The tenth update to Jolla's Sailfish mobile operating system is now available. This update is version 1.1.1.26 and is codenamed Vaarainjärvi.

Forget Google's robot cars, now it's on to ANDROID cars

Google is planning a big push into in-car infotainment systems with an upcoming version of Android, sources claim. "Android M" – the version to come after the current Android 5.0 "Lollipop" – will be available in a formulation designed specifically to run cars' built-in screens, Reuters reports, citing anonymous insiders with knowledge of the plan. Google made its first advances toward the automotive world at its I/O developer conference earlier this year, when it unveiled its Android Auto software. The first Android Auto–compatible cars are expected to arrive early next year.