​How to Try Firefox OS Apps on Android
Submitted by Roy Schestowitz on Saturday 21st of June 2014 07:39:58 AM
Filed under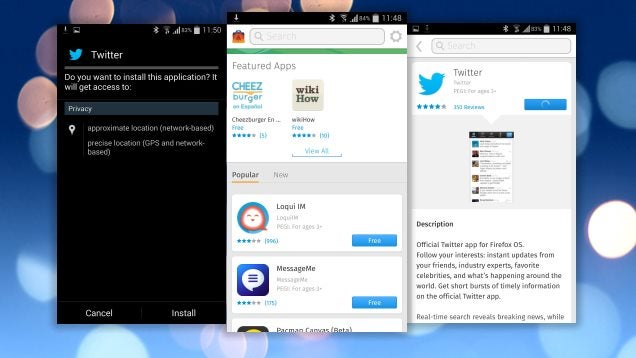 Android: Mozilla is best known for its web browser, but the company also produces Firefox OS for a limited number of handsets. With a little sideways thinking, though, you can try some of its apps in Android.
Much like Google Chrome, Firefox supports webapps—the OS and apps are built with the same technology—and this is how you can bring Firefox OS to Android. Apps work like browser extensions, so they take up very little room making them ideal for older devices or those with limited storage. Download a copy of Firefox for Android from the Google Play Store, or update your existing copy to 29 or above.
Fire up Firefox and visit the Firefox Marketplace, the Firefox version of Google Play or the Chrome Web Store. Take a browse through the Marketplace and tap an app that takes your fancy. Just as with regular Android apps, Firefox OS apps let you know about the permissions they need, and you have to accept this before you install anything.
More in Tux Machines
GNOME 3.25.3 Released, GTK Development

GNOME 3.25.3 is now available as the latest stepping stone towards September's release of GNOME 3.26.

Matthias Clasen has informed the community via an email announcement that the third milestone of the upcoming GNOME 3.26 desktop environment is now ready for public testing. After a one day delay, GNOME 3.25.3 is now available, and it's the third development release of the upcoming GNOME 3.26 desktop environment that could be used by default in popular GNU/Linux distributions, such as the Ubuntu 17.10 (Artful Aardvark) or Fedora 27, both due for release later this year. It brings a bunch of updates and new features to several of its components and apps.

Well, let me be frank. Ever since gtk-3.0 I've been skeptical of it, especially of the theming aspect. In gtk-2 we had (and still have) many themes ranging from trash to excellent, almost every kind of taste could have been satisfied. Not so in gtk-3. First issue is constant changes to theming API, meaning that despite there being hundreds of themes, only handful of them actually work right :( And among them, I still have yet to find one that would work on my fairly usual 15,6″ laptop screen with 1366×768 px resolution. Basicaly I have two issues.

Microsoft Dirty Tricks and Entryism

The council is led by Chris Liddell, a top aide to Trump and the former chief financial officer of Microsoft.

The FAS said Microsoft should act to change the alleged restrictions it imposed on users of anti-virus software from third parties.

As yet it's not clear if this is satisfactory for either Mr Kaspersky or the EC, as it only seems to partly answer the accusations.

Security: Windows Causes Chaos, Routers With Back Doors, Patching of UNIX/Linux

OpenBSD Development News

I was a nobody. With some encouragement, enough liquid courage to override my imposter syndrome, and a few hours of mentoring, I'm now doing big projects. The next time you're sitting at a table with someone new to your field, ask yourself: how can you encourage them? You just might make the world better.

Thank you Dale. And thank you Theo.

We've had the linkkit components in the tree for a while, but it has taken nearly 20 rounds between rpe/tb/myself to get the last few bits finished. So that the link kit is cleanly used at reboot, but also fits in with the practices kernel developers follow.