​How to Try Firefox OS Apps on Android
Submitted by Roy Schestowitz on Saturday 21st of June 2014 07:39:58 AM
Filed under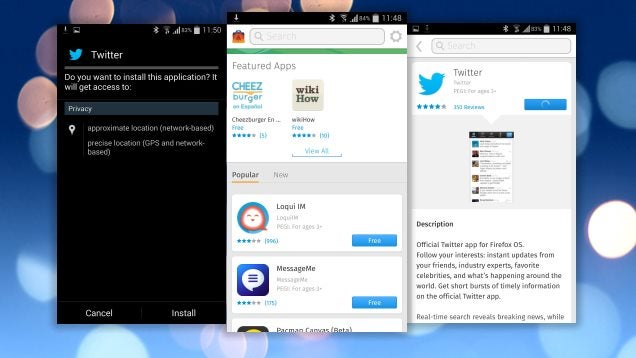 Android: Mozilla is best known for its web browser, but the company also produces Firefox OS for a limited number of handsets. With a little sideways thinking, though, you can try some of its apps in Android.
Much like Google Chrome, Firefox supports webapps—the OS and apps are built with the same technology—and this is how you can bring Firefox OS to Android. Apps work like browser extensions, so they take up very little room making them ideal for older devices or those with limited storage. Download a copy of Firefox for Android from the Google Play Store, or update your existing copy to 29 or above.
Fire up Firefox and visit the Firefox Marketplace, the Firefox version of Google Play or the Chrome Web Store. Take a browse through the Marketplace and tap an app that takes your fancy. Just as with regular Android apps, Firefox OS apps let you know about the permissions they need, and you have to accept this before you install anything.
More in Tux Machines
Putin's New Internet Czar Wants Apple and Google to Pay More Taxes

Microsoft, Google and other U.S. companies "reached the point of no return" when they complied with sanctions over Putin's annexation of Crimea by halting all business with the peninsula, according to Klimenko. As a result, it's "inevitable" Russia will switch state networks from Windows to an open-source system based on Linux, a move 22,000 municipal governments are prepared to make immediately, he said.

FOSS Licensing

Richard Stallman has published a new guide on gnu.org titled License compatibility and relicensing. Gnu.org is home to a whole host of resources on free software licensing, including frequently asked questions about GNU licenses and our list of free software licenses. Our license list contains information on which licenses are compatible with the GNU General Public License as well as a brief description of what it means to be compatible. This latest article by Stallman provides a more in–depth explanation of what compatibility means and the different ways in which it is achieved.

What is licensing? Why does it matter? Why should you care? There are many reasons that licensing is an important part of a project you are working on. You are taking the time to write code and share it with the world in an open way, such as publishing it on GitHub, Bitbucket, or any number of other code-hosting services. Anyone might stumble across your code and find it useful. Licensing is the way that you can control exactly how someone who finds your code can use it and in what ways.

Smoother Scrolling in Firefox 46

According to a latest and lengthy post published by Kartikaya Gupta on the Mozilla Hacks website, it looks like the upcoming Firefox 46 web browser will finally bring smooth scrolling to the desktop. Now, we don't know how many of you out there are experiencing scrolling issues when browsing various web pages on the Internet, but it appears to be a major problem if Mozilla is going to all the trouble of implementing smoother scrolling support into its popular Firefox web browser.