​How to Try Firefox OS Apps on Android
Submitted by Roy Schestowitz on Saturday 21st of June 2014 07:39:58 AM
Filed under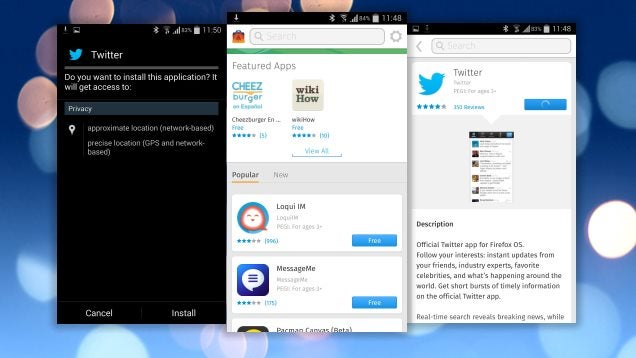 Android: Mozilla is best known for its web browser, but the company also produces Firefox OS for a limited number of handsets. With a little sideways thinking, though, you can try some of its apps in Android.
Much like Google Chrome, Firefox supports webapps—the OS and apps are built with the same technology—and this is how you can bring Firefox OS to Android. Apps work like browser extensions, so they take up very little room making them ideal for older devices or those with limited storage. Download a copy of Firefox for Android from the Google Play Store, or update your existing copy to 29 or above.
Fire up Firefox and visit the Firefox Marketplace, the Firefox version of Google Play or the Chrome Web Store. Take a browse through the Marketplace and tap an app that takes your fancy. Just as with regular Android apps, Firefox OS apps let you know about the permissions they need, and you have to accept this before you install anything.
More in Tux Machines
Leftovers: Gaming

The Beta branch of the Steam distribution platform has been updated by Valve and the devs have explained that a few changes have been made.

Leftovers: Software

Halcyon Software has announced the immediate availability of a new Linux on Power agent that runs on IBM Power Systems to ensure that the Linux operating system performs correctly. It also gives tighter control of 'mission-critical' applications running on Linux through automatic and continuous monitoring and management. Halcyon's new monitoring technology meets the requirements of organisations deploying Linux on IBM Power Systems to give greater scalability, reducing 'server sprawl' and infrastructure costs, particularly for large data centres and managed services providers (MSPs) with cloud-based offerings.

today's howtos

ACPI, kernels and contracts with firmware

This ends up being a pain in the neck in the x86 world, but it could be much worse. Way back in 2008 I wrote something about why the Linux kernel reports itself to firmware as "Windows" but refuses to identify itself as Linux. The short version is that "Linux" doesn't actually identify the behaviour of the kernel in a meaningful way. "Linux" doesn't tell you whether the kernel can deal with buffers being passed when the spec says it should be a package. "Linux" doesn't tell you whether the OS knows how to deal with an HPET. "Linux" doesn't tell you whether the OS can reinitialise graphics hardware.