​How to Try Firefox OS Apps on Android
Submitted by Roy Schestowitz on Saturday 21st of June 2014 07:39:58 AM
Filed under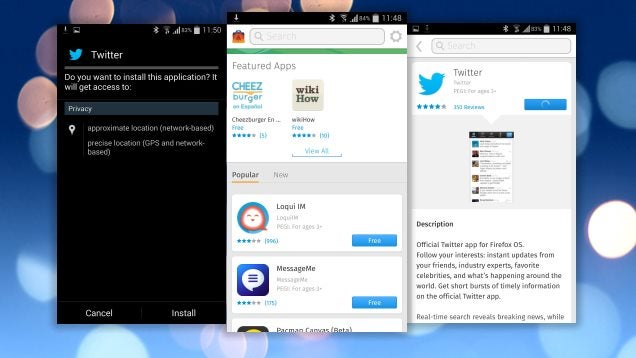 Android: Mozilla is best known for its web browser, but the company also produces Firefox OS for a limited number of handsets. With a little sideways thinking, though, you can try some of its apps in Android.
Much like Google Chrome, Firefox supports webapps—the OS and apps are built with the same technology—and this is how you can bring Firefox OS to Android. Apps work like browser extensions, so they take up very little room making them ideal for older devices or those with limited storage. Download a copy of Firefox for Android from the Google Play Store, or update your existing copy to 29 or above.
Fire up Firefox and visit the Firefox Marketplace, the Firefox version of Google Play or the Chrome Web Store. Take a browse through the Marketplace and tap an app that takes your fancy. Just as with regular Android apps, Firefox OS apps let you know about the permissions they need, and you have to accept this before you install anything.
More in Tux Machines
today's howtos

Leftovers: Gaming

Linux Mint Debian Might Not Adopt Systemd

The Linux Mint team has ended 2014 in force with a great Linux Mint 17.1 "Rebecca" release, for both the MATE and Cinnamon desktop, but it looks like the Debian edition is also going to be interesting.

Latest SteamOS Update Brings New NVIDIA and AMD Drivers

SteamOS, a Linux distribution based on Debian and developed by Valve that aims to provide the best gaming experience, has been updated by its makers and a new Beta version has been released.