​How to Try Firefox OS Apps on Android
Submitted by Roy Schestowitz on Saturday 21st of June 2014 07:39:58 AM
Filed under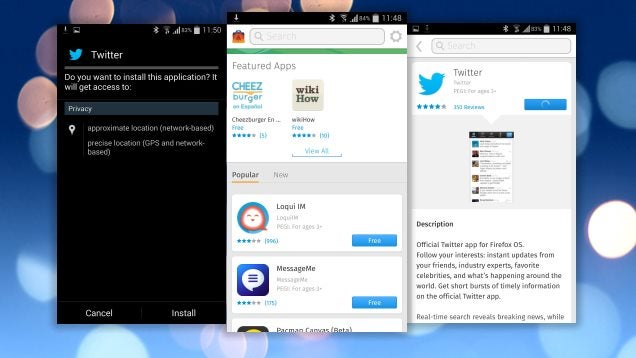 Android: Mozilla is best known for its web browser, but the company also produces Firefox OS for a limited number of handsets. With a little sideways thinking, though, you can try some of its apps in Android.
Much like Google Chrome, Firefox supports webapps—the OS and apps are built with the same technology—and this is how you can bring Firefox OS to Android. Apps work like browser extensions, so they take up very little room making them ideal for older devices or those with limited storage. Download a copy of Firefox for Android from the Google Play Store, or update your existing copy to 29 or above.
Fire up Firefox and visit the Firefox Marketplace, the Firefox version of Google Play or the Chrome Web Store. Take a browse through the Marketplace and tap an app that takes your fancy. Just as with regular Android apps, Firefox OS apps let you know about the permissions they need, and you have to accept this before you install anything.
More in Tux Machines
today's howtos

Raspberry Pi Zero: The Latest

Linux Foundation adds Open Networking Summit to event portfolio

The Linux Foundation is adding the Open Networking Summit to its event portfolio beginning with the next show scheduled for March 14 in Santa Clara, California. The ONS was initially started by companies focused on software-defined networking technologies to enable collaboration efforts centered on SDN, OpenFlow and network functions virtualization. Those events have seen collaborative efforts announced from the likes of AT&T, Google and the Linux Foundation.

Richard Stallman Is Not The Father Of Open Source

Richard Stallman wants to make one thing completely clear: He is not the father. "I'm not the father of open source. If I'm the father of open source, it was conceived by artificial insemination without my knowledge or consent," he proclaimed from the keynote stage last month at Fossetcon 2015. It wasn't close to the strongest statement he made from that stage.