​How to Try Firefox OS Apps on Android
Submitted by Roy Schestowitz on Saturday 21st of June 2014 07:39:58 AM
Filed under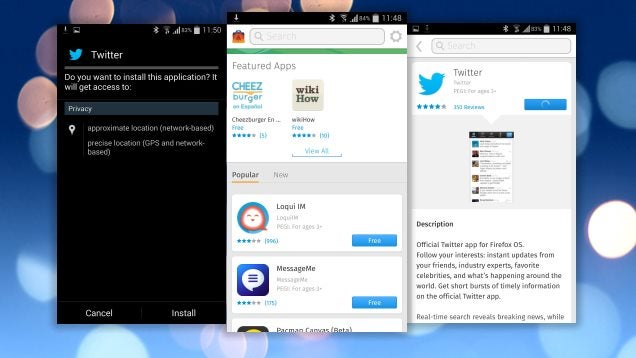 Android: Mozilla is best known for its web browser, but the company also produces Firefox OS for a limited number of handsets. With a little sideways thinking, though, you can try some of its apps in Android.
Much like Google Chrome, Firefox supports webapps—the OS and apps are built with the same technology—and this is how you can bring Firefox OS to Android. Apps work like browser extensions, so they take up very little room making them ideal for older devices or those with limited storage. Download a copy of Firefox for Android from the Google Play Store, or update your existing copy to 29 or above.
Fire up Firefox and visit the Firefox Marketplace, the Firefox version of Google Play or the Chrome Web Store. Take a browse through the Marketplace and tap an app that takes your fancy. Just as with regular Android apps, Firefox OS apps let you know about the permissions they need, and you have to accept this before you install anything.
More in Tux Machines
Debian 7.8 "Wheezy" Live CD Now Available for Download

The Debian 7.8 "Wheezy" Live CD has been released by the developers and it arrives just a couple of weeks after the installable version was made available.

Open source software for quantum information

NIST is a world leader in quantum information research, harnessing the strange properties of quantum mechanics (nature's instruction book for atoms, photons, and other microscopic systems) to vastly improve computational power, make secure communications systems, and affect many other applications. Quantum information products are already coming to market, with much greater impacts expected in the future.

Android Leftovers

Portugal engineering lab: facts favour open source

Open source should win. This type of software is more reliable, more stable and provides more flexibility than proprietary software, says João Marcelino, an engineer working for Laboratório Nacional de Engenharia Civil (National Laboratory for Civil Engineering, LNEC), a state-owned research and development institution. On top of that, the software lets organisations inspect and audit the code without restriction.