Intel Brings QuickAssist Support To Linux: Crypto & Compression
Submitted by Rianne Schestowitz on Tuesday 3rd of June 2014 09:01:03 PM
Filed under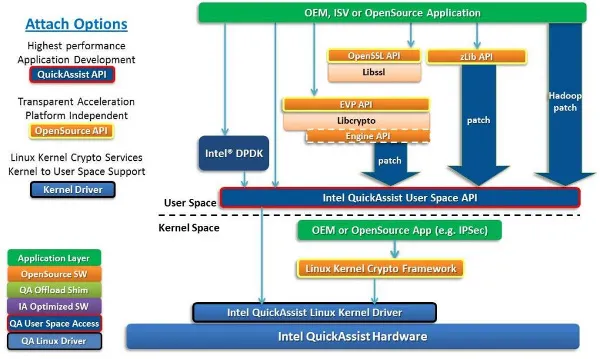 Intel has published a new Linux kernel patch-set that adds Quick Assist Technology support to Linux along with a driver to handle their DH895xxC hardware accelerator. This is a new chip for trying to accelerate cryptography and data compression tasks.
Quick Assist Technology is a new Intel technology for better accelerating cryptography and data compression operations. The Linux implementation consists of a kernel driver to connect to the Linux kernel crypto framework and a Linux user-space library with a QuickAssist API for application porting. Intel Linux developers have already patched OpenSSL's libcrypto and Zlib for taking advantage of this Intel technology.
More in Tux Machines
The Internet Without Connection, Free Endless OS For Emerging Markets

There are four billion people on the planet without PCs or access to affordable personal computers. That figure should surely be tempered with some contextualization i.e. not everybody actually wants to have an Internet connection and many traditional, native or bucolic ways of live do still exist on the planet. Regardless, there are a batch of global initiatives in existence which seek to give computer access to every man, woman and especially child. Endless OS is one such project. The free operating system has been designed explicitly to work in the expensive or restrictive Internet data conditions that often exist in emerging markets where fabulously affordable broadband has yet to arrive. The software itself is built to provide useful information and educational content, with or without an Internet connection.