Intel Brings QuickAssist Support To Linux: Crypto & Compression
Submitted by Rianne Schestowitz on Tuesday 3rd of June 2014 09:01:03 PM
Filed under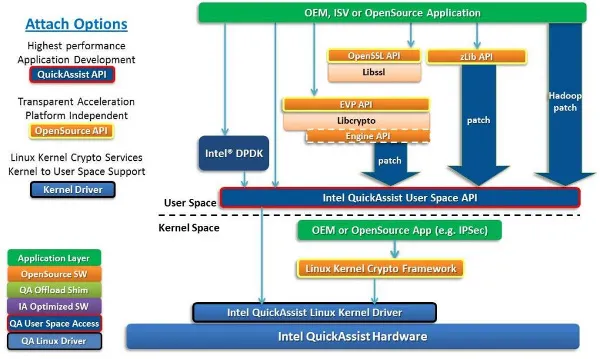 Intel has published a new Linux kernel patch-set that adds Quick Assist Technology support to Linux along with a driver to handle their DH895xxC hardware accelerator. This is a new chip for trying to accelerate cryptography and data compression tasks.
Quick Assist Technology is a new Intel technology for better accelerating cryptography and data compression operations. The Linux implementation consists of a kernel driver to connect to the Linux kernel crypto framework and a Linux user-space library with a QuickAssist API for application porting. Intel Linux developers have already patched OpenSSL's libcrypto and Zlib for taking advantage of this Intel technology.
More in Tux Machines
'Governments should have a free software policy'

Governments must have policies that increase their use of free and open source software solutions, says Professor Dr Wolfgang Finke from the Ernst-Abbe University of Applied Sciences in Jena (Germany). In many countries, the use of proprietary software might be unsustainable in the long-term, he says, "either from a technical or from a financial point of view."

Linux Remote Desktop Roundup

Over the years I've found that a significant hurdle to getting family and friends to switch to Linux comes from its lack of familiarity. This is especially true when it comes to troubleshooting any issues. Obviously, when a malfunction occurs it's not always possible to be there in person. However thanks to the wonders of broadband Internet and advanced software, we're now able to do the next best thing. In this article, I'll share some recommended remote desktop software for Linux. I'll explore both open source and closed source solutions.

Android ski goggles offer augmented reality display

It runs Android on a 1.2GHz ARM CPU, and offers hands-free control.

Photoshop competitor Krita is a true creative tool -- and it's free and open source

Open source has some of the greatest tools, which continues to prove that you don't have to lock-down the code behind guarded walls to make a better product. Some popular open source products that don't have any match in the closed source world include Firefox, Chromium, VLC, Blender, Android, one gem that is, surprisingly, less known but extremely powerful when it comes to creating a work of art.