Intel Brings QuickAssist Support To Linux: Crypto & Compression
Submitted by Rianne Schestowitz on Tuesday 3rd of June 2014 09:01:03 PM
Filed under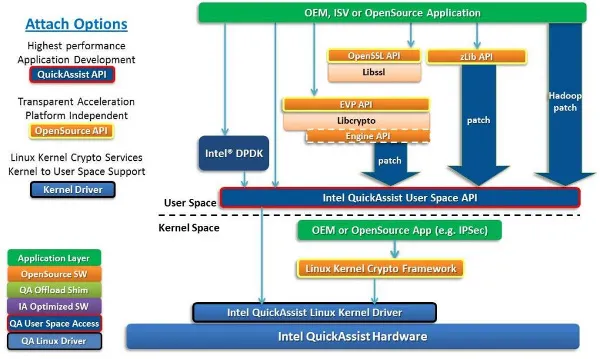 Intel has published a new Linux kernel patch-set that adds Quick Assist Technology support to Linux along with a driver to handle their DH895xxC hardware accelerator. This is a new chip for trying to accelerate cryptography and data compression tasks.
Quick Assist Technology is a new Intel technology for better accelerating cryptography and data compression operations. The Linux implementation consists of a kernel driver to connect to the Linux kernel crypto framework and a Linux user-space library with a QuickAssist API for application porting. Intel Linux developers have already patched OpenSSL's libcrypto and Zlib for taking advantage of this Intel technology.
More in Tux Machines
Security and Linux

Security researchers have published proof-of-concept code for a major router vulnerability leveraging a popular Linux kernel driver that could be used by hackers to compromise millions of connected devices.

Last year was news about Russia wanting to design its own processors to be less reliant upon Intel and AMD. The initial "Baikal" processor was expected to be based on ARMv8 but it turns out now that it's a MIPS design.

Linux/Moose allows cybercriminals to skim unencrypted information about users' social media accounts that then can be used to sign up those individuals as social media followers for people and businesses that pay for followers, according to James Quin, senior director of content & C-suite communities at CDM Media.

Leftovers: Software

today's howtos

Leftovers: Gaming

We wrote about the game when developer Sparweed was looking for beta testers in September. I took part in the beta, along with a Steam friend, and was able to play it then. The game was very prone to crash for no apparent reason at the time though, and it also had several other issues, including problems with input and the Steam overlay. Thankfully, the game is in a much better state now, and after playing for about half an hour yesterday, neither I nor my friend encountered any of the issues we experienced before.

I bought Hero of the Kingdom and was going to just give it a quick test before writing it up, but before I knew it an hour had flown by. The premise is that your farm has been burned down by bandits, and not having anywhere to stay, you go out on a quest to find your father. Along your way, you meet all sorts of people who will help you find your way, as long as you help them with various tasks. The story isn't deep and the writing is simple stuff, but it has its charm and is definitely serviceable.

So this just happened! It would appear that Valve just took the decision, without asking users first, to change the Tux logo with the SteamOS one on both the Steam website and the desktop client.