INTRODUCING GTKINSPECTOR
Submitted by Rianne Schestowitz on Saturday 17th of May 2014 02:06:50 AM
Filed under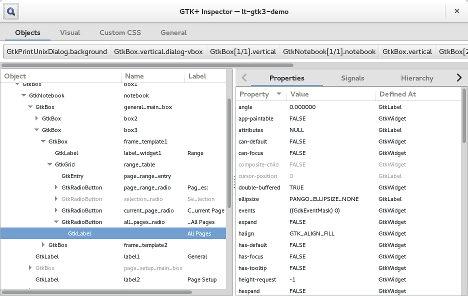 If you need to solve a tricky GTK+ problem in your application, gtkparasite is a very useful tool to have around. It lets you explore the widget hierarchy, change properties, tweak theme settings, and so on.
Unfortunately, gtkparasite is a tool for people 'in the know' - it is not part of GTK+, not advertised on our website, and not available out of the box on your average GTK+ installation.
At the Developer Experience hackfest in Berlin a few weeks ago, the assembled GTK+ developers discussed fixing this situation by making an interactive debugger like gtkparasite part of GTK+ itself. This way, it will be available whenever you run a GTK+ application, and we can develop and improve the debugging tools alongside the toolkit.
»
Printer-friendly version

738 reads

PDF version
More in Tux Machines
Games: Ostriv, Back to Bed, EVERSPACE, Hiveswap: Act 1

Ostriv [Official Site] is a city-builder built by one developer and I think it looks reasonably impressive. The developer plans Linux support too.

After a long wait, EVERSPACE [Steam] arrived for Linux recently, here's my thoughts of this rather intense space shooter. I personally purchased my copy, as space combat games are one of my original loves.

Looks like another possible Kickstarter disappointment. The game Hiveswap: Act 1, by Homestuck creator Andrew Hussie, set a fundraising record back in 2012, making a whopping $2 million when it only asked for $750k. Linux support was one of the early stretch goals, which was smashed on the very first day. The game was set to release in 2014. Over the following years the game saw setbacks, mostly due to the team contracted to work on the 3D graphics going off to work on King's Quest instead and leaving Hussie in the lurch. So he retooled, made a strategic alliance with Viz comics, and made a 2D adventure game instead. The game released today on Humble and Steam — with no Linux support.

Openwashing and Microsoft FUD

BlueBorne Vulnerability Is Patched in All Supported Ubuntu Releases, Update Now

Canonical released today new kernel updates for all of its supported Ubuntu Linux releases, patching recently discovered security vulnerabilities, including the infamous BlueBorne that exposes billions of Bluetooth devices. The BlueBorne vulnerability (CVE-2017-1000251) appears to affect all supported Ubuntu versions, including Ubuntu 17.04 (Zesty Zapus), Ubuntu 16.04 LTS (Xenial Xerus) up to 16.04.3, Ubuntu 14.04 LTS (Trusty Tahr) up to 14.04.5, and Ubuntu 12.04 LTS (Precise Pangolin) up to 12.04.5.

Security: Updates, 2017 Linux Security Summit, Software Updates for Embedded Linux and More

The past Thursday and Friday was the 2017 Linux Security Summit, and once again I think it was a great success. A round of thanks to James Morris for leading the effort, the program committee for selecting a solid set of talks (we saw a big increase in submissions this year), the presenters, the attendees, the Linux Foundation, and our sponsor - thank you all! Unfortunately we don't have recordings of the talks, but I've included my notes on each of the presentations below. I've also included links to the slides, but not all of the slides were available at the time of writing; check the LSS 2017 slide archive for updates.

The Mirai botnet attack that enslaved poorly secured connected embedded devices is yet another tangible example of the importance of security before bringing your embedded devices online. A new strain of Mirai has caused network outages to about a million Deutsche Telekom customers due to poorly secured routers. Many of these embedded devices run a variant of embedded Linux; typically, the distribution size is around 16MB today. Unfortunately, the Linux kernel, although very widely used, is far from immune to critical security vulnerabilities as well. In fact, in a presentation at Linux Security Summit 2016, Kees Cook highlighted two examples of critical security vulnerabilities in the Linux kernel: one being present in kernel versions from 2.6.1 all the way to 3.15, the other from 3.4 to 3.14. He also showed that a myriad of high severity vulnerabilities are continuously being found and addressed—more than 30 in his data set.