INTRODUCING GTKINSPECTOR
Submitted by Rianne Schestowitz on Saturday 17th of May 2014 02:06:50 AM
Filed under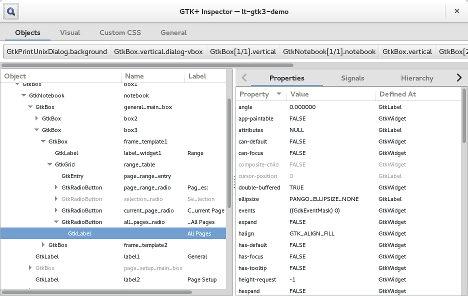 If you need to solve a tricky GTK+ problem in your application, gtkparasite is a very useful tool to have around. It lets you explore the widget hierarchy, change properties, tweak theme settings, and so on.
Unfortunately, gtkparasite is a tool for people 'in the know' - it is not part of GTK+, not advertised on our website, and not available out of the box on your average GTK+ installation.
At the Developer Experience hackfest in Berlin a few weeks ago, the assembled GTK+ developers discussed fixing this situation by making an interactive debugger like gtkparasite part of GTK+ itself. This way, it will be available whenever you run a GTK+ application, and we can develop and improve the debugging tools alongside the toolkit.
More in Tux Machines
GNOME/Unity in Ubuntu

A more accessible way to enable low graphics mode on Unity 7 may be on the way. The desktop already supports a low graphics mode of sorts, which can be enabled via Compiz. But this is far a) not easy to enable and b) does not disable every cycle-sucking composited element in the UI.

today's howtos

Leftovers: Software (Subsurface, GRUB, GIMP, and Todo.txt)

Red Hat News

With the use of APIs in enterprises soaring into the hundreds and beyond, Red Hat devises a containerized management platform that provides scalability for developers and DevOps.