INTRODUCING GTKINSPECTOR
Submitted by Rianne Schestowitz on Saturday 17th of May 2014 02:06:50 AM
Filed under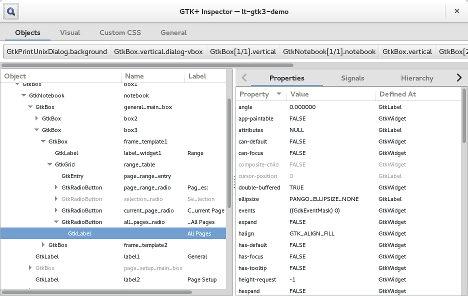 If you need to solve a tricky GTK+ problem in your application, gtkparasite is a very useful tool to have around. It lets you explore the widget hierarchy, change properties, tweak theme settings, and so on.
Unfortunately, gtkparasite is a tool for people 'in the know' - it is not part of GTK+, not advertised on our website, and not available out of the box on your average GTK+ installation.
At the Developer Experience hackfest in Berlin a few weeks ago, the assembled GTK+ developers discussed fixing this situation by making an interactive debugger like gtkparasite part of GTK+ itself. This way, it will be available whenever you run a GTK+ application, and we can develop and improve the debugging tools alongside the toolkit.
More in Tux Machines
PuppEX Linux Live CD Now Based on Puppy Xenial, Compatible with Ubuntu 16.04 LTS

Arne Exton informs us about the availability of a new stable build of its Puppy-derived PuppEX Linux Live CD distribution, version 160822, which is now using the latest kernel and software applications.

KDevelop 5.0 Open-Source IDE Officially Released with New C/C++ Language Support

After being in development for the past two years, the open-source KDevelop IDE (Integrated Development Environment) software has finally reached the 5.0 milestone.

Open source drone controller has an FPGA-enhanced brain

Aerotenna has launched an open source, $499 "OcPoc" drone flight controller that runs Linux on an Altera Cyclone V ARM/FPGA SoC. Lawrence, Kansas based Aerotenna, which bills itself as "the leading provider of innovative microwave sensors and flight control systems," describes OcPoC (Octagonal Pilot on Chip) as a ready-to-fly, open source flight control platform. The system integrates an IMU, barometer, GPS, and a CSI-camera interface.

Linux Kernel 3.16.37 LTS Is a Massive Update with Tons of Networking Changes

Immediately after announcing the release of Linux kernel 3.2.82 LTS, maintainer Ben Hutchings proudly informed the community about the availability of the thirty-seventh maintenance update to the Linux 3.16 LTS kernel series.