INTRODUCING GTKINSPECTOR
Submitted by Rianne Schestowitz on Saturday 17th of May 2014 02:06:50 AM
Filed under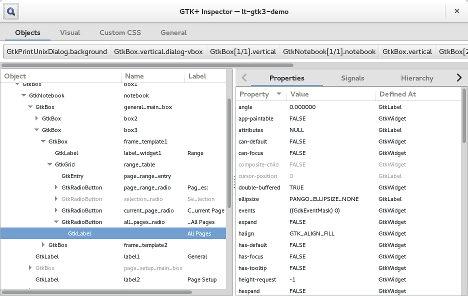 If you need to solve a tricky GTK+ problem in your application, gtkparasite is a very useful tool to have around. It lets you explore the widget hierarchy, change properties, tweak theme settings, and so on.
Unfortunately, gtkparasite is a tool for people 'in the know' - it is not part of GTK+, not advertised on our website, and not available out of the box on your average GTK+ installation.
At the Developer Experience hackfest in Berlin a few weeks ago, the assembled GTK+ developers discussed fixing this situation by making an interactive debugger like gtkparasite part of GTK+ itself. This way, it will be available whenever you run a GTK+ application, and we can develop and improve the debugging tools alongside the toolkit.
More in Tux Machines
Tile's tiny Bluetooth stuff-tracker now works with Android

The Android app, which hits Google's Play Store today, will work with every Tile the company has shipped so far. It's a different story in terms of what phones it works with, with the app requiring Android 4.4 KitKat or higher, as well as Bluetooth 4.0. Tile says it's also only optimized its software for a handful of phones, including Samsung's Galaxy S5, the Nexus 4, Nexus 5, HTC One, and HTC One M8.

Raspberry Pi's Gallium3D Driver Could Now Run Significantly Faster

Eric Anholt, the lead developer developer behind the Broadcom VC4 Mesa/Gallium3D driver stack for supporting the Raspberry Pi, has announced a new performance achievement. Eric implemented a user-space buffer object cache for the Gallium3D driver. This buffer object cache is designed after the user-space cache he designed for Intel's driver while being employed by them. This cache reuses buffer objects that haven't been shared to other processes and frees buffer objects that have been in the cache unused for over one second.

Red Hot Red Hat, Mageia Gives Back, and Linux Awards

Today in Linux news, the Mint project announced the release candidate for 17.1 KDE. In other news the Mageia project donates 250€ to GCompris and TheStreet says Red Hat stock is poised to become "red hot" in 2015. LinuxQuestions.org announced their 2014 Members Choice Awards today and Bruce Byfield has some tips for KDE users.