INTRODUCING GTKINSPECTOR
Submitted by Rianne Schestowitz on Saturday 17th of May 2014 02:06:50 AM
Filed under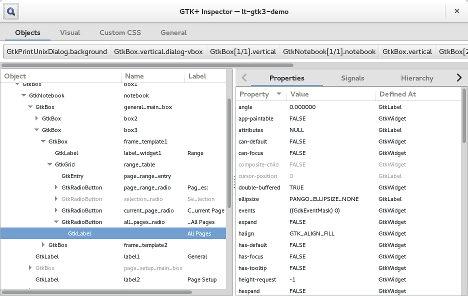 If you need to solve a tricky GTK+ problem in your application, gtkparasite is a very useful tool to have around. It lets you explore the widget hierarchy, change properties, tweak theme settings, and so on.
Unfortunately, gtkparasite is a tool for people 'in the know' - it is not part of GTK+, not advertised on our website, and not available out of the box on your average GTK+ installation.
At the Developer Experience hackfest in Berlin a few weeks ago, the assembled GTK+ developers discussed fixing this situation by making an interactive debugger like gtkparasite part of GTK+ itself. This way, it will be available whenever you run a GTK+ application, and we can develop and improve the debugging tools alongside the toolkit.
More in Tux Machines
Head 2 Head: Android OS vs. Chrome OS

A large part of Google's OS success hasn't been because of its awesomeness. No. Frankly, we think nothing speaks louder than the almighty dollar in this world. But both are "free," right? So this is tie? Not really. Although Android is technically free since Google doesn't charge device makers for it, there are costs associated with getting devices "certified." Oh, yeah, and then there's Apple and Microsoft, both of which get healthy payouts from device makers through patent lawsuits. Microsoft reportedly makes far more from Android sales than Windows Phone sales. You just generally don't see the price because it's abstracted by carriers. Chrome OS, on the other hand, actually is pretty much free. A top-ofthe-line Chromebook is $280, while a top-of-the-line Android phone full retail is usually $600. We're giving this one to Chrome OS because if it's generally cheaper for the builder, it's cheaper for you.

Kodi (XBMC Media Center) 14.2 Officially Released, Kodi 15 "Isengard" Is On Its Way

The Kodi development team, through Nathan Betzen, had the pleasure of announcing today, March 28, the immediate availability for download of the second and last maintenance release for Kodi 14 (codename Helix), before they continue with the development cycle for the upcoming release, Kodi 15, dubbed Isengard.

Debian 8 Jessie Installer Now Supports Running a 64-bit Linux Kernel on a 32-bit EFI

The Debian Installer team had the pleasure of announcing on March 27 that the second Release Candidate (RC) version of the Debian 8.0 "Jessie" installer is now available for download and testing. The RC2 version of the installer brings a great number of improvements and fixes.

First Look at GNOME 3.16

The highly anticipated GNOME 3.16 desktop environment for Linux kernel-based operating systems has been announced on March 26, 2015, and has been declared by the GNOME development team as the best GNOME release yet. Of course, we wanted to give GNOME 3.16 desktop environment a try and see for ourselves the new features, apps, and improvements.