INTRODUCING GTKINSPECTOR
Submitted by Rianne Schestowitz on Saturday 17th of May 2014 02:06:50 AM
Filed under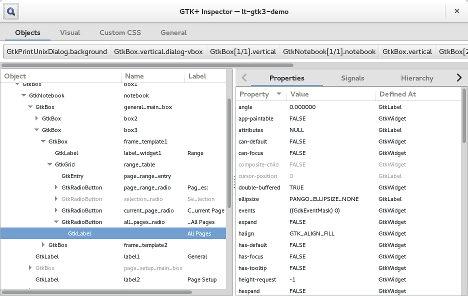 If you need to solve a tricky GTK+ problem in your application, gtkparasite is a very useful tool to have around. It lets you explore the widget hierarchy, change properties, tweak theme settings, and so on.
Unfortunately, gtkparasite is a tool for people 'in the know' - it is not part of GTK+, not advertised on our website, and not available out of the box on your average GTK+ installation.
At the Developer Experience hackfest in Berlin a few weeks ago, the assembled GTK+ developers discussed fixing this situation by making an interactive debugger like gtkparasite part of GTK+ itself. This way, it will be available whenever you run a GTK+ application, and we can develop and improve the debugging tools alongside the toolkit.
More in Tux Machines
Next Tizen Smartphone, Samsung Z3 SM-Z300H, Imported to india for Testing

The Samsung Z3 SM-Z300H is going to be the second Tizen based Smartphone to begin testing in India and hopefully final release. We Initially reported on the existence of the Z3 with Sammobile confirming it will be the next Tizen mobile phone to be released. Now our friends at Best Tizen Apps have noticed a shipment of a few "SM-Z300H" Smartphones making the journey from Korea to Bangalore India, reported for testing purposes. The phone is shipped as costing $205 USD per unit around 13,039 INR, but this is more of a speculated price and does not reflect final retail pricing.

It's Now Easier Managing Systemd In KDE

For those running KDE on a systemd-based Linux system, the KDE Control Module for controlling this init system and its options has been updated.

See How Your Linux PC Compares To The Core i7 5775C With Iris 6200 Graphics

Now that I seem to have found a workaround for my Core i7 5775C Broadwell Linux issue that resulted in very frequent kernel panics, it's off to the benchmark races. Here are some preliminary Linux benchmark figures for this first socketed Intel Broadwell LGA-1150 desktop CPU with Iris 6200 graphics.

Oxide Vulnerabilities Closed in Ubuntu OSes

Canonical has revealed some details in a security notice about a few Oxide vulnerabilities that have been found and repaired in Ubuntu 15.04, Ubuntu 14.10, and Ubuntu 14.04 LTS operating systems.