INTRODUCING GTKINSPECTOR
Submitted by Rianne Schestowitz on Saturday 17th of May 2014 02:06:50 AM
Filed under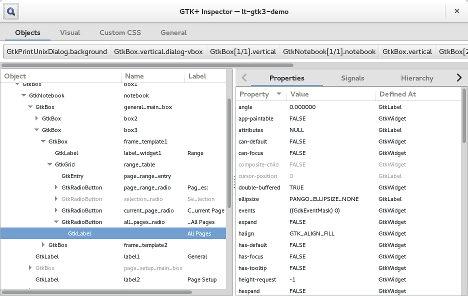 If you need to solve a tricky GTK+ problem in your application, gtkparasite is a very useful tool to have around. It lets you explore the widget hierarchy, change properties, tweak theme settings, and so on.
Unfortunately, gtkparasite is a tool for people 'in the know' - it is not part of GTK+, not advertised on our website, and not available out of the box on your average GTK+ installation.
At the Developer Experience hackfest in Berlin a few weeks ago, the assembled GTK+ developers discussed fixing this situation by making an interactive debugger like gtkparasite part of GTK+ itself. This way, it will be available whenever you run a GTK+ application, and we can develop and improve the debugging tools alongside the toolkit.
More in Tux Machines
Canonical Patches Four Linux Kernel Vulnerabilities in Ubuntu 15.04 and Ubuntu 14.04

Today, July 28, Canonical published details about new Linux kernel updates for its Ubuntu 15.04 (Vivid Vervet) and Ubuntu 14.04 LTS (Trusty Tahr) operating systems, urging users to update the installations as soon as possible.

Ubuntu Software Center Is Really Hated by the Community, but Why?

Ubuntu MATE recently decided to drop the Ubuntu Software Center and it will not longer be available with the upcoming 15.10 Alpha 2 release. This is interesting in itself, but this editorial is about another aspect. From the looks of it, a very large part of the Ubuntu and Linux community really hates the Ubuntu Software Center.

Wine Announcement

The Wine development release 1.7.48 is now available. What's new in this release (see below for details): - Fleshed out OpenMP implementation. - I/O stream support in the MSVCIRT C++ runtime. - Support for pixel snapping in DirectWrite. - More support for OpenGL core contexts. - Various bug fixes.

Canonical Closes QEMU Vulnerabilities in Ubuntu 15.04 and Ubuntu 14.04 LTS

Three QEMU vulnerabilities have been found and corrected in Ubuntu 15.04 and Ubuntu 14.04 LTS operating systems by Canonical.