Global community rallies for International Day Against DRM
Submitted by Roy Schestowitz on Tuesday 6th of May 2014 06:48:09 AM
Filed under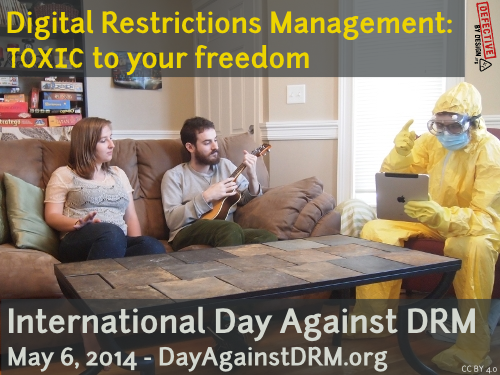 Today a wide variety of community groups, activist organizations and businesses are taking part in the 8th International Day Against DRM (DayAgainstDRM.org). The groups are united in envisioning a world without Digital Restrictions Management, technology that places arbitrary restrictions on what people can do with digital media, often by spying on them. As the largest anti-DRM event in the world, the International Day Against DRM is an important counterpoint to the pro-DRM message broadcast by powerful media and software companies. The Day is coordinated by Defective by Design (DefectiveByDesign.org), the anti-DRM campaign of the Free Software Foundation.
More in Tux Machines
The real road to democracy: how open source is sparking a revolution in enterprise

Forget the dotcom bubble burst of the noughties; never before has the promise of a digital economy ranked so highly in the global marketplace. Having faced significant downturns over the last decade or so, many economies – the UK, Portugal and Iceland, to name a few – have spawned a new wave of digital entrepreneurs. Those who perhaps found themselves out of a job, or facing unprecedented levels of competition for limited employment opportunities after education, have created their own jobs and companies, bringing new found energy and increased competitiveness into the enterprise sector.

ALT Linux 7.0.5 Arrives with Active Directory Support and Linux Kernel 3.14.41 LTS

Andrei Cherepanov had the great pleasure of informing us about the immediate availability for download of the fifth maintenance release of the Russian ALT Linux 7.0 operating system.

OpenMandriva's Next Release Will be a Tribute to Mandrake Linux

Softpedia was among the first to report a few days ago the sad news that the French Mandriva S.A. company that developed, maintained, and distributed the popular Mandriva Linux operating system is in the process of being liquidated.

An About.com Review Of Bodhi Linux

Bodhi Linux is a distribution I have followed for a number of years. I used to have it installed on my Acer Aspire Netbook and it featured in my list of "12 great distributions for netbooks" article that I wrote back in October 2013. The point of Bodhi Linux is to get out of your way and let you decide which applications are installed on your computer. I gave my previous review of Bodhi Linux the title "Quick but Quirky". The reason for that title was that the desktop whilst whizzing along quite nicely had a few strange Enlightenment-isms which would have made it a probably no-no for beginners. How does the latest version measure up? Read on and find out.