Global community rallies for International Day Against DRM
Submitted by Roy Schestowitz on Tuesday 6th of May 2014 06:48:09 AM
Filed under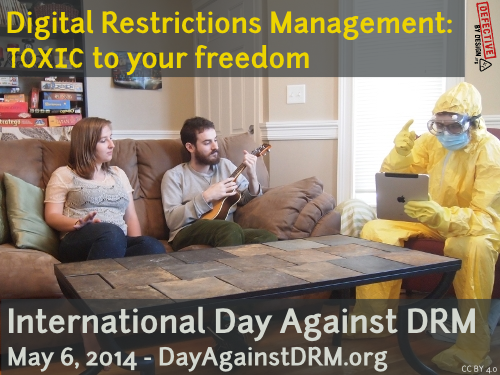 Today a wide variety of community groups, activist organizations and businesses are taking part in the 8th International Day Against DRM (DayAgainstDRM.org). The groups are united in envisioning a world without Digital Restrictions Management, technology that places arbitrary restrictions on what people can do with digital media, often by spying on them. As the largest anti-DRM event in the world, the International Day Against DRM is an important counterpoint to the pro-DRM message broadcast by powerful media and software companies. The Day is coordinated by Defective by Design (DefectiveByDesign.org), the anti-DRM campaign of the Free Software Foundation.
»
Printer-friendly version

691 reads

PDF version
More in Tux Machines
Red Hat reduces IoT tradeoffs and Asia Coverage

Organizations rolling out the IoT usually aren't prepared for the additional complexity. With the IoT, data volumes grow exponentially, infrastructure management gets more complicated and the security vulnerabilities increase disproportionately. Nevertheless, IT departments are expected to handle all these changes competently without proportional increases in budget or other resources.

Dirk-Peter van Leeuwen, senior vice president & general manager at Redhat, Asia Pacific, joined us to discuss the company's footprint across Asia and the recent launch of their new Open Innovation Institute in Singapore. We discuss how Asian companies are in different phases of digital transformation from culture to innovation and adjusting against digital disruption.

Samsung and Tizen: Bixby 2.0, Tizen 3.0, GNU/Linux on DeX

Ubuntu 17.10: What's New? [Video]

It's Artful Aardvark arrival day today (no, really!) and to mark the occasion we've made our first video in 3 years! Prime your eyeballs and pop in some earbuds as we (try to) bring you up to speed on what's new in Ubuntu 17.10. At a smidgen over 3 minutes long we think our video is perfect for watching on your commute; when you're bleary eyed in bed; or when you get the tl;dr feels thinking about our fuller, longer, and far wordier Ubuntu 17.10 review (due out shortly).

Radeon Linux Gaming Performance: Ubuntu 17.04 vs. Ubuntu 17.10

With Ubuntu 17.10 set to ship tomorrow that features just not an upgraded Linux kernel and Mesa 3D stack but also transitions from Unity 7 + X.Org to GNOME Shell + Wayland, here are some comparison gaming benchmarks on a few different AMD Radeon graphics cards. Ubuntu 17.04 shipped six months ago with Linux 4.10 and Mesa 17.0.7 as the main graphics components for open-source driver users while now with Ubuntu 17.10 is the Linux 4.13 kernel and Mesa 17.2.2. The six months of improvements to Mesa alone are massive for Intel and Radeon users with the RADV/ANV Vulkan drivers maturing much over this time (17.10 still doesn't ship with the Vulkan drivers, but are just a sudo apt install mesa-vulkan-drivers away) as well as many performance improvements and new extensions for the growing number of bundled OpenGL drivers. If you read Phoronix daily, you should already be well versed on the many Mesa accomplishments over this time span.