Global community rallies for International Day Against DRM
Submitted by Roy Schestowitz on Tuesday 6th of May 2014 06:48:09 AM
Filed under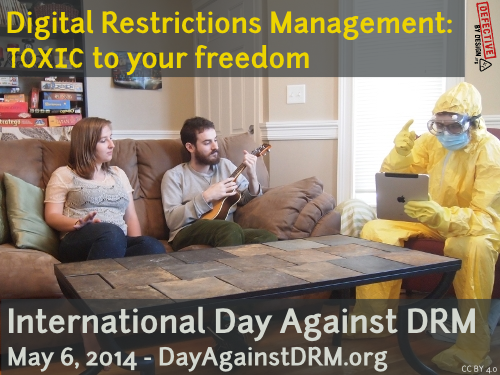 Today a wide variety of community groups, activist organizations and businesses are taking part in the 8th International Day Against DRM (DayAgainstDRM.org). The groups are united in envisioning a world without Digital Restrictions Management, technology that places arbitrary restrictions on what people can do with digital media, often by spying on them. As the largest anti-DRM event in the world, the International Day Against DRM is an important counterpoint to the pro-DRM message broadcast by powerful media and software companies. The Day is coordinated by Defective by Design (DefectiveByDesign.org), the anti-DRM campaign of the Free Software Foundation.
More in Tux Machines
Ubuntu MATE 15.04 Vivid Vervet Beta 1 Released, Ubuntu MATE Is Now Official Flavor




Ubuntu 15.04 Vivid Vervet MATE Beta 1

released today with other flavors of Ubuntu like KDE, Xfce, LXDE and GNOME desktop environment. Although, as usual Ubuntu unity has not taken part in Beta release. And first time Ubuntu

MATE

is an official

releaed

.