Global community rallies for International Day Against DRM
Submitted by Roy Schestowitz on Tuesday 6th of May 2014 06:48:09 AM
Filed under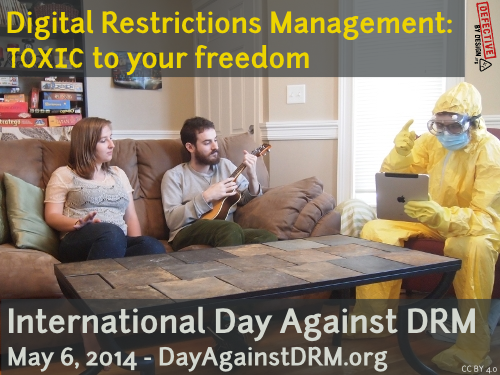 Today a wide variety of community groups, activist organizations and businesses are taking part in the 8th International Day Against DRM (DayAgainstDRM.org). The groups are united in envisioning a world without Digital Restrictions Management, technology that places arbitrary restrictions on what people can do with digital media, often by spying on them. As the largest anti-DRM event in the world, the International Day Against DRM is an important counterpoint to the pro-DRM message broadcast by powerful media and software companies. The Day is coordinated by Defective by Design (DefectiveByDesign.org), the anti-DRM campaign of the Free Software Foundation.
More in Tux Machines
Leftovers: Screenshots and Screencasts

Android Leftovers

GCC 4.9.2 vs. GCC 5 Benchmarks On An Intel Xeon Haswell

For those craving some more GCC 5 compiler benchmark numbers following last week's release of GCC 5.1, here's some new comparison numbers between GCC 4.9.2 stable and the near-final release candidate of GCC 5.1. Pardon for this light article due to still finishing up work on migrating to the new Phoronix web server while separately working to take care of thermal issues coming about in the new Linux benchmarking server room.

First impressions of Ubuntu 15.04

Canonical's Ubuntu operating system is probably the most widely used Linux distribution in the world. Ubuntu is made available in several editions, including desktop builds, server builds and there is a branch of Ubuntu for mobile phones. Ubuntu provides installation images for the x86, ARM and Power PC architectures, allowing the distribution to run on a wide variety of hardware. The most recent release of Ubuntu, version 15.04, includes a fairly short list of changes compared to last year's Ubuntu 14.10, however some of the changes are significant. Some small changes include an upgrade of the kernel to Linux 3.19 and placing application menus inside the application window by default. A potentially larger change is the switch from Canonical's Upstart init software to systemd.