Global community rallies for International Day Against DRM
Submitted by Roy Schestowitz on Tuesday 6th of May 2014 06:48:09 AM
Filed under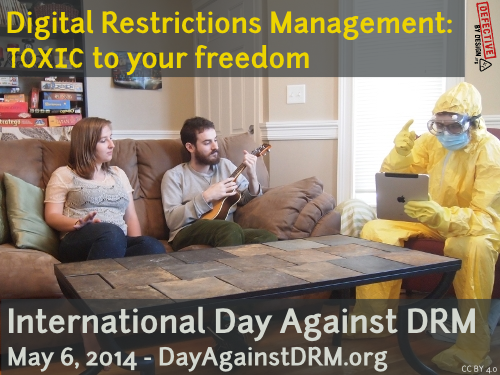 Today a wide variety of community groups, activist organizations and businesses are taking part in the 8th International Day Against DRM (DayAgainstDRM.org). The groups are united in envisioning a world without Digital Restrictions Management, technology that places arbitrary restrictions on what people can do with digital media, often by spying on them. As the largest anti-DRM event in the world, the International Day Against DRM is an important counterpoint to the pro-DRM message broadcast by powerful media and software companies. The Day is coordinated by Defective by Design (DefectiveByDesign.org), the anti-DRM campaign of the Free Software Foundation.
More in Tux Machines
Tunir 0.13 is released and one year of development

I have started Tunir on Jan 12 2015, means it got more than one year of development history. At the beginning it was just a project to help me out with Fedora Cloud image testing. But it grew to a point where it is being used as the Autocloud backend to test Fedora Cloud, and Vagrant images. We will soon start testing the Fedora AMI(s) too using the same. Within this one year, there were total 7 contributors to the project. In total we are around 1k lines of Python code. I am personally using Tunir for various other projects too. One funny thing from the code commits timings, no commit on Sundays :)

Andy Rubin Unleashed Android on the World. Now Watch Him Do the Same With AI

Now that Rubin had shepherded smartphones from concept to phenomenon, they no longer held much interest. As an engineering problem, they had been solved. Sure, entrepreneurs kept launching new apps, but for someone who considered engineering an art, that was like adding a few brushstrokes atop layers of dried paint. Rubin wanted to touch canvas again—and he could see a fresh one unfurling in front of him.

Building a culture of more pluggable open source

If there is one word that often percolates conversations hailing the benefits of open source, it is choice. We often celebrate many of the 800+ Linux distributions, the countless desktops, applications, frameworks, and more. Choice, it would seem, is a good thing. Interestingly, choice is also an emotive thing.

A new frontier for open source: Linux will power our robotic future

"You know, with windows versus Linux, Windows got there first by a long shot. It was the entrenched party. So Linux is the scrappy upstart. In the case of robotics, open source got there first. The community grew up doing things the open source way. There was actually a period in the mid-2000s where Microsoft put a lot of effort into its Windows-based Robotics Developer Studio. It had really good features, but it's never taken off. So yeah, I think robotics are proving to be a different situation than what happened with personal computing." Long live Linux. Long live ROS. Long live open source.