Put portable pwning power in your pocket with the Pwn Phone
Submitted by Roy Schestowitz on Monday 5th of May 2014 11:09:45 AM
Filed under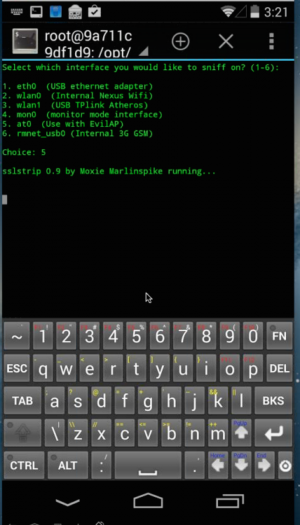 Mobile technology has made it possible for people to do an amazing amount with tablets and smartphones within the workplace—including hacking the living daylights out of the corporate network and other people's devices. Pwnie Express is preparing to release a tool that will do just that. Its Pwn Phone aims to help IT departments and security professionals quickly get a handle on how vulnerable their networks are in an instant. All someone needs to do is walk around the office with a smartphone.
Pwnie Express' Kevin Reilly gave Ars a personal walk-through of the latest Pwn Phone, the second generation of the company's mobile penetration testing platform. While the 2012 first-generation Pwn Phone was based on the Nokia N900 and its Maemo 5 Linux-based operating system, the new phone is based on LG Nexus 5 phone hardware. However, it doesn't exactly use Google's vanilla Android.
More in Tux Machines
GNOME Software Package Manager App Updated for GNOME 3.16 to Fix Multiple Bugs

The GNOME Project released earlier today, August 3, the fifth maintenance release of the stable GNOME Software package manager application for the GNOME 3.16 desktop environment, a version that fixes seven issues.

Linux Kernel 4.1.4 LTS Released with Numerous Updated Drivers, ARM64 Improvements

Today, August 3, Greg Kroah-Hartman announced the release and immediate availability for download of the fourth maintenance release of the stable, long-term supported Linux 4.1 kernel.

Open-spec motor control kit runs Linux on Zynq SoC

Avnet's revamped, Linux-based "ZIDK-II" kit for motor control combines its ZedBoard SBC, featuring an ARM/FPGA Zynq SoC, with improved Analog Devices gear. Avnet Electronic Marketing's "Zynq-7000 All Programmable SoC/Analog Devices Intelligent Drives Kit II," or "ZIDK-II," is a major upgrade to a previously released kit of the same name, featuring an enhanced Analog Devices " brushless DC motor control reference design. As before, the system is built around Avnet's community-backed, Ubuntu Linux-based ZedBoard single board computer, which showcases the Xilinx Zynq-7020, a SoC that combines see farther below.

today's leftovers

Jisto's unobtrusiveness is largely due to its use of Docker containers. "Docker has nice APIs and makes the process much easier, both for us as developers and for Jisto customers," Biberman explains. "Docker is very portable—if you can run it on Linux, you can run it on Docker—and it doesn't care if you're running it on a local data center, a private cloud, or on Amazon. With containers, we don't need to do something complicated like run a VM inside another VM. Docker gives us a lightweight way to let people use the environment that's already set up."

On August 2, Linus Torvalds announced the release and immediate availability for download and testing of the fifth RC (Release Candidate) version of the forthcoming Linux 4.2 kernel series.

As a reminder, Kernel 3.18 is a LTS (long term release) version and gets constantly updated, receiving security patches and stability enhancements.

DisplayLink's line of USB display adapters is known to be Linux-friendly and backed by open-source support, but this is only for their USB 2.0 devices. Fortunately, it appears that DisplayLink is finally working on USB 3.0 device support for Linux.

As a reminder, Ubuntu MATE's Martin Wimpress has announced that Ubuntu MATE 15.10 will not come with any software center installed by default and will permit the users to choose the one they prefer, between the Ubuntu Software Center and App Grid.