Put portable pwning power in your pocket with the Pwn Phone
Submitted by Roy Schestowitz on Monday 5th of May 2014 11:09:45 AM
Filed under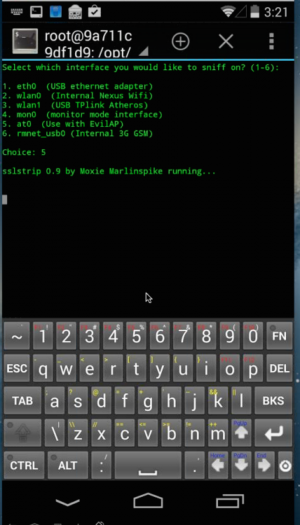 Mobile technology has made it possible for people to do an amazing amount with tablets and smartphones within the workplace—including hacking the living daylights out of the corporate network and other people's devices. Pwnie Express is preparing to release a tool that will do just that. Its Pwn Phone aims to help IT departments and security professionals quickly get a handle on how vulnerable their networks are in an instant. All someone needs to do is walk around the office with a smartphone.
Pwnie Express' Kevin Reilly gave Ars a personal walk-through of the latest Pwn Phone, the second generation of the company's mobile penetration testing platform. While the 2012 first-generation Pwn Phone was based on the Nokia N900 and its Maemo 5 Linux-based operating system, the new phone is based on LG Nexus 5 phone hardware. However, it doesn't exactly use Google's vanilla Android.
»
Printer-friendly version

862 reads

PDF version
More in Tux Machines
Games: Singularity: Escalation, ASTROKILL and More

Good news for fans of strategy games, as Ashes of the Singularity: Escalation is currently being ported to Linux.

Looks like the Beta of ASTROKILL [Steam] went well, as the developer just pushed out a big update and with it comes official Linux support.

Comedy Night [Steam], an online game about performing comedy in front of a live audience has recently released the Linux version. It would be interesting to be in the audience, but I can't imagine joining a server and attempting to do the comedy myself, I think nerves would get the better of me even if I'm not technically there in person. I'm also not that funny! I can do grumpy, I'm rather good at that.

Red Hat News

Android Leftovers

PC-MOS/386 is the latest obsolete operating system to open source on Github

PC-MOS/386 was first announced by The Software Link in 1986 and was released in early 1987. It was capable of working on any x86 computer (though the Intel 80386 was its target market). However, some later chips became incompatible because they didn't have the necessary memory management unit. It had a dedicated following but also contained a couple of design flaws that made it slow and/or expensive to run. Add to that the fact it had a Y2K bug that manifested on 31 July 2012, after which any files created wouldn't work, and it's not surprising that it didn't become the gold standard. The last copyright date listed is 1992, although some users have claimed to be using it far longer.