Put portable pwning power in your pocket with the Pwn Phone
Submitted by Roy Schestowitz on Monday 5th of May 2014 11:09:45 AM
Filed under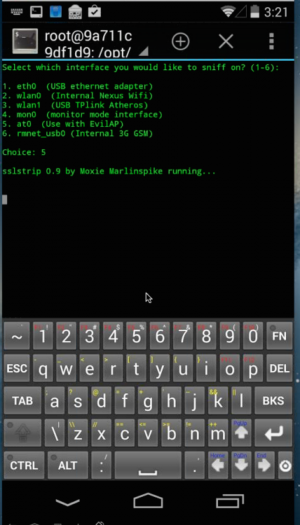 Mobile technology has made it possible for people to do an amazing amount with tablets and smartphones within the workplace—including hacking the living daylights out of the corporate network and other people's devices. Pwnie Express is preparing to release a tool that will do just that. Its Pwn Phone aims to help IT departments and security professionals quickly get a handle on how vulnerable their networks are in an instant. All someone needs to do is walk around the office with a smartphone.
Pwnie Express' Kevin Reilly gave Ars a personal walk-through of the latest Pwn Phone, the second generation of the company's mobile penetration testing platform. While the 2012 first-generation Pwn Phone was based on the Nokia N900 and its Maemo 5 Linux-based operating system, the new phone is based on LG Nexus 5 phone hardware. However, it doesn't exactly use Google's vanilla Android.
»
Printer-friendly version

872 reads

PDF version
More in Tux Machines
CentOS Linux 7 and 6 Users Receive New Microcode Updates for Intel and AMD CPUs

CentOS Linux is an open-source, free, enterprise-class, and community-supported operating system based on and compatible with Red Hat Enterprise Linux. As such, it regularly receives new important security updates as soon as they are released upstream by Red Hat. About two weeks ago, CentOS Linux 7 and 6 users received kernel and microcode updates that mitigated the Meltdown and Spectre security vulnerabilities unearthed earlier this month. However, after some thorough testing, Red Hat discovered that these updated microcode firmware developed by Intel and AMD caused hardware issues.

Google moves to Debian for in-house Linux desktop

Google has officially confirmed the company is shifting its in-house Linux desktop from the Ubuntu-based Goobuntu to a new Linux distro, the DebianTesting-based gLinux. Margarita Manterola, a Google Engineer, quietly announced Google would move from Ubuntu to Debian-testing for its desktop Linux at DebConf17 in a lightning talk. Manterola explained that Google was moving to gLinux, a rolling release based on Debian Testing.

Android Support Removed from Intel Graphics Driver Debugging Tool for Linux

For those unfamiliar with intel-gpu-tools, it's a collection of tools for GNU/Linux distribution that allows the debugging the official Intel graphics driver for Intel GPUs. Tools include a GPU hang dumping program, performance microbenchmarks for regression testing the DRM, as well as a performance monitor. The latest release, intel-gpu-tools 1.21, adds quite a bunch of changes, including automatic loading of DRM modules when opening a DRM device, much-improved GPU quiescing code to more thoroughly flush pending work and old data, as well as production support for the Meson build system while automake is still kept around.

Educational-Oriented Escuelas Linux 5.6 Distro Released with LibreOffice 6.0

Based on the latest release of the Ubuntu-based and Enlightenment-focused Bodhi Linux operating system, Escuelas Linux 5.6 is powered by the Linux 4.14.13 kernel, which includes patches against the Meltdown and Spectre security vulnerabilities, and comes with a bunch of up-to-date educational apps. These include the OnlyOffice 4.8.6 office suite (only for the 64-bit edition), Vivaldi 1.13, Chromium 63, Google Chrome 63, and Mozilla Firefox 57 "Quantum" web browsers, Geogebra 5.0.414 geometry, algebra, statistics, and calculus app, latest Adobe Flash Player 28 plugin, and the upcoming LibreOffice 6.0 open-source office suite.