Put portable pwning power in your pocket with the Pwn Phone
Submitted by Roy Schestowitz on Monday 5th of May 2014 11:09:45 AM
Filed under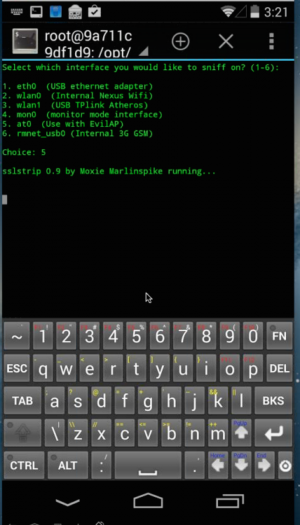 Mobile technology has made it possible for people to do an amazing amount with tablets and smartphones within the workplace—including hacking the living daylights out of the corporate network and other people's devices. Pwnie Express is preparing to release a tool that will do just that. Its Pwn Phone aims to help IT departments and security professionals quickly get a handle on how vulnerable their networks are in an instant. All someone needs to do is walk around the office with a smartphone.
Pwnie Express' Kevin Reilly gave Ars a personal walk-through of the latest Pwn Phone, the second generation of the company's mobile penetration testing platform. While the 2012 first-generation Pwn Phone was based on the Nokia N900 and its Maemo 5 Linux-based operating system, the new phone is based on LG Nexus 5 phone hardware. However, it doesn't exactly use Google's vanilla Android.
More in Tux Machines
Android Leftovers

The new smartphone from Andy Rubin, which will be the debut product of his new company Essential, will indeed run Android for its operating system. It looked that way from the tiny peek at the corner we got from Rubin's tweet earlier this week, but now Google's Eric Schmidt has confirmed it'll be one of a few "phenomenal new choices for Android users coming very soon."

Nearly two months after Android Wear 2.0 launched, some smartwatches are finally getting the update. According to Android Wear Google forums, the Fossil Q Founder, Casio Smart Outdoor, and Tag Heuer Connected smartwatches have started receiving updates to Android Wear 2.0. Those are the only three devices being updated right now, and the official rollout for those devices should be completed by April 4.

CUPS 2.2.3 Adds Support for PPD Finishing Keywords, IPP Everywhere Improvements

CUPS 2.2.3 is the third point release to the stable 2.2 series of the project, bringing a bunch of IPP Everywhere improvements, such as support for all print qualities and media types that a printer supports, in the print queues. Additionally, it makes IPP Everywhere finishings support work correctly with common command-line and UI (User Interface) options, and updates the PPD generator to return helpful error messages. Support for PostScript Printer Description (PPD) finishing keywords was also introduced in this release.

Pale Moon A Lightweight, Firefox Based And Cross Platform Web Browser

​Using browsers on a daily basis is nothing new for all us. We all have our favorite type of browsers like Chrome, Opera, Aurora and more. While as being open source mine and many Linux geek favorite browser is Mozilla Firefox. Today I will discuss one of awesome browser based on firefox named Pale Moon.

Where Ubuntu 17.04 "Zesty Zapus" Is Heading

You may have heard that our Ubuntu has got a new update. Yes, it is true. On 2017-03-23 20:12:37 the release notes on the website of Canonical Group Ltd were uploaded informing the latest Ubuntu 17.04 codenamed "Zesty Zapus". Let's see where Ubuntu 17.04 is heading.