Put portable pwning power in your pocket with the Pwn Phone
Submitted by Roy Schestowitz on Monday 5th of May 2014 11:09:45 AM
Filed under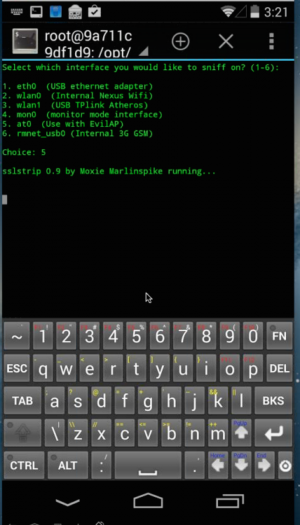 Mobile technology has made it possible for people to do an amazing amount with tablets and smartphones within the workplace—including hacking the living daylights out of the corporate network and other people's devices. Pwnie Express is preparing to release a tool that will do just that. Its Pwn Phone aims to help IT departments and security professionals quickly get a handle on how vulnerable their networks are in an instant. All someone needs to do is walk around the office with a smartphone.
Pwnie Express' Kevin Reilly gave Ars a personal walk-through of the latest Pwn Phone, the second generation of the company's mobile penetration testing platform. While the 2012 first-generation Pwn Phone was based on the Nokia N900 and its Maemo 5 Linux-based operating system, the new phone is based on LG Nexus 5 phone hardware. However, it doesn't exactly use Google's vanilla Android.
More in Tux Machines
Plasma 5.8.2, Applications 16.08.2 and Frameworks 5.27.0 available in Chakra

The latest updates for KDE's Plasma, Applications and Frameworks series are now available to all Chakra users. The Plasma 5.8.2 release provides additional bugfixes to the many new features and changes that were introduced in 5.8.0 aimed at enhancing users' experience:

Yocto driven camera design taps octa-core Snapdragon

Qualcomm and Thundercomm unveiled a Linux-supported, 4K camera reference design with an octa-core Snapdragon 625 and video analytics software. Qualcomm and hardware partner Thundercomm Technology announced an IP Connected Camera reference design called the Snapdragon 625 IP Camera built around its 14nm-fabricated, octa-core Cortex-A53 Snapdragon 625 system-on-chip. This is Qualcomm's first Connected Camera design to support Linux instead of Android.

Renesas spins 3rd Gen automotive starter kits, adds new M3 SoC

Renesas has launched two Linux-ready R-Car starter kits optimized for AGL and GENIVI: an R-Car H3 based "Premier" and a "Pro" with a lower-end M3 SoC. Later this month, Renesas will begin selling two third-generation starter kits for its 64-bit ARM-based R-Car automotive SoCs. The kits are designed for ADAS, infotainment, reconfigurable digital clusters, and integrated digital cockpits. The two kits are optimized for open source Linux standards like Automotive Grade Linux (AGL) and GENIVI, but they also support QNX. Earlier R-Car automotive starter kits include last year's R-Car H2 ADAS Starter Kit, based on its earlier H2 automotive SoC.

Lumina Desktop 1.1 Released

The BSD-focused, Qt-powered Lumina Desktop Environment is out with its version 1.1 update. The developers behind the Lumina Desktop Environment consider it a "significant update" with both new and reworked utilities, infrastructure improvements, and other enhancements. Lumina 1.1 adds a pure Qt5 calculator, text editor improvements, the file manager has been completely overhauled, system application list management is much improved, and there is a range of other improvements.