KDE/Ken Vermette: New Icons, Iconoclast Pipeline
Submitted by Roy Schestowitz on Friday 26th of November 2021 09:26:44 PM
Filed under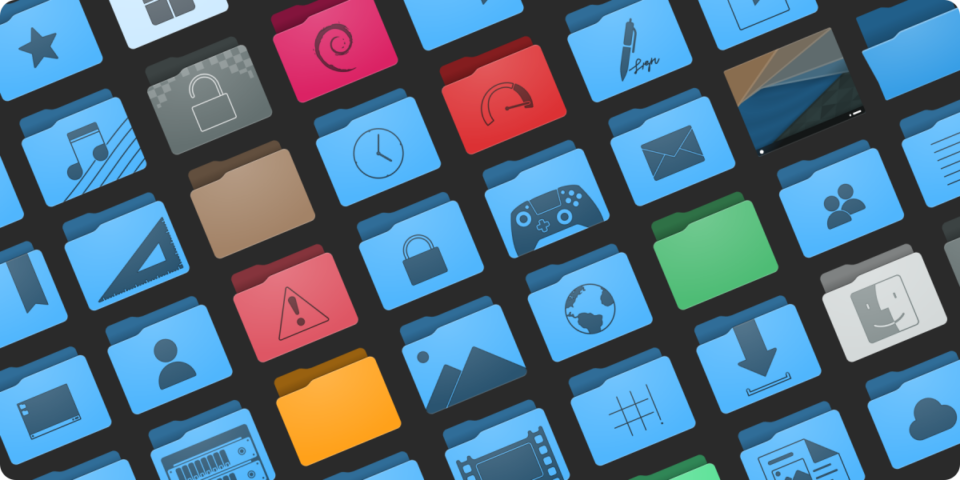 As was the method for Blue Ocean on the desktop widgets and design, the icons will be a gradual rollout over a few releases. We do have a strategy in place to ensure that this won't be too jarring or inconsistent during the transition. The current plan is to update both all mimetypes and all places in time for the 5.24 release.
Like our current icons the new icons have adaptive capabilities. Beyond that some additional select icons such as the new desktop icon are also adaptive, and there are plans for other icons to also take advantage of this feature where it would not be obnoxious. Compared to existing icons the refreshed content will be softer, more detailed, and less flat. These icons are also prepared with future capabilities in mind, and as enhancements are made to KDE Frameworks these icons may expose new and interesting features.
Finally, we're expanding the number of sizes the icons come in, so they look ideal at more zoom levels in your file browser. Currently colour places icons are offered in 32, 48, 64, and 96 pixel sizes, and mimetypes are offered in 32 and 64 pixel sizes. Refreshed icons in both places and mimetypes will be offered in 32, 48, 64, 96, 128, and 256 pixel sizes with no missing graphics. We already have all folders in all of the above sizes, and in under a month while also writing our software we have over doubled the number of folder icons in Breeze. We're estimating we will more than triple in the number of mimetype icons.
To get this work done we've built new tools for the express purpose of making mass iconography far easier for even individual artists, so I'm very pleased to state that a new icon and SVG pipeline is underway and despite being unfinished is producing results. This Python-written pipeline is capable of adding guides, rulers, and setting up grids for existing icons, standardizing existing icon colours, assembling entirely new icons from templates and components, and aggressively optimizing icons. With this authors will be able to have a "golden copy" of their icon sets where they can focus purely on design, letting the software take care of cleaning up the documents and assembling the individual pieces. The folders in the above image were assembled by the pipeline, with no hand-tuning.
»
Printer-friendly version

1498 reads

PDF version
More in Tux Machines
Best Free and Open Source Alternatives to IBM SPSS

International Business Machines Corporation (IBM) is an American multinational technology corporation headquartered in Armonk, New York. They sell computer hardware, middleware and software employing over 370,000 people. IBM acquired Red Hat in 2019. But you can trace IBM's history of open source far further back. They were one of the earliest champions of open source, backing influential communities like Linux, Apache, and Eclipse, advocating open licenses, open governance, and open standards.

today's leftovers

Proprietary Traps: AD, AV1 Patent Pools, More Outsourcing to Microsoft

I'll admit that we never "got there" from a governance standpoint with those Linux devices; a silo was predestined because we were built around Active Directory domain controllers that shunned Linux devices.

Thanks to Red Hat developer Martin Stránský, he has managed to get the Video Acceleration API (VA-API) working for AV1 content within the Firefox web browser. After working on it the past month, the necessary bits have come together for supporting AV1 VA-API playback within Firefox on Linux. See the Mozilla.org BugZilla for tracking the progress on the effort. The latest AV1 activity in general for Mozilla can be tracked via hg.mozilla.org.

If you've ever built anything with web technologies, you're probably familiar with MDN Web Docs. With about 13,000 pages documenting how to use programming languages such as HTML, CSS and JavaScript, the site has about 8,000 people using it at any given moment. MDN relies on contributors to help maintain its ever-expanding and up to date documentation. Supported by companies such as Open Web Docs, Google, w3c, Microsoft, Samsung and Igalia (to name a few), contributions also come from community members. These contributions take many different forms, from fixing issues to contributing code to helping newcomers and localizing content. We reached out to 4 long-time community contributors to talk about how and why they started contributing, why they kept going, and ask what advice they have for new contributors. [...] Since the end of 2020, the translation of MDN articles happen on the new GitHub based platform. [...] Our seasoned contributors suggest starting with reporting issues and trying to fix them, follow the issue trackers and getting familiarized with GitHub.

Hardware: EInk Phone, Arduino, and More

To be shipped with one of the main Linux phone OSes (Manjaro with KDE Plasma, etc).

When you spend a lot of time on the computer doing certain more specialised tasks (no, we're not talking about browsing cat memes on twitter) you start to think that your basic trackpad or mouse is, let's say, lacking a certain something. We think that something may be called 'usability' or maybe ease-of-use? Any which way, lots of heavy CAD users gush over their favourite mouse stand-ins, and one particularly interesting class of input devices is the Space Mouse, which is essentially patented up-to-the-hilt and available only from 3DConnexion. But what about open source alternatives you can build yourselves? Enter stage left, the Orbion created by [FaqT0tum.] This simple little build combines an analog joystick with a rotary knob, with a rear button and OLED display on the front completing the user interface.

I've been following the development of KiCAD for a number of years now, and using it as my main electronics CAD package daily for a the last six years or thereabouts, so the release of KiCAD 6.0 is quite exciting to an electronics nerd like me. The release date had been pushed out a bit, as this is such a huge update, and has taken a little longer than anticipated. But, it was finally tagged and pushed out to distribution on Christmas day, with some much deserved fanfare in the usual places. So now is a good time to look at which features are new in KiCAD 6.0 — actually 6.0.1 is the current release at time of writing due to some bugfixes — and which features originally planned for 6.0 are now being postponed to the 7.0 roadmap and beyond.