Former Microsoft Security Analyst Claims Office 365 Knowingly Hosted Malware For Years
Submitted by Rianne Schestowitz on Monday 18th of October 2021 11:03:41 AM
Filed under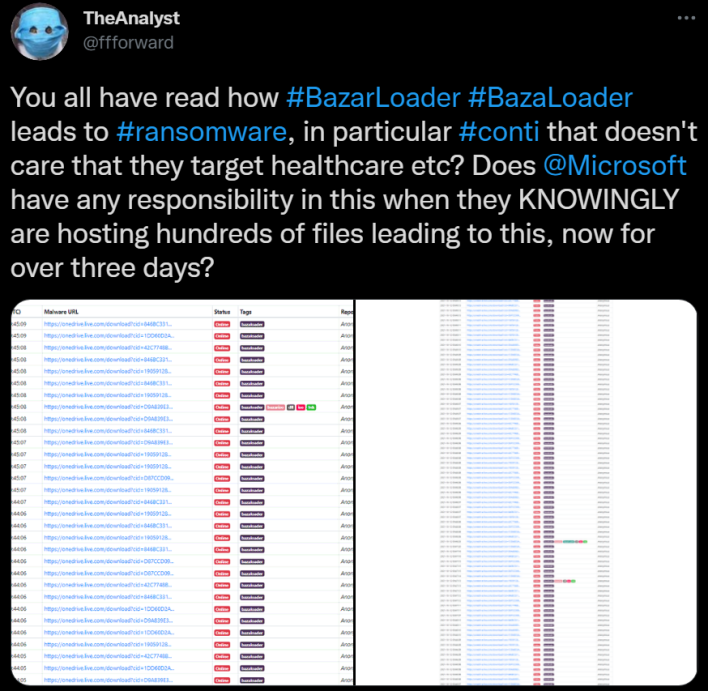 Malware on Windows devices has become a real problem in the last few years, specifically with a recent uptick in ransomware. It appears that Microsoft has been trying to combat this issue, though, with updates to Microsoft Defender, so it has more teeth than ever before. However, what if Microsoft is part of the problem too?
On Friday, cybersecurity researcher TheAnalyst explained on Twitter how BazarLoader malware leads to ransomware that can severely affect healthcare, among other industries. He then called out Microsoft, asking if the company has "any responsibility in this when they KNOWINGLY are hosting hundreds of files leading to this," alongside an image of what appears to be malicious files being hosted in OneDrive.
»
Printer-friendly version

1870 reads

PDF version
More in Tux Machines
Raspberry Pi CM4-based panel PC offers DAQ inputs and M.2 NVMe

Sensoper's 7-inch "SC-PC" HMI panel PC runs Linux on a Raspberry Pi CM4 and supplies GbE, M.2 for NVMe, RS-485, 3x USB, 8x digital inputs, 7x transistor outputs, and 8x analog inputs with a choice of 0-10V or 4-20mA ranges. Michigan-based Sensoper Controls has launched a 7-inch, industrial panel-PC in two variants: an SC-PC-AV8-TO7 model with 8x 0-10V analog inputs and an SC-PC-AM8-TO7 with 4-20mA analog inputs. The otherwise identical panel PCs run Raspbian (Raspberry Pi OS) Linux with pre-installed Node-RED on the Raspberry Pi Compute Module 4.

Android Leftovers

Best Open Source Gantt Chart Software for Linux

Gantt chart is the simplest way to assign resources, manage timelines, and visualize dependencies. It helps you to avoid confusion and cut unproductive events. With a glance, you can have all activities, allocated assets, and the scheduled dates of each. While a Gantt chart is a must for any complex project, in general, you need this project management tool:

NuTyX 21.10.5 available with cards 2.4.140

The NuTyX team is happy to announce the new version of NuTyX 21.10.0 and cards 2.4.138. The xorg-server graphics server version 21.1.1, the Mesa 3D library in 21.2.5, Gtk4 4.4.0 and Qt 5.15.2. The python interpreters are en 3.10.0 et 2.7.18. The XFCE desktop environment is updated to version 4.16. The MATE desktop environment is a 1.26 version . The GNOME desktop environment is also updated to version 40.1.1 The KDE desktop environment is available in Plasma 5.23.3, Framework 5.88.0 and applications in 21.08.3. Available browsers are: Firefox 94.0.2, Chromium 96.0.4664.45, Epiphany 40.3, etc Many desktop applications have been updated as well like Thunderbird 91.2.0, Scribus 1.5.7, Libreoffice 7.1.5.2, Gimp 2.10.28, etc.