Astro Pi 2: New Raspberry Pi hardware with updated camera, sensors to head to the ISS this year
Submitted by Roy Schestowitz on Monday 20th of September 2021 02:53:59 AM
Filed under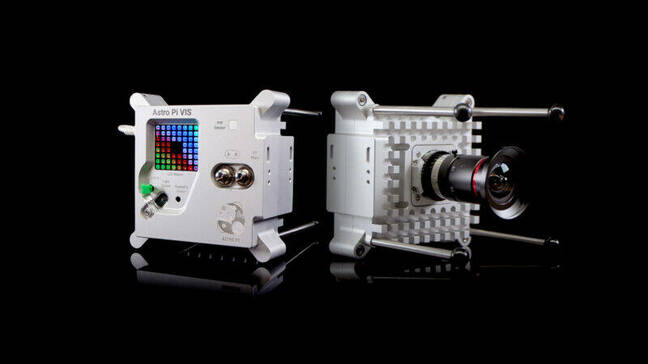 Good news for earthbound Pi-tinkerers hoping to get their code into orbit: a follow-up to 2015's Astro Pi is due to head to the International Space Station (ISS) this year.
Time has moved on a bit since the Principia mission of Tim Peake where the first units were installed aboard the orbiting outpost. While over 54,000 participants from 26 countries have since had code run on the hardware, the kit has fallen somewhat behind what is available on Earth.
To that end, some new units are due to be launched, replete with updated hardware. In this case, heading to orbit will be Raspberry Pi 4 Model B units with 8GB RAM, the Raspberry Pi High Quality Camera (a 12.3MP device) and the usual complement of gyroscope, accelerometer, magnetometer, humidity, temperature and pressure sensors for users to code against.
Also: Tracking Maximum Power Point For Solar Efficiency | Hackaday
»
Printer-friendly version

1685 reads

PDF version
More in Tux Machines
today's howtos

New bash programming articles

Mark Text is a Minimal Open Source Markdown Editor

Markdown is developers' favorite text writing language. It is so clean, simple and minimal and allows developers to focus only on the writing process itself, rather than the writing syntax or other trivial issues. That's why, it is essential that you use a minimal, distraction-free and clean markdown editor to write or edit your markdown files, so that you can find comfort in your long writing sessions (E.g for documentation or similar). Luckily, many open source markdown editors exist for all types of users and their use cases. Today we'll be seeing Mark Text; a minimal open source application for writing markdown documents.

Debian's Antoine Beaupré: The Neo-Colonial Internet

Sergey Brin and Larry Page are the Lewis and Clark of our generation. Just like the latter were sent by Jefferson (the same) to declare sovereignty over the entire US west coast, Google declared sovereignty over all human knowledge, with its mission statement "to organize the world's information and make it universally accessible and useful". (It should be noted that Page somewhat questioned that mission but only because it was not ambitious enough, Google having "outgrown" it.) The Lewis and Clark expedition, just like Google, had a scientific pretext, because that is what you do to colonize a world, presumably. Yet both men were military and had to receive scientific training before they left. The Corps of Discovery was made up of a few dozen enlisted men and a dozen civilians, including York an African American slave owned by Clark and sold after the expedition, with his final fate lost in history. And just like Lewis and Clark, Google has a strong military component. For example, Google Earth was not originally built at Google but is the acquisition of a company called Keyhole which had ties with the CIA. Those ties were brought inside Google during the acquisition. Google's increasing investment inside the military-industrial complex eventually led Google to workers organizing a revolt although it is currently unclear to me how much Google is involved in the military apparatus. Other companies, obviously, do not have such reserve, with Microsoft, Amazon, and plenty of others happily bidding on military contracts all the time. [...] The Internet is, if not neo-colonial, plain colonial. The US colonies had cotton fields and slaves, we have disposable cell phones and Foxconn workers. Canada has its cultural genocide, Facebook has his own genocides in Ethiopia, Myanmar, and mob violence in India. Apple is at least implicitly accepting the Uyghur genocide. And just like the slaves of the colony, those atrocities are what makes the empire run.