Christian Hergert: Performance Improvements in Text Editing
Submitted by Roy Schestowitz on Sunday 27th of June 2021 03:52:35 AM
Filed under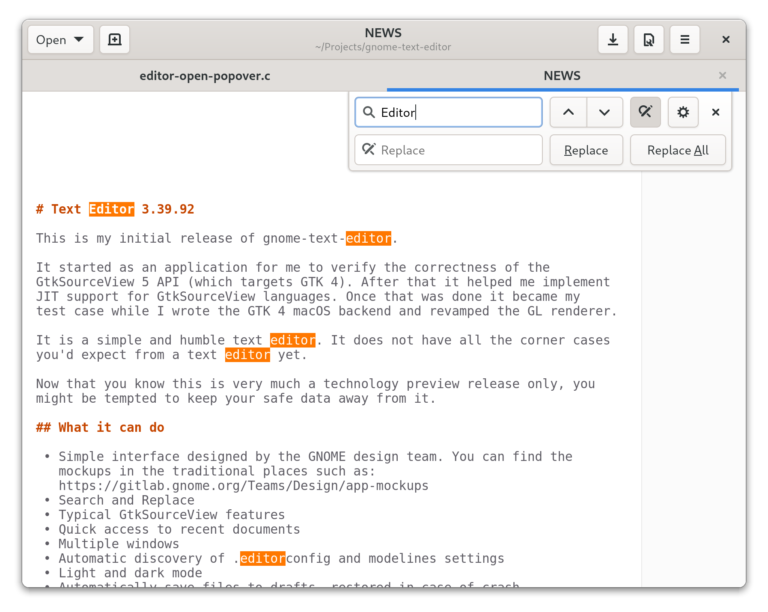 I realize I don't blog much these days, but I do try to keep my Twitter filled with screenshots as I work on GNOME.
Recently I spent some time doing another round of performance improvements in GtkSourceView.
Much work this cycle has focused on submitting work to the GPU more efficiently. For example, Matthias Clasen taught the new OpenGL renderer to submit colors along with glyph vertices so that it could have fewer GL uniform updates along with fewer program switches. This has had the effect of letting us batch common GtkTextView usage into a single glDrawArrays() submission. Great stuff!
I've been striving to reach 144hz text scrolling ever since a kind GNOME contributor sent me a 144hz monitor to test with. So with the new bits in place, I took another look at what was slowing us down.
»
Printer-friendly version

3390 reads

PDF version
More in Tux Machines
Radeon RX 6600 Linux Performance Rising Even Higher With Newest Open-Source Driver

Just one week ago was the public launch of the Radeon RX 6600 as the newest offering in the RDNA2 GPU line-up. While in our Radeon RX 6600 Linux review the performance was good on AMD's well regarded open-source driver stack and standing ground against the likes of the GeForce RTX 3060 with NVIDIA's proprietary Linux driver, it turns out the RX 6600 Linux performance can be even better already. Here are benchmarks of the Radeon RX 6600 on Linux across six different driver configurations. In particular, it appears that the driver state around 1 October that was used for the launch-day RX 6600 Linux review is actually less than ideal -- there appears to have been a regression around that point and with newer (as well as 21.2 stable) driver code there can be measurable gains to Linux gaming performance.

Raspberry Pi 4 2GB jumps to $45 as 1GB model returns from the dead at $35

Citing chip shortages, Raspberry Pi announced its first price increase, bumping the RPi 4 with 2GB RAM up to $45. Meanwhile, the discontinued RPi 4 1GB has come back to life at $35. In the spirit of Halloween, Raspberry Pi Trading has reanimated the 1GB RAM version of the Raspberry Pi 4 Model B, which it killed off when it dropped the price of the 2GB model from $45 to $35 in Feb. 2020. The company also increased the 2GB price to $45. With the 1GB version returning at its old $35 price, we have essentially turned back the clock to early 2020. (In which case, maybe we could get a second chance on stopping the pandemic.) In the Raspberry Pi blog post announcing the changes, CEO Eben Upton cited industry-wide supply chain issues for its first price increase in Pi history. The chip shortages, combined with heightened demand, have caused severe shortages of the RPi Zero and the RPi4 2GB.

The love/hate relationship the cloud has with Linux

The cloud is run by Linux and open-source. There is no debating that claim at this point. It's fact. And not only does Linux power all of those cloud services we deploy and use, but the hold it has over that particular tech sector is also only going to get stronger as we march into the future. I predict that, over the next five years, the cloud and Linux will become synonymous to the point everyone (from CEOs to end-users) will finally get just how important and powerful the platform is. So it's safe to say, there would be no cloud without Linux. There would also be no cloud-native development, Kubernetes, Docker, virtual machines or containers in general. With that in mind, it should stand to reason that the relationship between Linux and the cloud would be all love.

You Can Now Install the UnityX Desktop in Arch Linux, Here's How

UnityX is the successor of the Unity7 desktop environment created by Canonical for its popular Ubuntu Linux distribution back in 2011 with the Ubuntu 11.04 release. But Canonical pulled the plug on Unity7 after seven years of development, yet the community wasn't ready for this major change. In May 2020, developer Rudra Saraswat created an unofficial Ubuntu flavor called Ubuntu Unity, which features the good old Unity7 desktop environment. Now, the Ubuntu Unity creator wants to take Unity7 to the next level and created UnityX, a modern, yet simple desktop environment.