Kernel: KernelCI, Apple, and Intel
Submitted by Roy Schestowitz on Friday 5th of March 2021 01:50:42 AM
Filed under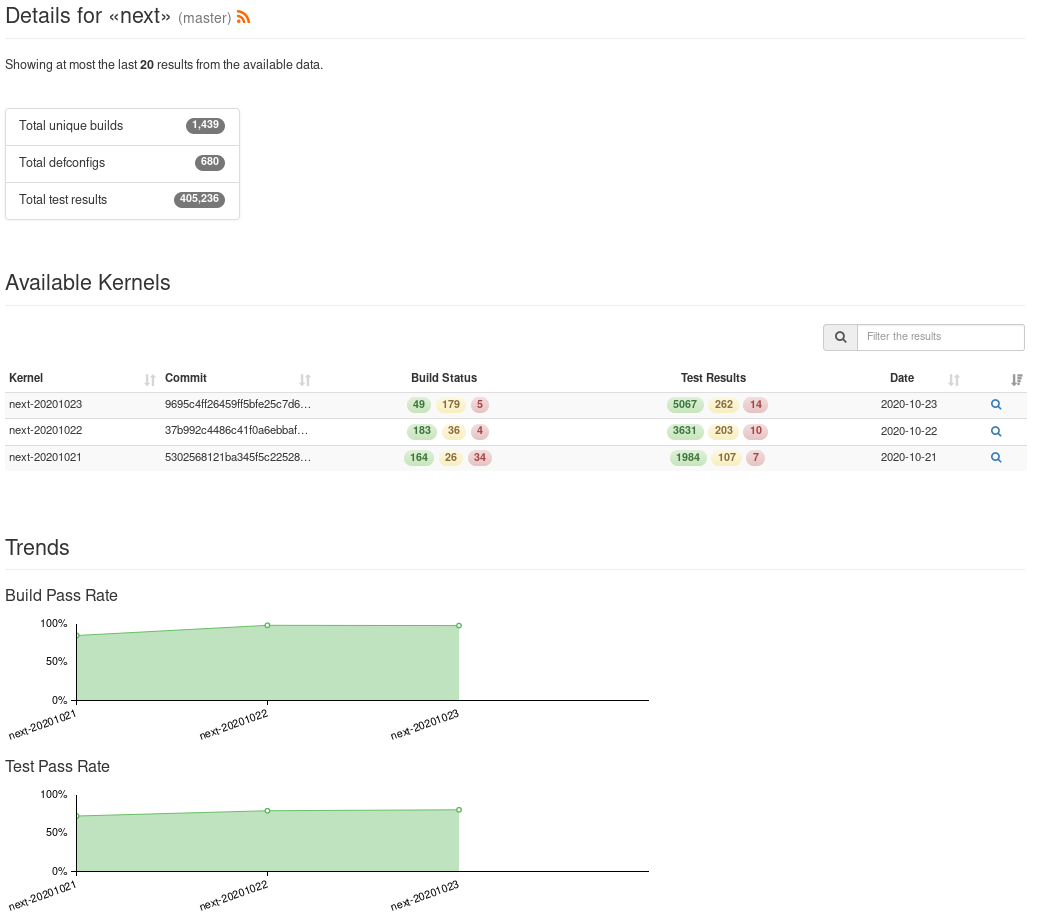 KernelCI has been driving continuous integration for the Linux kernel with hundreds of commits every day since its creation in 2012 and as a Linux Foundation project since 2019. The platform has the ability to help you attempt to find and fix several problems, including regressions, build failures and merge conflicts from your patches with others.

Today, KernelCI is the most complete automated testing and continuous integration tool for the Linux kernel. It can test your code on many platforms performing automatic builds in kernel trees. Builds, tests information and more can be found on the KernelCI dashboard, that is, the main web interface used by the project.

Hector Martin, who has been working on the crowd-funded effort to bring Linux up on the Apple M1 SoC and the modern Apple devices using that in-house silicon, has sent out the third iteration of his kernel patches.

With the "v3" patches sent out today the focus remains on getting the Apple M1 SoC brought up under the Linux kernel with interrupt handling, SMP support, UART, a SimpleFB-based frame-buffer, and the DeviceTree needed for the Mac Mini and other new Macs using the M1 chip. There still is much work ahead to make the Apple M1 and the modern Macs usable on a day-to-day basis, especially if wanting accelerated graphics and making use of other capabilities of this complex ARM-based chip.

While it's 2021 and many modern Linux gaming and other workloads are focusing on the Vulkan API, Intel isn't letting up in their aggressive optimizations to their open-source "Iris" OpenGL Gallium3D driver for Linux systems. With the latest Mesa 21.1 code today there is a set of patches providing up to 17% better performance in some games while other OpenGL software is generally a few percent faster at least. In some micro-benchmarks it can be more than 50% faster.

Longtime Intel open-source Linux graphics driver developer Kenneth Graunke - who has also been the lead Iris Gallium3D developer over the past three years - merged his work on threaded context support.
»
Printer-friendly version

1225 reads

PDF version
More in Tux Machines
Oh My Git! Is An Open Source Game For Learning Git

Oh My Git! turns the Git version control system into a fun, interactive game for both beginners and advanced users interested in learning more or to teach others. The game is free and open source, it's built using the Godot game engine, and is available for Linux, macOS and Windows.

Kernel: SD Card Power/Performance Features, Restricted DMA, and AMD Radeon Software For Linux 21.10

Since the SD card specification v4.0 there has been the notion of extension registers initially for power management features that in the SD v6.0 specification also is now used for performance features. The Linux kernel is finally beginning to work towards making use of those SD extension registers.  Ulf Hansson of Linaro sent out patches this week so the Linux kernel begins reading/parsing those SD extension registers. However, at this point the Linux kernel isn't making use of those power/performance registers... Hopefully those patches will come soon now that this prerequisite work to actually read those registers is in place by these patches. 

  

The past few months there has been work by Google's Chrome OS engineers on Restricted DMA functionality for the Linux kernel to protect systems lacking an IOMMU.  For systems lacking an Input-Output Memory Management Unit (IOMMU), Restricted DMA aims to increase system security by ensuring that no unexpected direct memory access occurs that could lead to data leakage or corruption. From Google's perspective one use-case is PCIe-based WiFi where the PCI Express bus isn't behind an IOMMU. Restricted DMA would help fend off the possibility that problematic WiFi firmware could escalate into a full system exploit. 

The latest AMD GPU driver package for Linux is out and it is a peculiar one. The only highlights mentioned in the release notes are "full support for Ubuntu 20.04.2" and "preview of the Vulkan Ray Tracing Extensions supported on compatible AMD RDNA 2 based graphics products". The actual driver package appears to be a mix of Mesa drivers, Radeon Open Compute, a LLVM fork, the free AMDVLK Vulkan driver anda "Pro" Vulkan driver, and some tools.

What's New in Ubuntu 21.04 'Hirsute Hippo'

The Hirsute Hippo hits the streets (or mud holes) on April 22, 2021. Either way, the latest version of the enormously popular Ubuntu Linux distribution from Canonical is available for download. Ubuntu 21.04 is an interim release, which means that it receives support for nine months only. Canonical releases a build of Ubuntu every six months, one in April and one in October. Every two years, one of these builds is designated a Long Term Support (LTS) release. LTS releases are supported for five years and are considered enterprise-grade. The other releases—the interim builds—are for those who want to have the latest release of Ubuntu and the newest selection of applications, and for whom stability is of secondary importance. To be fair to Canonical, the interim builds are always pretty stable. They sometimes need a little time to settle down as the post-launch patches are rolled out, but they do get onto an even keel very quickly. Because the interim builds are used as proving grounds for the software, features, and innovations that will eventually be included in the next LTS build, there's a small residual risk in using them. Some of the hoped-for features, such as the GNOME 40 desktop environment and the GTK 4 development toolkit, didn't make it into Hirsute Hippo. GNOME 40 has a lot of changes in it, so there were concerns about upgrading. Rather than risking introducing something that could negatively impact the desktop experience, the GNOME extensions, and the Yaru theme, GNOME 40 was dropped from this release. Ubuntu 21.04 sticks with GTK 3 and GNOME 3.38.

Restore an old MacBook with Linux

Last year, I wrote about how you can give new life to an old MacBook with Linux, specifically Elementary OS in that instance. Recently, I returned to that circa 2015 MacBook Air and discovered I had lost my login password. I downloaded the latest Elementary OS 5.1.7 Hera release and could not get the live boot to recognize my Broadcom 4360 wireless chipset. Lately, I have been using Linux Mint to refurbish older laptops, and I thought I would give it a try on this MacBook Air. I downloaded the Linux Mint 20.1 ISO and created a USB boot drive using the Popsicle software on my Linux desktop computer.