FossaPup64 9.5 review
Submitted by Rianne Schestowitz on Thursday 25th of February 2021 07:38:18 PM
Filed under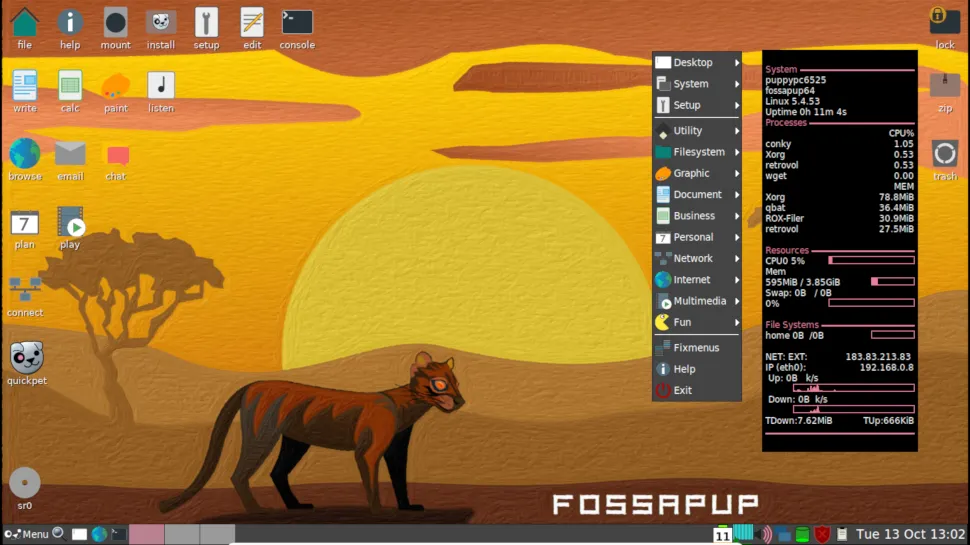 Puppy's Ubuntu-based release has had a major update and is now based on Ubuntu 20.04 Focal Fossa. This means that FossaPup64 9.5 (which also goes by the much easier nomenclature, Puppy Linux 9.5) is binary compatible with the latest Ubuntu LTS release and can pull applications from its repositories without any issues.
This release is the fourth official release of an Ubuntu-based 64-bit Puppy. Like all Puppy distros, FossaPup64 is built using the Woof-CE build system that's designed to assemble Puppy variants from the binary packages of any other distro.
A key feature of the official Puppy releases is that they're modular. You can easily swap out components including the kernel and various programs to create a streamlined Puppy.
»
Printer-friendly version

1745 reads

PDF version
More in Tux Machines
Best Text Editors for CentOS

Based on RedHat Enterprise Linux, CentOS is an open-source Linux distribution. It is an ideal operating system platform for web hosting, thanks to active developer community support. It is completely free and a great platform for web application developers. Text editors are a very important tool in every operating system platform as they can be used for a variety of purposes from writing short notes to scripting big web applications and programs. Having a perfect text editor eases hectic tasks like programming and coding. Today, many text editors come with a variety of pre-defined functionalities that make the task of programming much easier and convenient.

Best Apps to Install on Linux Mint in 2021

Linux Mint is a popular Linux distro alongside Ubuntu. There is not much difference between the functionalities and features of the two. Hence, the various app that is compatible with Ubuntu also works effortlessly on Linux Mint. The advantage of using Linux distros and apps is that most are free and open-source. As Linux Mint is an alternative to Ubuntu, you can find an alternative to every popular and widely used app. Thus, there is no scarcity of apps in each category. However, finding a reliable app is not an easy task because of so many options.

KDE Frameworks 5.81 Released with KHamburgerMenu, Various Improvements

The biggest new feature in the KDE Frameworks 5.81 release is the implementation of a new, custom hamburger menu called KHamburgerMenu, which will be shown on QWidgets-based apps whenever the main menubar is hidden. The KDE Project plans to adopt the KHamburgerMenu for all KDE apps as it offers several advantages, including an alternative app menu in case you hide the default menubar by accident, more freedom when you want to take full advantage of the maximum vertical space, more compact design with only relevant menu items, as well as support for relocating, renaming, removing, or even changing its icon.

today's leftovers