Christian Hergert: GTK 4 NGL Renderer
Submitted by Roy Schestowitz on Thursday 25th of February 2021 01:07:05 AM
Filed under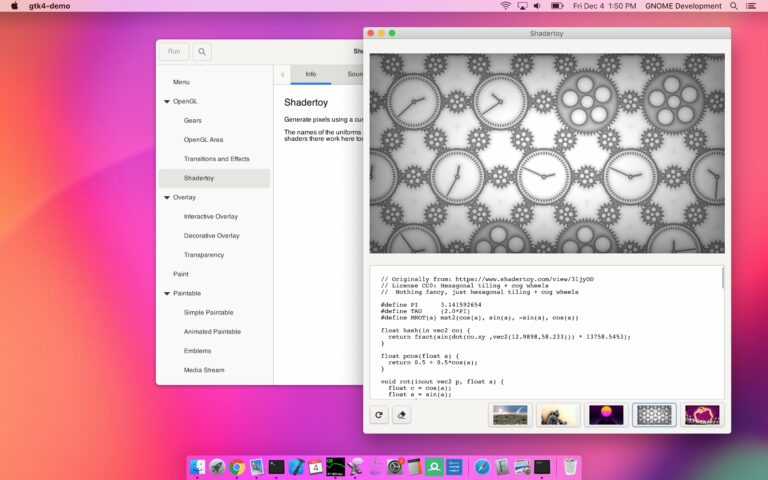 I spent a lot of time in 2020 working on projects tangential to what I'd consider my "main" projects. GtkSourceView got a port to GTK 4 and a load of new features, GTK 4 got a new macOS backend, and in December I started putting together a revamp of GTK 4's GL renderer.
The nice thing about having multiple renderer backends in GTK 4 is that we still have Cairo rendering as an option. So while doing bring-up of the new GTK macOS backend I could just use that. Making software rendering fast enough to not be annoying is a good first step because it forces you to shake out performance issues pretty early.
But once that is working, the next step is to address how well the other backends can work there. We had two other backends. OpenGL (requiring 3.2 Core and up) and Vulkan. Right now, the OpenGL renderer is the best supported renderer for acceleration in terms of low bug count, so that seemed like the right way to go if you want to stay inline with Linux and Windows backends. Especially after you actually try to use MoltenVK on macOS and realize it's a giant maze. The more work we can share across platforms (even if temporarily) the better we can make our Linux experience. Personally, that is something I care about.
»
Printer-friendly version

1558 reads

PDF version
More in Tux Machines
Best Apps to Install on Linux Mint in 2021

Linux Mint is a popular Linux distro alongside Ubuntu. There is not much difference between the functionalities and features of the two. Hence, the various app that is compatible with Ubuntu also works effortlessly on Linux Mint. The advantage of using Linux distros and apps is that most are free and open-source. As Linux Mint is an alternative to Ubuntu, you can find an alternative to every popular and widely used app. Thus, there is no scarcity of apps in each category. However, finding a reliable app is not an easy task because of so many options.

KDE Frameworks 5.81 Released with KHamburgerMenu, Various Improvements

The biggest new feature in the KDE Frameworks 5.81 release is the implementation of a new, custom hamburger menu called KHamburgerMenu, which will be shown on QWidgets-based apps whenever the main menubar is hidden. The KDE Project plans to adopt the KHamburgerMenu for all KDE apps as it offers several advantages, including an alternative app menu in case you hide the default menubar by accident, more freedom when you want to take full advantage of the maximum vertical space, more compact design with only relevant menu items, as well as support for relocating, renaming, removing, or even changing its icon.

today's leftovers

Devices/Embedded Hardware