DIGITAL HOARDING: UBUNTU MIRROR
Submitted by Rianne Schestowitz on Wednesday 13th of January 2021 10:51:57 AM
Filed under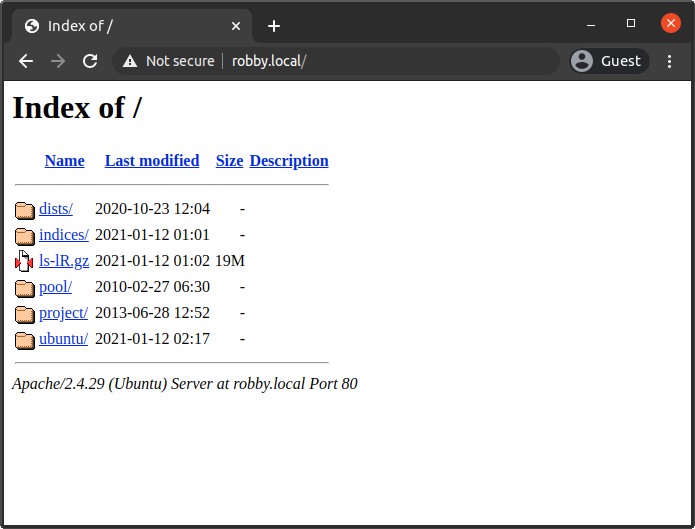 I have a bunch of Ubuntu machines on my local network at home. They all periodically need to check for updates then download & install them. Rather than have them all reach out to the official mirrors externally to my network, I decided to run my own mirror internally. This post is just a set of notes for anyone else who might be looking to do something similar.
I also do a lot of software building, and re-building, which pulls all kinds of random libraries, compilers and other packages from the archive. Having it local saves me repeatedly downloading from the 'net while the kids are on Netflix School Zoom classes.
Don't do this if you're on a super slow connection because the mirror will probably never finish building. Also probably don't do it if you have a per-byte billing arrangement with your provider. This will chew quite a bit of bandwidth, especially the first run. But even subsequent runs can do too, depending on how much chrurn in the Ubuntu Archive there's been since it was last executed.
»
Printer-friendly version

891 reads

PDF version
More in Tux Machines
KaOS Linux's First ISO Release in 2021 Adds Linux Kernel 5.10 LTS and Qt 6

KaOS Linux 2021.01 is now available for download, the first ISO release of this KDE focused and desktop oriented rolling GNU/Linux distribution inspired by Arch Linux to ship with the latest and greatest Linux 5.10 LTS kernel series, which, as expected, provides state-of-the-art hardware support. In addition, KaOS Linux 2021.01 is the first ISO release to ship with the latest Qt 6 open-source and cross-platform application framework, which is already used by some apps, including Poppler, Qtkeychain, Qsynth, Strawberry, and others. Qt 6 is accompanied by the PyQt 6.0 stack, which includes PyQt6-sip, PyQt-Builder, and Sip 6.

Android Leftovers

today's leftovers

today's howtos