What is the SED command in GNU/Linux and example?
Submitted by trendoceangd on Wednesday 30th of December 2020 06:20:17 PM
Filed under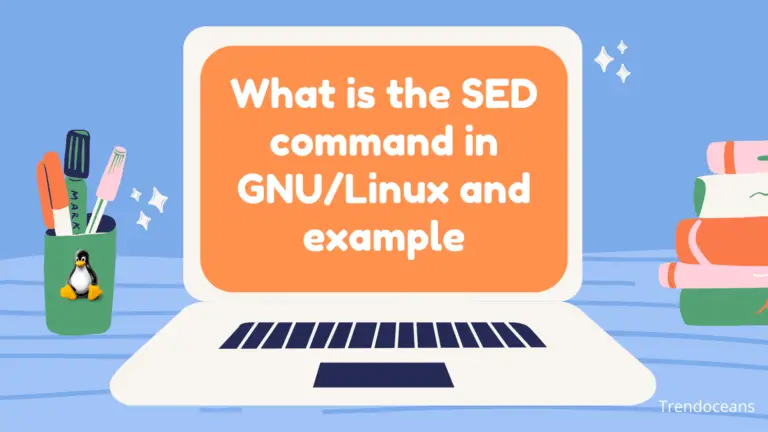 In GNU/Linux A sed command stands for Stream Editor, and It was developed in 1974 by the Lee E McMahon.
A sed command had a different version for macOS sed command is managed by Berkley Software Distribution BSD, and for GNU/Linux SED is managed by General Public License GNU.
It is highly used command to manipulate TextFile to achieve task like searching, find and replace, insertion or deletion.
A sed command has two buffers such as
»
Printer-friendly version

2001 reads

PDF version
More in Tux Machines
today's leftovers

Programming Leftovers

Events: GNOME, LF, and Linux App Summit (LAS)

I'm happy to spread the word that a GNOME event in Spanish and Portuguese is taking place this month, on the 27th of March. It will be a free virtual event with talks and panels where everybody is welcome.

The Summit will allow European attendees to participate, as well, with sessions tailored to the virtual format. The Cloud Foundry Foundation will join forces with the community-elected program committee to curate a program that fosters collaboration among attendees and offers interactive platform education.

Planned to happen online again during May 13-15, the Linux App Summit (LAS) is set to return giving you a chance to listen to talks about the future of application design, development and more for Linux. Last year had some pretty interesting talks, like Linux game porter and FNA developer Ethan Lee giving a presentation on how games get built and packages plus Collabora gave an overview of their work with Valve.

CoreELEC 19.0 "Matrix" Linux Distro Released for Amlogic Hardware Based on Kodi 19

As its codename suggests, CoreELEC 19.0 "Matrix" is the first release of this LibreELEC fork to be based on the recently released Kodi 19.0 "Matrix" open-source home theater software, which introduces numerous new featiures and improvements for those who want to make their own media center PC or HTPC. Based on the CoreELEC 9.2.6 Amlogic-NG release, the CoreELEC 19.0 series becomes the active development branch, supporting only Amlogic-NG devices like LaFrite, LePotato, ODROID-C4, ODROID-HC4, and ODROID-N2.