Ubuntu Web Remix 20.04.1: First Stable Version Of Chrome OS Alternative
Submitted by Rianne Schestowitz on Thursday 19th of November 2020 11:15:36 AM
Filed under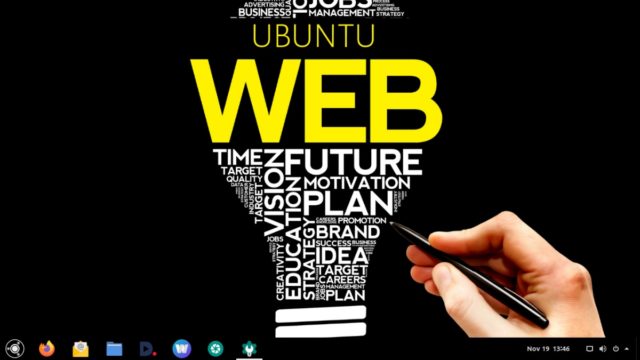 It's been over four months since I reported about the arrival of yet another Ubuntu-based Linux distribution called Ubuntu Web Remix.
So, if you were also waiting for it just like me, the wait is over because its creator, Rudra Saraswat, has finally announced and made its first stable release, Ubuntu Web Remix 20.04.1, available to download.
To remind you, after Ubuntu Unity and UbuntuEd, Ubuntu Web is the third unofficial Ubuntu remix distros by the same developer Rudra Saraswat.
Unlike the other two, Ubuntu Web Remix aims to be a web-centric operating system and an alternative to Google's Chrome OS or Chromium OS.
»
Printer-friendly version

2451 reads

PDF version
More in Tux Machines
Free Software Leftovers

Google and Mozilla Embrace More Restrictions

Starting with Firefox 85, which will be released January 25, 2021, Firefox for Android users will be able to install supported Recommended Extensions directly from addons.mozilla.org (AMO). Previously, extensions for mobile devices could only be installed from the Add-ons Manager, which caused some confusion for people accustomed to the desktop installation flow. We hope this update provides a smoother installation experience for mobile users. As a quick note, we plan to enable the installation buttons on AMO during our regularly scheduled site update on Thursday, January 21. These buttons will only work if you are using a pre-release version of Firefox for Android until version 85 is released on Tuesday, January 25.

The release of Apple Silicon-based Macs at the end of last year generated a flurry of news coverage and some surprises at the machine's performance. This post details some background information on the experience of porting Firefox to run natively on these CPUs. We'll start with some background on the Mac transition and give an overview of Firefox internals that needed to know about the new architecture, before moving on to the concept of Universal Binaries. We'll then explain how DRM/EME works on the new platform, talk about our experience with macOS Big Sur, and discuss various updater problems we had to deal with. We'll conclude with the release and an overview of various other improvements that are in the pipeline.

What is the relevance I hear you ask. Well, I provide Chromium packages for Slackware, both 32bit and 64bit versions. These chromium packages are built on our native Slackware platform, as opposed to the official Google Chrome binaries which are compiled on an older Ubuntu probably, for maximum compatibility across Linux distros where these binaries are used. One unique quality of my Chromium packages for Slackware is that I provide them for 32bit Slackware. Google ceased providing official 32bit binaries long ago. In my Slackware Chromium builds, I disable some of the more intrusive Google features. An example: listening all the time to someone saying "OK Google" and sending the follow-up voice clip to Google Search. And I create a Chromium package which is actually usable enough that people prefer it over Google's own Chrome binaries, The reason for this usefulness is the fact that I enable access to Google's cloud sync platform through my personal so-called "Google API key". In Chromium for Slackware, you can logon to your Google account, sync your preferences, bookmarks, history, passwords etc to and from your cloud storage on Google's platform. Your Chromium browser on Slackware is able to use Google's location services and offer localized content; it uses Google's translation engine, etcetera. All that is possible because I formally requested and was granted access to these Google services through their APIs within the context of providing them through a Chromium package for Slackware. The API key, combined with my ID and passphrase that allow your Chromium browser to access all these Google services are embedded in the binary – they are added during compilation. They are my key, and they are distributed and used with written permission from the Chromium team. These API keys are usually meant to be used by software developers when testing their programs which they base on Chromium code. Every time a Chromium browser I compiled talks to Google through their Cloud Service APIs, a counter increases on my API key. Usage of the API keys for developers is rate-limited, which means if an API key is used too frequently, you hit a limit and you'll get an error response instead of a search result. So I made a deal with the Google Chromium team to be recognized as a real product with real users and an increased API usage frequency. Because I get billed for every access to the APIs which exceeds my allotted quota and I am generous but not crazy. I know that several derivative distributions re-use my Chromium binary packages (without giving credit) and hence tax the usage quota on my Google Cloud account, but I cover this through donations, thank you my friends, and no thanks to the leeches of those distros.

Programming Leftovers

Software: Istio, VLC Media Player, Deskreen and Signal