Calamares and Plasma Look-and-Feel
Submitted by Rianne Schestowitz on Tuesday 17th of November 2020 09:21:42 PM
Filed under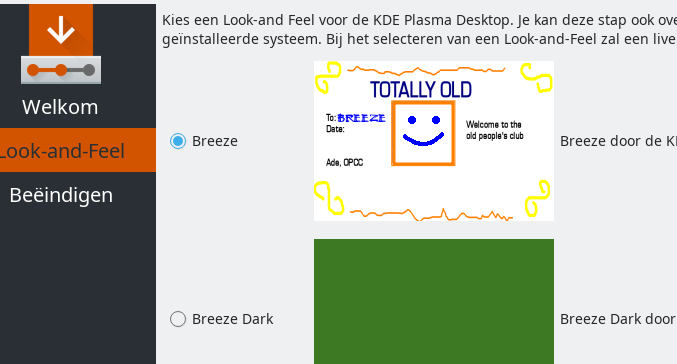 Calamares is a Linux installer. Bluestar Linux is a Linux distribution. KDE Plasma Desktop is KDE's flagship desktop environment. Together, these three bits of software got into a spot of trouble, but what's more important, got out of trouble again with good communications, good bug reports and a "we can fix it" attitude.
When Calamares is run in a KDE Plasma Desktop environment, for a distro that uses KDE Plasma Desktop – and bear in mind, Calamares is a distro- and desktop-independent project, so it will just as gladly install a variant of Debian with i3 as a variant of openSUSE with GNOME as a variant of Fedora with KDE Plasma – one of the modules that the distro can use is the plasmalnf module. This configures the look-and-feel of KDE Plasma Desktop in the target system, so that after the installation is done you don't have to set a theme again. You might think of this as one tiny part of a first-run "here's some cool options for your desktop" tool.
»
Printer-friendly version

2109 reads

PDF version
More in Tux Machines
Today in Techrights

Android Leftovers

Explore binaries using this full-featured Linux tool

In 10 ways to analyze binary files on Linux, I explained how to use Linux's rich set of native tools to analyze binaries. But if you want to explore your binary further, you need a tool that is custom-made for binary analysis. If you are new to binary analysis and have mostly worked with scripting languages, 9 essential GNU binutils tools will help you get started learning the compilation process and what constitutes a binary. It's natural to ask why you need yet another tool if existing Linux-native tools do similar things. Well, it's for the same reasons you use your cellphone as your alarm clock, to take notes, as a camera, to listen to music, to surf the internet, and occasionally to make and receive calls. Previously, separate devices and tools handled these functions — like a physical camera for taking pictures, a small notepad for taking notes, a bedside alarm clock to wake up, and so on. Having one device to do multiple (but related) things is convenient for the user. Also, the killer feature is interoperability between the separate functions.

7 ways open source was essential to business in 2020

The COVID-19 pandemic created many new challenges for businesses in 2020 as they rapidly moved non-essential workers to remote operations. However, it also created tremendous opportunities for innovation as people searched for effective ways to work and collaborate virtually. Opensource.com responded to the need by publishing a variety of articles in 2020 on working better with open source. Since it appears working remotely is here to stay for the foreseeable future, make sure you're doing everything you can to adapt by reading the top seven articles about open source business from 2020.