Raspberry Pi Compute Module 4
Submitted by Roy Schestowitz on Monday 19th of October 2020 03:08:31 PM
Filed under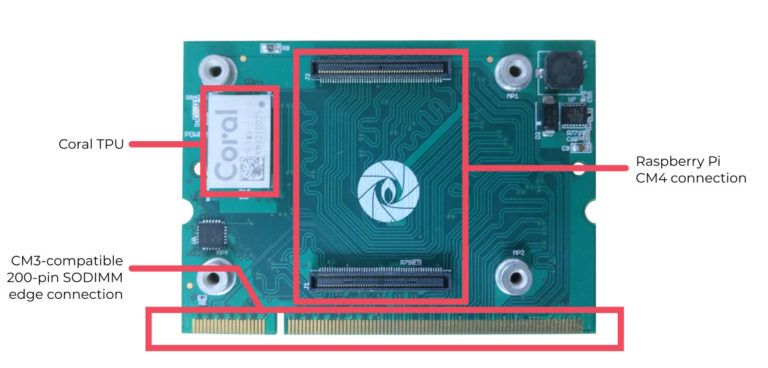 Raspberry Pi Trading has just launched 32 different models of Raspberry Pi CM4 and CM4Lite systems-on-module, as well as the "IO board" carrier board.

But the company has also worked with third-parties, and Gumstix, an Altium company, has unveiled four different carrier boards for the Raspberry Pi Compute Module 4, as well as a convenient CM4 to CM3 adapter board that enables the use of Raspberry Pi CM4 on all/most carrier boards for the Compute Module 3/3+.

  

We were expecting Raspberry Pi Compute Module 4 sometimes next year, but Raspberry Pi Trading Limited managed to launch the new module much earlier, as Raspberry Pi CM4 and CM4Lite modules have just been launched with a new, much more compact form factor incompatible with the earlier Compute Modules, an I/O board making use of the new features, and a choice of 32 models with variations in terms of memory and storage capacity, as well as the presence or lack thereof of a WiFi and Bluetooth wireless module.
»
Printer-friendly version

3479 reads

PDF version
More in Tux Machines
Android Leftovers

Devices/Embedded: MiTAC, Raspberry Pi and ESP32/Arduino

today's howtos

Linux Kernel: Greg Kroah-Hartman's Talk and Panics

Kroah-Hartman explains that one of Linus Torvalds' most deeply-held convictions: don't break userspace. "Other operating systems have this rule as well — it's a very solid rule — because we always want you to upgrade. And we want you to upgrade without worrying about it. We don't want you to feel scared. If you see a new release, and we say, 'Hey, this fixes a bunch of problems,' we don't want you to feel worried about taking that. That's really really important — especially with security...." If you do make a change, make sure there truly is a compelling reason. "You have to provide enough reason and enough goodness to force somebody to take the time to learn to do something else. That's very rare." His example of this was systemd, which unified a variety of service configurations and initialization processes. "They did it right. They provided all the functionality, they solved a real problem that was there. They unified all these existing tools and problems in such a way that it was just so much better to use, and it provided enough impetus that everybody was willing to do the work to modify their own stuff and move to the new model. It worked. People still complain about it, but it worked. Everybody switched... It works well. It solves a real problem. "That was an example of how you can provide a compelling reason to move on — and make the change."

Linux is used everywhere in the IT world. You've probably used Linux today, even if you didn't realize it. If you have learned anything about Linux, then you know it is indeed a kernel. The kernel is the primary unit of the Linux operating system (OS) and is responsible for communications between a computer's hardware and its processes. In this article, you will learn about one situation related to the Linux kernel: The kernel panic. The term itself can make you panic, but if you have the proper knowledge, then you can remain calm. Every system admin faces this issue at least once in their career, but reinstalling the system is not the first solution you should turn to. [...] Now, anytime you see a kernel panic error, you will definitely not panic because you know why this error occurred and how to resolve it. This article covers one of the common Linux boot problems: kernel panic. There are so many other potential boot problems that can occur in Linux, but resolving those issues will become much less of a panic when you gain some advanced knowledge of your system.