GTK 3.99.2
Submitted by Roy Schestowitz on Thursday 1st of October 2020 06:48:17 AM
Filed under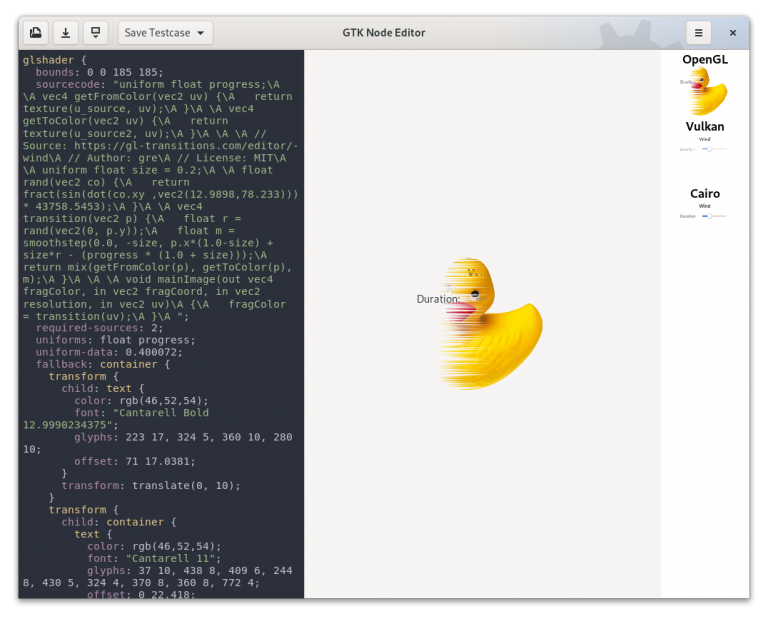 The GTK 3.99.2 release continues the topics from 3.99.1: api cleanup, new and polished demos, better documentation. You can see the details here.
One small note on the topic of documentation is that we are relying on some unreleased gtk-doc features. Therefore, we now include gtk-doc as a subproject in the gtk release tarball. If you are a distributor, don't be surprised that building GTK installs gtk-doc tools now.
The big news in this snapshot is our work on exposing the power of the new GL-based rendering stack a bit more.
[...]
This is not our first attempt to make a shadertoy lookalike. When we first looked at it, we thought that we would make a shader abstraction that applications could use. We put it to the side when it turned out that making it work across different renderers and backends would require us to write our own shader compiler—too much work.
But after our shadertoy success, we revisited the idea of shaders as first-class objects, with more modest goals: We use GLSL, and don't attempt to make the shaders work with anything but the OpenGL renderer.
Also: GTK 3.99.2 Released As A Step Closer To GTK4 With Fancy GLSL Shader Capabilities
»
Printer-friendly version

1261 reads

PDF version
More in Tux Machines
| | |
| --- | --- |
| today's howtos | Android Leftovers |
| Games: Godot Engine, Lutris, XCOM, KeeperRL, Ampersat, Europa Universalis and More | today's howtos |