Software: MailSpring and NewFlash for E-mail and RSS
Submitted by Roy Schestowitz on Tuesday 11th of August 2020 10:34:58 PM
Filed under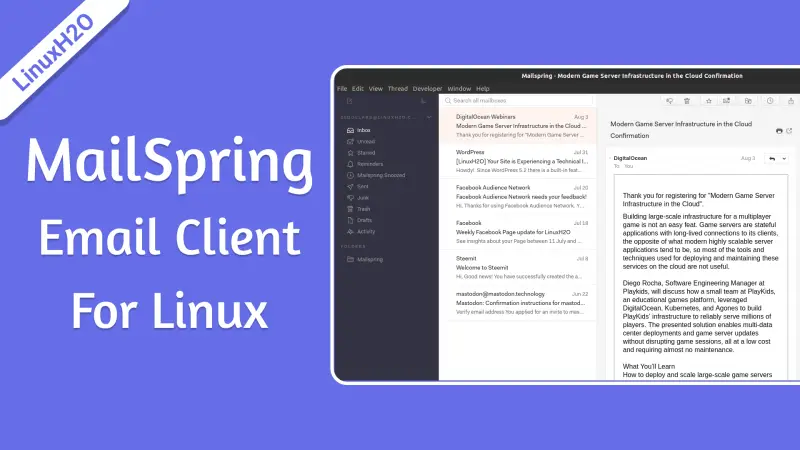 In this article, we will review MailSpring – an amazing email client for Linux. We will also go through the guide on how to install MailSpring on any Linux distribution.

A few years back an open-source email client called Nylas became sensational in the Linux community. People were just loving it. You may ask why? Because it was just amazing, the design was cool and the features were even cooler.

Unfortunately, the company behind the client decided to drop-out the project probably due to the financial constraints. However, few brave souls raised the project and forked it into what is known as now – MailSpring.

       

        NewFlash, spiritual successor to FeedReader, is a modern feed reader designed for the GNOME desktop.

NewsFlash is a program designed to complement an already existing web-based RSS reader account. It combines all the advantages of web based services like syncing across all your devices with everything you expect from a modern desktop program: Desktop notifications, fast search and filtering, tagging, handy keyboard shortcuts and having access to all your articles as long as you like.
»
Printer-friendly version

2096 reads

PDF version
More in Tux Machines
Microsoft 365 outage affects multiple services

Microsoft Corp MSFT.O said late Monday a recent change it introduced likely caused a major outage, affecting users' access to multiple Microsoft 365 services, including Outlook.com and Microsoft Teams. The developer of Windows and Office software said it did not "observe an increase in successful connections" even after it rolled back the change to mitigate the impact.

14 Best Free and Open Source Linux Compression Tools

Data compression is the process of storing data in a format that uses less space than the original representation would use. Compressing data can be very useful particularly in the field of communications as it enables devices to transmit or store data in fewer bits. Besides reducing transmission bandwidth, compression increases the amount of information that can be stored on a hard disk drive or other storage device. There are two main types of compression. Lossy compression is a data encoding method which reduces a file by discarding certain information. When the file is uncompressed, not all of the original information will be recovered. Lossy compression is typically used to compress video, audio and images, as well as internet telephony. The fact that information is lost during compression will often be unnoticeable to most users. Lossy compression techniques are used in all DVDs, Blu-ray discs, and most multimedia available on the internet.

Customize an Intel NUC with Linux

After nearly six months of frequent video conferencing, I was tired of looking at my colleagues as tiny thumbnails on 13" and 15" laptop displays. However, I didn't want the clutter of a desktop or tower case and all the associated cabling. I briefly considered a Mac Mini but didn't want to surrender to a proprietary interface. I really wanted a Linux desktop with power, portability, and a small footprint. I considered System76's Meerkat but instead opted to build my own computer using an Intel Next Unit of Computing (NUC). Intel created the NUC as a very small, barebones computer system with a number of options. It's more powerful and more modular than something like a Raspberry Pi, but it's smaller than even a microATX sized PC tower.

13 Best Photo Image Editors for Linux

In this article, I have reviewed of some the best photo editing software available on different Linux distributions. These are not the only photo editors available but are among the best and commonly used by Linux users. Thanks for reading and hope you find this article useful, if you know of other good photo editors available in Linux, let us know by leaving a comment. Stay connected to Tecmint for more quality articles.