TDF Annual Report and LibreOffice Latest
Submitted by Roy Schestowitz on Tuesday 11th of August 2020 04:25:47 AM
Filed under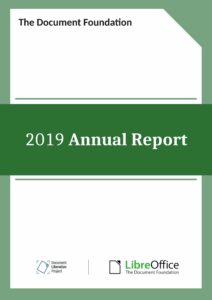 The Annual Report of The Document Foundation for the year 2019 is now available in PDF format from TDF Nextcloud in two different versions: low resolution (6.4MB) and high resolution (53.2MB). The annual report is based on the German version presented to the authorities in April.

The 54 page document has been entirely created with free open source software: written contents have obviously been developed with LibreOffice Writer (desktop) and collaboratively modified with LibreOffice Writer (online), charts have been created with LibreOffice Calc and prepared for publishing with LibreOffice Draw, drawings and tables have been developed or modified (from legacy PDF originals) with LibreOffice Draw, images have been prepared for publishing with GIMP, and the layout has been created with Scribus based on the existing templates.

LibreOffice 6.4.5 was announced on July, 2

This week, I was mainly working on cleaning up and migrating the patches from my experimental branch to LO master.
»
Printer-friendly version

2611 reads

PDF version
More in Tux Machines
dupeGuru – find duplicate files

Even though the cost of storage per GB continues to fall, it's common for users to need to find and remove duplicates files. The process of finding and removing duplicates is time-consuming. Fortunately, there are a number of tools that are designed to remove the laborious nature of finding duplicates. dupeGuru is a cross-platform GUI tool to find duplicate files in a system. It has three modes, Standard, Music and Picture, with each mode having its own scan types and unique features. dupeGuru is written in Python.

First Look at Manjaro Deepin Edition: Deepin Beauty Powered by Arch Linux

New editions of Manjaro Linux are in the works, Manjaro Deepin Edition with the Deepin Desktop Environment (DDE) and Manjaro UKUI Edition with Ubuntu Kylin's UKUI desktop environment, and today I want to give you a first look at Manjaro Deepin Edition. If you ever wanted to use Manjaro Linux with the beautiful and futuristic Deepin Desktop Environment, the Manjaro Deepin Edition will let you do just that without the hustle of installing the Deepin Desktop from the repositories on top of a barebone Manjaro Linux installation. Developed as part of the recently released Manjaro 20.1 "Mikah" series, the Deepin Edition promises an out-of-the-box Deepin Desktop experience powered by all the goodies that the Arch Linux and Manjaro Linux distributions have to offer. [...] Until the Manjaro team decides which apps will land in the final release, I invite you to download the Deepin Edition of Manjaro Linux below and take it for a spin yourself on your personal computer. Do let me know what you think about it in the comments below, but keep in mind that this is a pre-release version so don't install it on a production machine.

Drawing is an Open Source MS-Paint Type of App for Linux Desktop

For people introduced to computers with Windows XP (or earlier version), MS Paint was an amusing application from sketching random stuff. In a world dominated with Photoshop and GIMP, the paint applications still hold some relevance. There are several painting applications available for Linux, and I am going to add one more to this list. The app is unsurprisingly called Drawing and you can use it on both Linux desktop and Linux smartphones.

Android Leftovers