Molly de Blanc: (Some) Highlights from GUADEC
Submitted by Roy Schestowitz on Monday 13th of July 2020 04:08:44 PM
Filed under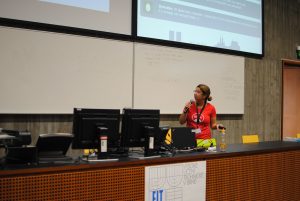 I positively adore my coworkers. I'll spare you how great they are, and instead focus on some of the talks they'll be giving.
GKT Core Developer Emmanuele Bassi will be giving two talks: Being a GNOME Maintainer: Best Practices and Known Traps and Archaeology of Accessibility. Being a GNOME Maintainer will discuss what it means to be a GNOME maintainer, and Archaeology of Accessibility will be a technical deep dive into the accessibility work Emmanuele and others have been doing around accessibility. (Note: "Accessibility" refers to the ability of technology to accommodate the needs of users who have disabilities, visual impairments, etc.)
Melissa Wu, who is organizing the Community Engagement Challenge, will give two sessions as well. In her first, Remember What It's Like to Be New to GNOME, she'll talk about her experience coming to the GNOME community only a few months ago, getting to know people, and making things happen.
Melissa will also join me for A Year of Strategic Initiatives at GNOME, during which we'll talk about a range of things that have happened at GNOME over the past year (and some future plans), with a focus on organizational sustainability and the initiatives that make us excited to work here.
Executive Director Neil McGovern will lead the Annual General Meeting, to provide everyone with an overview of what we've been doing and what we will do, and answer your questions.
»
Printer-friendly version

2638 reads

PDF version
More in Tux Machines
Cosmo Communicator Review: the dual boot pocket PC phone

Around the turn of the century, smartphones came in many clever and innovative shapes and sizes. For about 10 years, we lost that innovation to rectangular touch screen slabs, but now some of that innovation is coming back. The Cosmo Communicator is a good example. It's an Android smartphone with a real physical keyboard, a clam-shell hinge to open it up, and an external screen. It even allows you to partition the storage area and install full Linux for a dual boot experience. The Cosmo Communicator is 171.4mm long, 79.3mm wide, and 17.3mm thick. It's not a small device. The weight is 326g, so it's not light either. It's got a 4220mAh battery with fast charging, 5.99″ FHD 2160×1080 pixel main display, 1.91″ external OLED touch display, 24Mp external camera with LED flash, and 5Mp front-facing video call camera. It supports all of the GSM, CDMA, and 4G LTE radios and is also available in a Verizon version or Japan version for those different frequencies. You've got dual nano-SIM card slots and eSIM support as well. It comes with Android 9.0 installed, but now with recent updates, we can also install a special version of Debian Linux. Sailfish might work too.

Games: DRAG, Valve Index kit and Inscryption

LibreOffice 7.0: A week in stats

One week ago, we announced LibreOffice 7.0, our brand new major release. It's packed with new features, and has many improvements to compatibility and performance too. So, what has happened in the week since the announcement? Let's check out some stats… These are just stats for our official downloads page, of course – some Linux users will have acquired the new release via their distribution's package repositories. Also: LibreOffice 7.0 Is Already Approaching A Half-Million Downloads

LibreELEC (Leia) 9.2.4

LibreELEC 9.2.4 (Leia) has arrived based upon Kodi v18.8. Changes since 9.2.3: firmware fixes for RPi (fixes booting issues) Kodi 18.8 Kodi 19 Matrix: We have currently no plans yet to create an official Alpha release of LE10 with the Alpha version of Kodi 19. Due the drawn out release cycle of Kodi and the experiences from the past few years we are waiting a bit longer to avoid major problems. Nightly builds could be downloaded like usual, that includes the latest unstable development snapshot of LE10/Kodi19.