Managing tasks with todo.txt and Taskwarrior
Submitted by Roy Schestowitz on Friday 10th of July 2020 12:51:00 AM
Filed under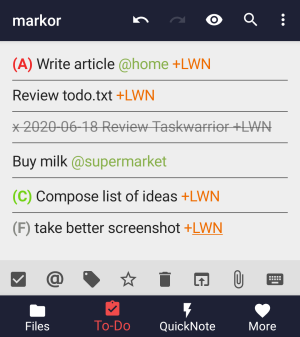 One quote from Douglas Adams has always stayed with me: "I love deadlines. I like the whooshing sound they make as they fly by". We all lead busy lives and few ever see the bottom of our long to-do lists. One of the oldest items on my list, ironically, is to find a better system to manage all my tasks. Can task-management systems make us more productive while, at the same time, reducing the stress caused by the sheer number of outstanding tasks? This article looks at todo.txt and Taskwarrior.
The management of tasks is rather personal and people have completely different approaches and philosophies. This is, of course, reflected in the requirements for, and expectations from, a task manager. Requirements can also change as our interaction with computers changes. For example, while I put a lot of emphasis on managing tasks via the command line in the past, these days I'm more interested in a good mobile app (to add tasks on the go and to receive reminders) and web support (to get an overview of all tasks).
A good way to filter tasks is also essential for me. One of the reasons for using task-management software is so you can stop worrying about tasks until they become relevant. This requires a way to find relevant tasks when needed, such as when the due date is coming up soon or because you're in a relevant setting or place (often called a "context" in task-management systems). Going to the supermarket would be a good time to bring up a shopping list, for example. Task-management systems offer a number of ways to organize information that can be used in filters, such as tags, contexts (often stored as tags in the form of @tag, such as @home), and lists.
In a series of two articles, we'll review four systems for managing tasks and to-do items around which open-source ecosystems have formed.
»
Printer-friendly version

1985 reads

PDF version
More in Tux Machines
KDE neon Rebased on 20.04

KDE neon is our installable Linux with continuous integration and deployment. It's based on Ubuntu who had a new Long Term Support Release recently so we've rebased it on Ubuntu 20.04 now. You should see a popup on your install in the next day or so. It'll ask you to make sure your system is up to date then it'll upgrade the base to 20.04 which takes a while to download and then another while to install. Afterwards it should look just the same because it's the same wonderful Plasma desktop. Also: KDE neon Is Now Based on Ubuntu 20.04 LTS (Focal Fossa)

Everything You Need to Know About Linux Ubuntu Server

As you should probably know, Linux powers the majority of the web we see today. This is mainly because Linux systems are inherently more secure and stable than other systems. There are several types of Linux distributions for powering servers. Some notable ones include Ubuntu, Red Hat, Debian, and CentOS. Ubuntu, in particular, has been enjoying a surge in popularity as a server distro in recent times. In this guide, our editors have outlined why the Linux Ubuntu server is outgrowing many of its competitions. Stay with us throughout this guide to learn why Ubuntu shines as a server distro.

Byte – music player designed for elementary OS

I spend an inordinate amount of time listening to music. My favorite pastime is to see an eclectic range of bands, solo artists, and orchestras live. It's such a life-changing and exhilarating experience. It's one thing to be sitting at home listening to a CD or watching music videos on TV or on YouTube, but being in the audience, packed out in a stadium or music hall, takes it to another level. But it's an expensive pastime, and on hold given the current coronavirus pandemic. These days, I'm listening to music from my CD collection which I've encoded to FLAC, a lossless audio format. Linux is endowed with a plethora of open source music players. And I've reviewed the vast majority. But I seem to keep finding interesting music players. Byte is the latest I've stumbled across. Byte is a GTK-based music player. It was created with the desire to make a good music player for elementary OS. It focuses on two aspects: features and design. Byte isn't tied to elementary OS; it runs on other Linux distributions. It's in a fairly early stage of development, with its initial release only back in August 2019.

AMD Ryzen Embedded SBC Review with Ubuntu 20.04

DFI GHF51 Ryzen Embedded SBC runs about as well in Ubuntu 20.04 as it does in Windows 10. Everything basically works and performs well. Our testing shows AMD Ryzen Embedded R1606G processor to offer slightly better performance than the top of the line Intel Gemini Lake Pentium J5005 processor. I also had one of the same issues as in Windows: one Seagate USB hard drive would not work reliability at all with transfer stalled. That's probably just a hardware incompatibility, as the drive works with other platforms, and other USB storage devices achieve normal performance when connected to DFI SBC. I also noticed some artifacts with one 3D graphics benchmark, but those did not show up in other 3D accelerated programs. DFI GHF51 is an impressive piece of hardware as it packs lots of CPU and GPU power in a form factor similar to Raspberry Pi 4 SBC. I'd like to thank DFI for sending a review sample. If you plan to buy in large quantities to integrate the board into your product, you could contact the company via the product page. It's used to be available as a sample on the company's DFI-ITOX online store for $378, but it has been taken down since last time.