Managing tasks with todo.txt and Taskwarrior
Submitted by Roy Schestowitz on Friday 10th of July 2020 12:51:00 AM
Filed under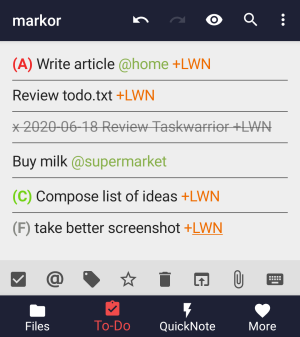 One quote from Douglas Adams has always stayed with me: "I love deadlines. I like the whooshing sound they make as they fly by". We all lead busy lives and few ever see the bottom of our long to-do lists. One of the oldest items on my list, ironically, is to find a better system to manage all my tasks. Can task-management systems make us more productive while, at the same time, reducing the stress caused by the sheer number of outstanding tasks? This article looks at todo.txt and Taskwarrior.
The management of tasks is rather personal and people have completely different approaches and philosophies. This is, of course, reflected in the requirements for, and expectations from, a task manager. Requirements can also change as our interaction with computers changes. For example, while I put a lot of emphasis on managing tasks via the command line in the past, these days I'm more interested in a good mobile app (to add tasks on the go and to receive reminders) and web support (to get an overview of all tasks).
A good way to filter tasks is also essential for me. One of the reasons for using task-management software is so you can stop worrying about tasks until they become relevant. This requires a way to find relevant tasks when needed, such as when the due date is coming up soon or because you're in a relevant setting or place (often called a "context" in task-management systems). Going to the supermarket would be a good time to bring up a shopping list, for example. Task-management systems offer a number of ways to organize information that can be used in filters, such as tags, contexts (often stored as tags in the form of @tag, such as @home), and lists.
In a series of two articles, we'll review four systems for managing tasks and to-do items around which open-source ecosystems have formed.
»
Printer-friendly version

2311 reads

PDF version
More in Tux Machines
Android Leftovers

Top 5 Linux PC Desktops You Can Buy in 2020

The year is 2020, and Linux-based operating systems have never been more popular. All thanks to their increased security and privacy, smooth updates, and open-source nature, everyone wants to at least give a shot to its multitude of distributions. Now we have already covered some of the best Linux-based laptops that you can find in the market as of now. With that being said, we get it that they are not everyone's cup of tea, so Linux PC desktops are also something that you should be taking a look at as well.

8 Best Free and Open Source Functions-as-a-Service

FaaS (Function-as-a-Service) is a category of cloud computing services. It's a fairly new development that originated from PaaS. FaaS is a cloud computing model that abstracts server management and low-level infrastructure decisions away from developers, but takes it much further than PaaS. FaaS is a distinct technology. All allocation of resources is managed by the platform, allowing applications to be developed without any thought of implementation, load balancing, or scaling. It allows developers to execute small snippets of code in response to events without having to build complex infrastructure. FaaS is often known as serverless. FaaS has been gaining popularity. The main advantage of this technology is the ability to create and run applications without the need for infrastructure management. In other words, when using a serverless architecture, developers no longer need to allocate resources, scale and maintain servers to run applications, or manage databases and storage systems.

5 open source alternatives to GitHub

Git is a popular version-control system, primarily used for code but popular in other disciplines, too. It can run locally on your computer for personal use, it can run on a server for collaboration, and it can also run as a hosted service for widespread public participation. There are many hosted services out there, and one of the most popular brands is GitHub. GitHub is not open source. Pragmatically, this doesn't make much of a difference to most users. The vast majority of code put onto GitHub is, presumably, encouraged to be shared by everyone, so GitHub's primary function is a sort of public backup service. Should GitHub fold or drastically change its terms of service, recovering data would be relatively simple because it's expected that you have a local copy of the code you keep on GitHub. However, some organizations have come to rely on the non-Git parts of GitHub's service offerings, making migration away from GitHub difficult. That's an awkward place to be, so for many people and organizations, insurance against vendor lock-in is a worthwhile investment.