Raspberry Pi 4: Could Ubuntu Be On The Way?
Submitted by Roy Schestowitz on Thursday 9th of July 2020 11:45:32 PM
Filed under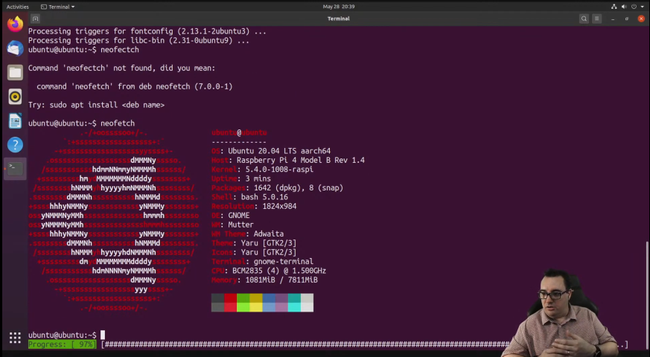 On the surface the Raspberry Pi 4 8GB may not have been a revolutionary release, but it has finally brought the power of a low cost 64 bit desktop computer to homes around the world. From day one the Raspberry Pi has used a Linux based operating system, initially a rather limited release of Debian, called Raspbian which has evolved over the years to become Raspberry Pi OS. But there are times when a more refined desktop experience would benefit the user.
For over 15 years Ubuntu have provided a Linux distribution that offers a more friendly and forgiving means to delve into the Linux ecosystem.
On a recent Ubuntu Podcast, Martin Wimpress, Director of Engineering at Canonical the company which publishes Ubuntu, hinted that "maybe we're working on Ubuntu desktop for the Raspberry Pi". Martin Wimpress was brought in to work on the main Ubuntu release based on his work in the Ubuntu MATE community.
There is a high chance that this will be ready for Ubuntu 20.10 due for release in October 2020.
»
Printer-friendly version

2160 reads

PDF version
More in Tux Machines
Android Leftovers

Ubuntu maker wants app developers to stop worrying too much about security

Buoyed by the recent Snyk security report that found security vulnerabilities in several container images except Ubuntu's, the company behind it, Canonical, has published a whole portfolio of hardened images. Unsurprisingly, Canonical has partnered with Docker to streamline the delivery of the secure portfolio of images through Docker Hub. "Canonical and Docker will partner together to ensure that hardened free and commercial Ubuntu images will be available to all developer software supply chains for multi-cloud app development," Docker's Matt Carter wrote in a blog post announcing the collaboration.

Assign Actions To Touchpad Gestures On Linux With Touchegg

The application runs in the background, transforming the multi-touch gestures you make on your touchpad into various desktop actions. For example, you can minimize a window by swiping down using 3 fingers, pinch in using 2 fingers to zoom in, etc. This is a demo video recorded by the Touchegg developer (image above credits also go to the dev).

Meet DevTerm: An Open Source Portable Linux Terminal For Developers

You may be familiar with Clockwork company, which earlier launched an open-source Linux-powered portable game console called GameShell for gamers. Now, they're back with another new portable and modular device called DevTerm for developers, which you can easily carry along wherever you go.