Raspberry Pi 4: Could Ubuntu Be On The Way?
Submitted by Roy Schestowitz on Thursday 9th of July 2020 11:45:32 PM
Filed under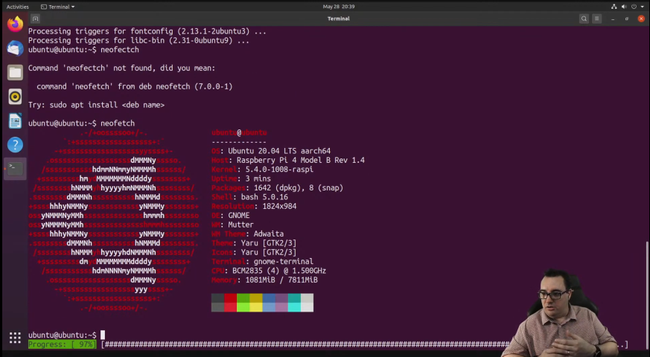 On the surface the Raspberry Pi 4 8GB may not have been a revolutionary release, but it has finally brought the power of a low cost 64 bit desktop computer to homes around the world. From day one the Raspberry Pi has used a Linux based operating system, initially a rather limited release of Debian, called Raspbian which has evolved over the years to become Raspberry Pi OS. But there are times when a more refined desktop experience would benefit the user.
For over 15 years Ubuntu have provided a Linux distribution that offers a more friendly and forgiving means to delve into the Linux ecosystem.
On a recent Ubuntu Podcast, Martin Wimpress, Director of Engineering at Canonical the company which publishes Ubuntu, hinted that "maybe we're working on Ubuntu desktop for the Raspberry Pi". Martin Wimpress was brought in to work on the main Ubuntu release based on his work in the Ubuntu MATE community.
There is a high chance that this will be ready for Ubuntu 20.10 due for release in October 2020.
»
Printer-friendly version

1917 reads

PDF version
More in Tux Machines
LibreELEC (Leia) 9.2.4

LibreELEC 9.2.4 (Leia) has arrived based upon Kodi v18.8. Changes since 9.2.3: firmware fixes for RPi (fixes booting issues) Kodi 18.8 Kodi 19 Matrix: We have currently no plans yet to create an official Alpha release of LE10 with the Alpha version of Kodi 19. Due the drawn out release cycle of Kodi and the experiences from the past few years we are waiting a bit longer to avoid major problems. Nightly builds could be downloaded like usual, that includes the latest unstable development snapshot of LE10/Kodi19.

Android Leftovers

Why I still love tcsh after all these years

I consider myself a happy Bash user. However, when I started exploring Unix, it was on a proprietary Unix system that provided tcsh by default, so my earliest shell experiences were on a modern version of the C shell (csh). That turned out to be a fortunate accident because tcsh was also the shell of choice at the film studio where I worked later in my career. To this day, there are several tasks I associate with tcsh, even though there's no logical correlation there. I still use tcsh on at least one system, if only to stay in practice. I also keep it installed on all my systems to maintain compatibility with my own tcsh scripts and to ensure I can launch it when I need to write a script I prefer to have in tcsh.

An Android operating system that prioritizes mobile data privacy

Android and iOS devices are notorious for uploading your personal data to their cloud services without your permission. If you are concerned about your mobile data privacy, you have another option to consider for your next smartphone: the /e/ operating system, a free and open source, Android-based operating system. The eFoundation community is led by Gaël Duval, a legacy Linux developer and entrepreneur who founded Mandrake Linux in 1998. Gaël has been passionate about computers since he was 10 years old. He has a degree in software engineering and started his career by creating Mandrake (which later became Mandriva) as a Linux distribution that catered to end users. Mandrake was a Red Hat Linux-based distribution that featured a graphical user interface by default, was easy to use, and focused on the desktop experience.