Finnix 120 released... wait, what?
Submitted by Roy Schestowitz on Thursday 14th of May 2020 11:04:13 AM
Filed under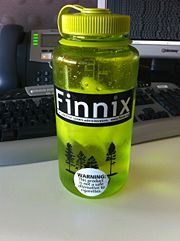 That's right: after a 5 year hiatus, Finnix — the LiveCD for system administrators and the oldest LiveCD in production — is back to celebrate its 20 year anniversary in 2020 with Finnix 120.
Finnix 120 is a complete overhaul, with a number of major changes (as well as too many minor changes to enumerate).
»
Printer-friendly version

2563 reads

PDF version
More in Tux Machines
Games: Return to Castle Monkey Ball, Mutropolis, Ballsy! World Cup 2020

Combining elements of the Wolfenstein 3D classic first-person shooter with the rolling gameplay of Super Monkey Ball, what could go wrong? Return to Castle Monkey Ball is quite hilarious. Pointed out by a reader earlier this week, it's a web game you can play on itch.io right in your browser so there's no downloading and the idea actually works quite well. Amusingly so and it's pretty challenging too. The idea here is that you're rolling your way through some cramped hallways, while soldiers are trying their best to shoot you. Smash into them to hurt them, keep rolling and collect bananas to boost your score and hopefully make it out alive. Probably one of the most unique mashups I've seen lately.

Ready for a new adventure? Set in the far future on an abandoned planet Earth, Mutropolis is now confirmed to be launching on February 18. "It is the year 5000, and the greatest achievements in human history are forgotten. The pyramids, the Mona Lisa, The Fresh Prince of Bel Air – forgotten. Forgotten by everyone except Henry Dijon and his ragtag team of archaeologists. They left Mars to dig up lost treasures on the wild and inhospitable Planet Earth. Life is sweet, until Henry's professor is kidnapped, and thing start to get... weird."

Remember the classic Sensible World of Soccer or the original Sensible Soccer? Classics from the 90s and Ballsy! World Cup 2020 is a wonderful take on it. Note: key provided by the developer. I have seriously fond memories of SWOS, playing endless hours on the Amiga a long time ago. Ballsy really does feel like it both mechanically and visually although naturally it's more modern and looks a lot cleaner. After originally releasing in October 2020, the developer decided to port it in December 2020 to Linux. "Tired of these sluggish, scripted modern football games? Still like some physics momentum in your retro footy game? Search no longer! Ballsy! offers that fluent feel for flowing football fans. The European football, that is, so, not handegg. Though truth be told, the term 'soccer' was actually invented by the English, so it doesn't deserve all the hate it gets."

The first postmarketOS service pack release brings major PinePhone improvements

PostmarketOS is a smartphone operating system that grew out of a dream of providing a 10-year lifecycle to smartphones. So it's probably not a surprise that the developers focus on stability, with major new releases coming to the stable channel every six months. But with the rapid pace of development in the Linux smartphone space since the release of the PinePhone, the postmarketOS team has added occasional "service pack" updates to the roadmap, and the first one is now available.

Security Leftovers

Android Leftovers