Kaidan 0.5.0 released!
Submitted by Rianne Schestowitz on Sunday 5th of April 2020 11:14:45 PM
Filed under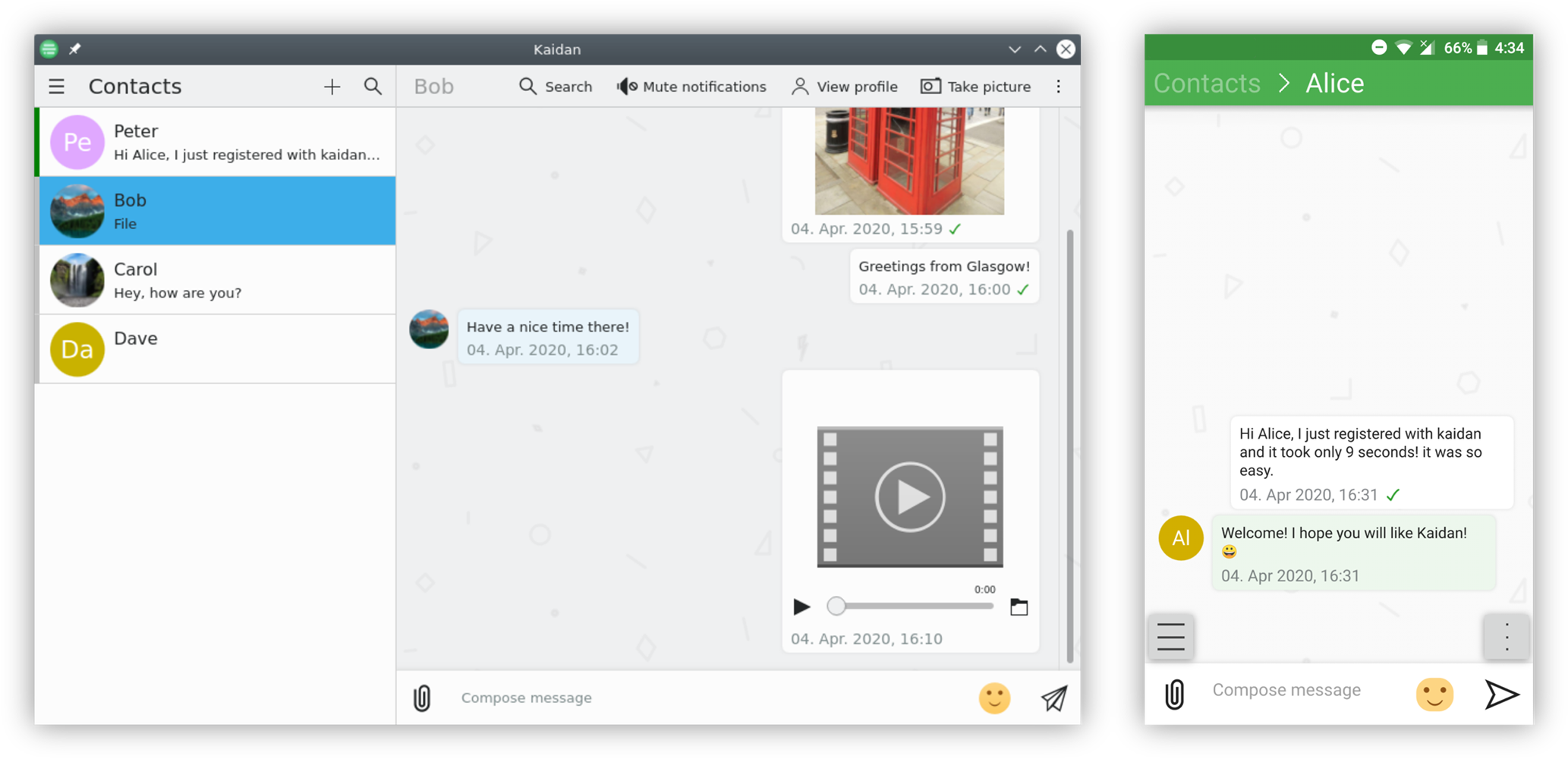 After more than half a year the next release is here, but the waiting was worth it! It includes the all new onboarding, which aims at better usability for new XMPP users and improved security, while minimizing additional effort by the user. For further information look at the blog post dedicated to this topic.
And even more! Now recording and sending audio and video is possible with Kaidan, as well as searching for contacts and messages. Additionally, many smaller features and fixes are included in this release. But have a look at the changelog yourself.
We sadly have to inform you that we encountered difficulties building Kaidan for Windows and building the Flatpak as one option to use Kaidan on Linux. But we are already working on fixing it and Kaidan 0.5 will hopefully be available on Windows and as a Flatpak for Linux soon™.
»
Printer-friendly version

1964 reads

PDF version
More in Tux Machines
9 Best Free Linux Webcam Tools (Updated 2020)

A webcam is a video capture device that is either connected to a computer directly (typically by USB) or over a computer network. Many modern netbooks and laptops have a built-in webcam. Webcams spice up online communication by offering real-time video chat and webcasting. These tiny cameras enable users to chat in realtime with friends and family, send video email around the world, to videoconference with co-workers and clients, and even to broadcast a TV-like channel over the net. Other people use a webcam as part of a security system, making use of motion detection to receive image and video intrusion alerts, both interior and exterior, of a building or home.

9 open source JavaScript frameworks for front-end web development

About a decade ago, the JavaScript developer community began to witness fierce battles emerging among JavaScript frameworks. In this article, I will introduce some of the most well-known of these frameworks. And it's important to note that these are all open source JavaScript projects, meaning that you can freely utilize them under an open source license and even contribute to the source code and communities. If you prefer to follow along as I explore these frameworks, you can watch my video.

Raspberry Pi 4 Gets 8GB RAM, Raspbian 64-bit (Beta)

The Raspberry Pi 4 Model B was launched in June 2019 with Broadcom BCM2711 Arm Cortex-A72 processor coupled with either 1, 2, or 4GB LPDDR4 RAM. But there were expectations that a Raspberry Pi 4 with 8GB RAM or an 8GB eMMC flash may be eventually launched, as some of the user guides read "Product name: Raspberry Pi 4 Model B 1 GB, 2 GB, 4 GB + 8 GB variants". We now know the answer as the Raspberry Pi Foundation has just introduced Raspberry Pi 4 with 8GB RAM.

Reduce Reloading Download Size on Ubuntu

Reload is the process refreshing the information of download sources in an Ubuntu system. If you observe, you will find that actually Ubuntu downloads several dozen megabytes of data when reloading and in fact you can reduce up to half size. This article supplies you information to tinker with that with sources.list configuration and APT command. You will see best of this in an experiment-dedicated system if you have. Lastly, I practiced this on Ubuntu 20.04 Focal Fossa and you can practice this also on other versions. Enjoy tinkering!