ESP32-S2 WiFi SoC Sells for $1, ESP32-S2-WROOM & ESP32-S2-WROVER Modules for $2 and Up
Submitted by Roy Schestowitz on Thursday 26th of March 2020 04:44:40 AM
Filed under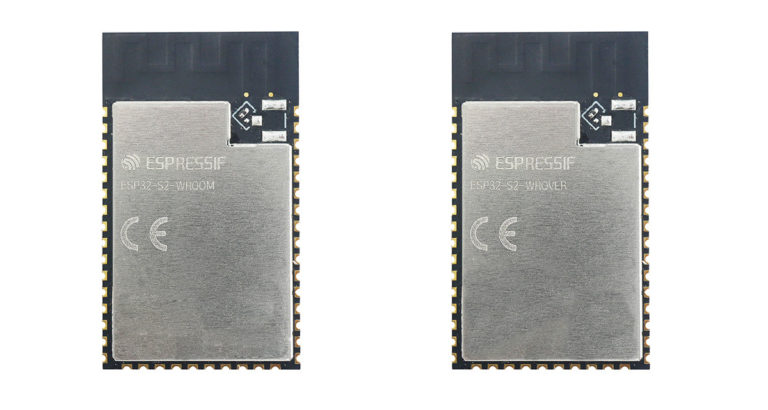 Espressif Systems ESP32-S2 was announced in May 2019, before the release of the datasheet and first internal development boards a few months later. Mass production was delayed due to COVID-19, but earlier this month we reported ESP32-S2 mass production had started and the company has a new ESP32-S2-Kaluga-1 multimedia development board in the works.
So it was just a question of time before the processor, modules, and boards become available. Unexpected Maker recently got a development kit with ESP32-S2 final silicon, so I thought maybe I could find ESP32-S2 hardware on Aliexpress.
Also: An open-source ventilator design has been submitted for fast-track approval
»
Printer-friendly version

2191 reads

PDF version
More in Tux Machines
Audiocasts/Shows: Pagure, Python and Linux Headlines

Pagure, the free software GitLab alternative no one is talking about. Neal Gompa joins us to discuss what makes it unique, which projects are using it, and the significant adoption in progress.

Bioinformatics is a complex and computationally demanding domain. The intuitive syntax of Python and extensive set of libraries make it a great language for bioinformatics projects, but it is hampered by the need for computational efficiency. Ariya Shajii created the Seq language to bridge the divide between the performance of languages like C and C++ and the ecosystem of Python with built-in support for commonly used genomics algorithms. In this episode he describes his motivation for creating a new language, how it is implemented, and how it is being used in the life sciences. If you are interested in experimenting with sequencing data then give this a listen and then give Seq a try!

Red Hat names Paul Cormier as President and CEO, Unleashed OS has come to an end, the latest release of the Kaidan XMPP chat client adds audio and video messaging, and the open source eBook reader Foliate has a redesigned user interface for a distraction-free reading experience.

OSS Leftovers

The program doesn't use a lot of resources when you use it normally. I did notice a memory spike viewing a slideshow of high resolution photos, it jumped from 75MB to 150MB, but that may have been due to the fact that the picture was very large in size. Otherwise, it stayed in the 70s for the most part.

Google's open-source framework TensorFlow is an ecosystem of tools, libraries and resources that's used by many popular companies like Airbnb, eBay, DropBox and more. TensorFlow aims to simplify and abstract away the complexity of machine learning algorithms to streamline development. Using visual models and flowgraphs, developers and data scientists can quickly create neural networks and other machine learning models to leverage data. Airbnb, for example, is using TensorFlow to categorize apartment listing photos to ensure they accurately represent a particular space.

We are looking for the best in open source, hardware and data in the UK. Who had achieved something great? Who has not been recognised? Which company or project are doing fabulous work that needs exposure?

Openwashing and SUSE

Debian: ledger2beancount, Reproducible Builds and Debian Project Leader Race

I released version 2.1 of ledger2beancount, a ledger to beancount converter.

Welcome to the March 2020 report from the Reproducible Builds project. In our reports we outline the most important things that we have been up to over the past month and some plans for the future.

On the 12th of March, I posted my self-nomination for the Debian Project Leader election. This is the second time I'm running for DPL, and you can read my platform here. The campaign period covered the second half of the month, where I answered a bunch of questions on the debian-vote list. The voting period is currently open and ends on 18 April. [...] At DebConf19 I wanted to ramp up the efforts to make a Debian PeerTube instance a reality. I spoke to many people about this and discovered that some Debianites are already making all kinds of Debian videos in many different languages. Some were even distributing them locally on DVD and have never uploaded them. I thought that the Debian PeerTube instance could not only be a good platform for DebConf videos, but it could be a good home for many free software content creators, especially if they create Debian specific content. I spoke to Rhonda about it, who's generally interested in the Fediverse and wanted to host a instances of Pleroma (microblogging service) and PixelFed (free image hosting service that resembles the Instagram site), but needed a place to host them. We decided to combine efforts, and since a very large amount of fediverse services end with .social in their domain names, we ended up calling this project Debian Social. We're also hosting some non-fediverse services like a WordPress multisite and a Jitsi instance for video chatting.