Plasma Bigscreen
Submitted by Roy Schestowitz on Wednesday 25th of March 2020 04:17:32 PM
Filed under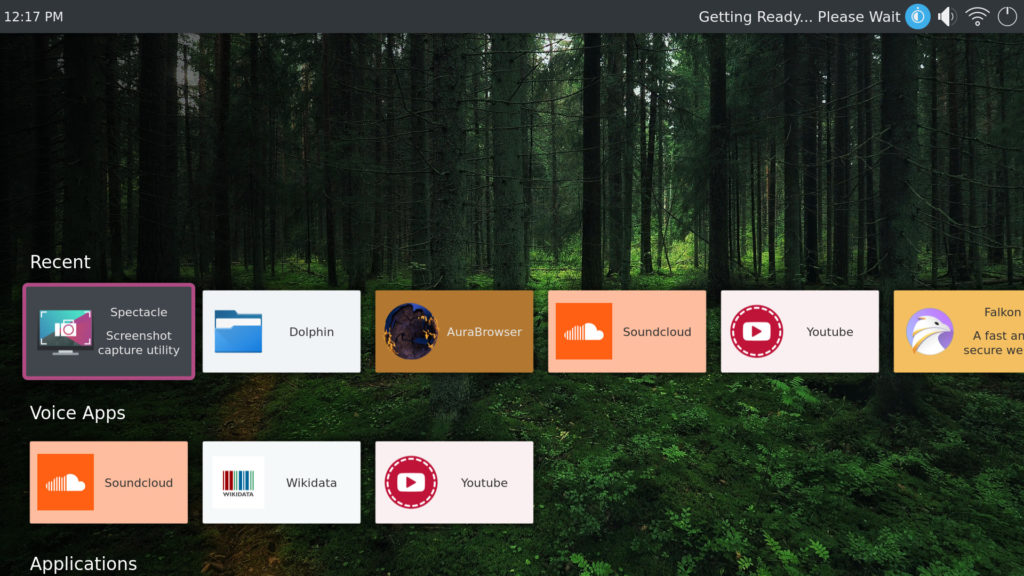 In this blog post I would like take you through an introduction to Mycroft GUI Skills and Voice Applications technology on Plasma Bigscreen and showcase some of the interesting stuff I have been working on for the Plasma Bigscreen Project which are available on the beta image release for the Raspberry PI 4. This beta image show cases not only media-rich voice applications but also applications specialised to fit the Bigscreen experience all developed under an open process, more information on them in the sections below.

Plasma Bigscreen is the free open-source user interface experience for those big TV Screens, It consist of KDE Plasma technology powering the User Interface with Mycroft AI's voice assistance technology packaged together on the image to provide a Smart TV platform and is based on KDE Neon.

The experience when sitting 10 feet away from your TV just isn't complete without having the ease of access to control it and that's exactly the space in which Mycroft AI the open-source voice assistant experience fits right in to provide you with that hands free easy interaction.

Today I want to introduce a project I have been working on together (mostly in the background) with some colleagues of mine… Now with beta status reached, it's time to more publicly talk about it: enter Plasma Bigscreen.

Smart TVs are becoming more and more complete computers, but unfortunately there the experience tends to be a tight walled garden between proprietary platform, services and privacy-infringing features. Features which are very cool, like voice control, but in order to not pose a threat to the user privacy should be on a free software stack and depending less on proprietary cloud platforms where possible.

Plasma BigScreen is a platform intended to use on smart TVs (trough a powerful enough small computing platform, such as the Raspberry Pi4, or any tiny computer if you need more power) with big remote-friendly UI controls, and Voice activation. What technology did we use for it? Plasma (of course!) and Mycroft.
»
Printer-friendly version

4751 reads

PDF version
More in Tux Machines
today's leftovers

We're still planning to hold Plumbers, but adopting a wait and see attitude to the in-person component. As people have noticed, the global prospect for being able to travel to Halifax in August seems to be getting worse, so we're posting this to give more transparency to what the Plumbers Conference decision points and options are. Our first consideration is a go/no-go decision point for the in-person conference. Currently, the date we were planning to put the first batch of tickets on-sale (15 May) represents the ideal date for this because it gives time (another 6 weeks) for more clarity to emerge on the situation, while avoiding people doing early purchases only to be disappointed if the event has to be cancelled at a later date.

One month ago to the day I was writing about OpenGL threading improvements for Mesa 20.1 and since then more "GLTHREAD" work has materialized and successfully landed for improving the Mesa OpenGL driver performance. Longtime AMD open-source developer Marek Olšák has been leading this recent work on GLTHREAD. Over the past month he has landed various GLTHREAD optimizations and whitelisting more games to flip on "mesa_glthread" by default.

Audiocasts/Shows: Pagure, Python and Linux Headlines

Pagure, the free software GitLab alternative no one is talking about. Neal Gompa joins us to discuss what makes it unique, which projects are using it, and the significant adoption in progress.

Bioinformatics is a complex and computationally demanding domain. The intuitive syntax of Python and extensive set of libraries make it a great language for bioinformatics projects, but it is hampered by the need for computational efficiency. Ariya Shajii created the Seq language to bridge the divide between the performance of languages like C and C++ and the ecosystem of Python with built-in support for commonly used genomics algorithms. In this episode he describes his motivation for creating a new language, how it is implemented, and how it is being used in the life sciences. If you are interested in experimenting with sequencing data then give this a listen and then give Seq a try!

Red Hat names Paul Cormier as President and CEO, Unleashed OS has come to an end, the latest release of the Kaidan XMPP chat client adds audio and video messaging, and the open source eBook reader Foliate has a redesigned user interface for a distraction-free reading experience.

OSS Leftovers

The program doesn't use a lot of resources when you use it normally. I did notice a memory spike viewing a slideshow of high resolution photos, it jumped from 75MB to 150MB, but that may have been due to the fact that the picture was very large in size. Otherwise, it stayed in the 70s for the most part.

Google's open-source framework TensorFlow is an ecosystem of tools, libraries and resources that's used by many popular companies like Airbnb, eBay, DropBox and more. TensorFlow aims to simplify and abstract away the complexity of machine learning algorithms to streamline development. Using visual models and flowgraphs, developers and data scientists can quickly create neural networks and other machine learning models to leverage data. Airbnb, for example, is using TensorFlow to categorize apartment listing photos to ensure they accurately represent a particular space.

We are looking for the best in open source, hardware and data in the UK. Who had achieved something great? Who has not been recognised? Which company or project are doing fabulous work that needs exposure?

Openwashing and SUSE