Plasma Bigscreen
Submitted by Roy Schestowitz on Wednesday 25th of March 2020 04:17:32 PM
Filed under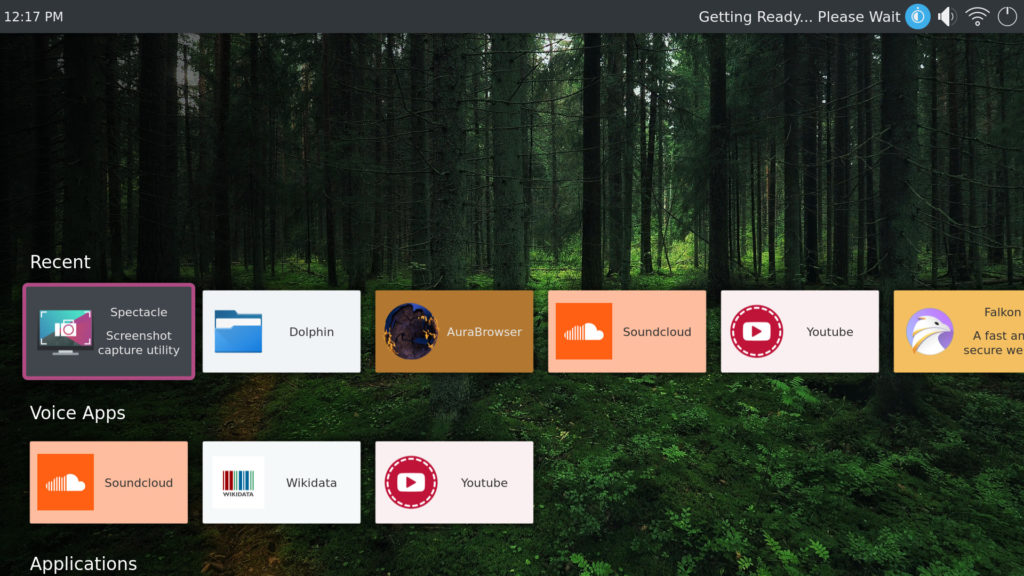 In this blog post I would like take you through an introduction to Mycroft GUI Skills and Voice Applications technology on Plasma Bigscreen and showcase some of the interesting stuff I have been working on for the Plasma Bigscreen Project which are available on the beta image release for the Raspberry PI 4. This beta image show cases not only media-rich voice applications but also applications specialised to fit the Bigscreen experience all developed under an open process, more information on them in the sections below.

Plasma Bigscreen is the free open-source user interface experience for those big TV Screens, It consist of KDE Plasma technology powering the User Interface with Mycroft AI's voice assistance technology packaged together on the image to provide a Smart TV platform and is based on KDE Neon.

The experience when sitting 10 feet away from your TV just isn't complete without having the ease of access to control it and that's exactly the space in which Mycroft AI the open-source voice assistant experience fits right in to provide you with that hands free easy interaction.

Today I want to introduce a project I have been working on together (mostly in the background) with some colleagues of mine… Now with beta status reached, it's time to more publicly talk about it: enter Plasma Bigscreen.

Smart TVs are becoming more and more complete computers, but unfortunately there the experience tends to be a tight walled garden between proprietary platform, services and privacy-infringing features. Features which are very cool, like voice control, but in order to not pose a threat to the user privacy should be on a free software stack and depending less on proprietary cloud platforms where possible.

Plasma BigScreen is a platform intended to use on smart TVs (trough a powerful enough small computing platform, such as the Raspberry Pi4, or any tiny computer if you need more power) with big remote-friendly UI controls, and Voice activation. What technology did we use for it? Plasma (of course!) and Mycroft.
»
Printer-friendly version

5833 reads

PDF version
More in Tux Machines
IPFire 2.25 - Core Update 150 is available for testing

The upcoming Core Update is available for testing: It brings an updated kernel, various package updates and bug fixes. The IPFire kernel is now based on Linux 4.14.198 which brings various security and stability fixes in the network stack as well as improvements throughout the whole rest of the kernel. In connection with this, the new Location database has received some bug fixes. Formerly, some networks could not be found in the extracted part of the database which was loaded into the kernel. This has been fixed and there will be no more false-positives for selected countries.

The 20 Best Build Automation Tools for Modern Software Development

Build automation tools are programs that speed up the whole software development process for enterprises. These are tools that take care of things like compiling the source code, packaging binary data, and maintaining automated testing. In a nutshell, they allow developers to get to the final executable as soon as possible while also taking care of many trivial tasks. Since the development process varies based on the choices of programming languages, target platforms, and deployment methods, so do these build automation tools.

8 Best Free and Open Source Linux Renderers

One of the many strengths of Linux is its good range of open source software for artists, photographers, animators, and designers. With inexpensive hardware, free software, and a modicum of talent and inspiration, anyone can create professional-looking computer graphics. If you are new to computer graphics, it may not be clear what is meant by the term rendering. To clarify, rendering is the process of generating an image from a model (or a collection of models, known as a scene file) using computer software. This entails the computer software to perform calculations to translate the scene from a mathematical approximation to a 2D image. To generate the image, the scene file contains objects in a defined language or data structure, containing geometry, lighting, shading, texture, and viewpoint. This data is processed by the rendering software to generate a raster image file or a digital image.

Linux Weekly Roundup: Debian 10.6, Edge for Linux and More - Sep 27, 2020

Here's the Linux Weekly roundup series, curated for you from the Linux and opensource world on application updates, new releases, distribution updates, major news, and upcoming highlights.