50 Simple and Useful dmidecode Commands for Linux
Submitted by Rianne Schestowitz on Wednesday 26th of February 2020 06:22:19 PM
Filed under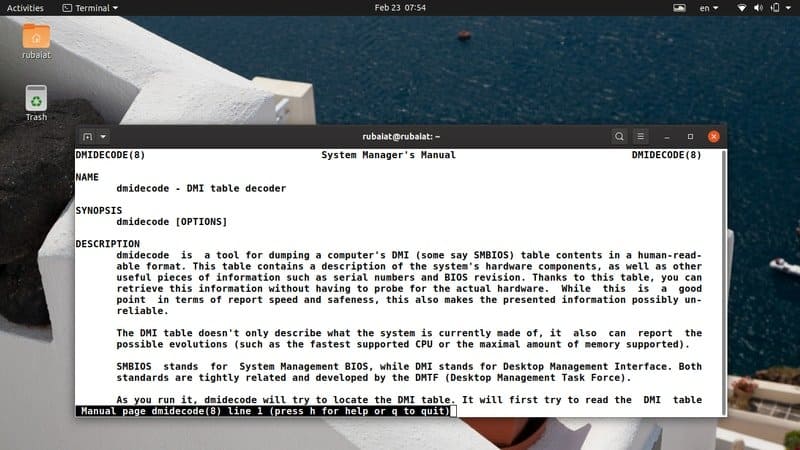 The dmidecode command in Linux allows users to retrieve sensitive hardware-related information directly from the command line. This way, users can obtain useful information like serial numbers and processor cache values without taking apart their CPUs. In Linux, the dmidecode is known as the DMI table decoder, and it simply decodes hardware information from the SMBIOS (System Management BIOS) of your system. When used carefully, dmidecode can provide an extensive amount of interesting information. That's why we have curated this guide outlining some of the most amazing things you could do with dmidecode. Continue reading to master these commands thoroughly.
»
Printer-friendly version

1293 reads

PDF version
More in Tux Machines
EPaper Tablet Gets Desktop Linux Install

ePaper is an interesting thing, providing a non-backlit viewing experience that is much more akin to reading a book than staring at a screen. The reMarkable tablet is a device designed around just such a display, and [davisr] has been hacking away at the platform. His latest work brings full-fat Linux to the fore. The work builds upon [davisr]'s earlier work, installing a microSD slot in the tablet to make development easier. Getting Linux running required a custom kernel, but once sorted, working with the reMarkable is easy. apt is available for easy software installs, and the tablet is demonstrated using several different pieces of software, like mtPaint and Xournal.

Why snap and flatpak are so important to Linux

The internet is a fickle beast. Just when you think a company or community of developers have come out with a bit of technology that could help an operating system or piece of software rise above, that wacky internet sneaks up to say, "Nay, nay!" I remind myself over and over to not read the comment sections. But I do, and I see the flame wars that once threatened to slice and dice the heart of Linux rise back up. Once upon a time it was vi vs. emacs and GNOME vs. KDE.

Stable Kernels: 5.6.15, 5.4.43, 4.19.125, 4.14.182, 4.9.225, and 4.4.225

I'm announcing the release of the 5.6.15 kernel. All users of the 5.6 kernel series must upgrade. The updated 5.6.y git tree can be found at: git://git.kernel.org/pub/scm/linux/kernel/git/stable/linux-stable.git linux-5.6.y and can be browsed at the normal kernel.org git web browser: https://git.kernel.org/?p=linux/kernel/git/stable/linux-s...

Linux-powered wireless gateway supplies four surge-protected serial ports

Artila's compact "IoT Gateway Matrix-704" runs Linux on a Microchip SAMA5D35 and provides GbE and Fast Ethernet, mini-PCIe and micro-SIM slots, a USB port, and 4x isolated, surge protected RS-485 ports. Artila has introduced several of its Matrix IoT gateways with isolated serial ports, including the Matrix-710 and Matrix-713. Its new Matrix-704 can have its 4x RS-485 ports configured with optional isolation and it also comes standard with surge protection. The Matrix-704 has the same 536MHz, Cortex-A5 Microchip ATSAMA5D35 SoC as the more feature rich Matrix-710 and Matrix-713, as well as the recent Matrix-702, which lacks serial ports.