Making The AMD Ryzen Threadripper 3990X Run Even Faster - By Loading Up Intel's Clear Linux
Submitted by Rianne Schestowitz on Tuesday 11th of February 2020 10:26:23 PM
Filed under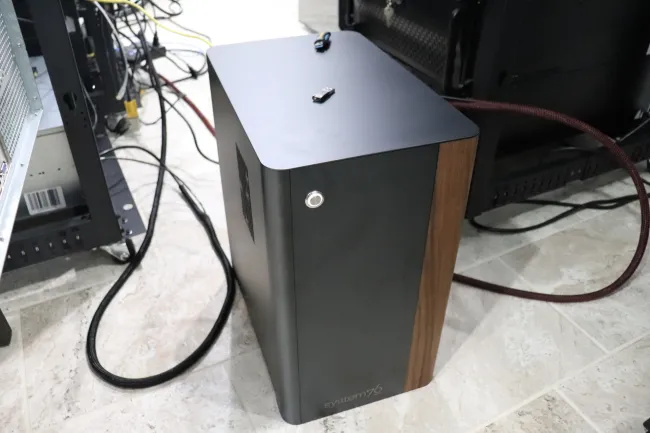 One of the interesting takeaways from my pre-launch briefing with AMD on the Ryzen Threadripper 3990X was AMD representatives actually recommending Clear Linux for use on this 64-core / 128-thread HEDT processor and the platform to which they've found the best performance. Yet, Clear Linux is an Intel open-source project. In any case, here are benchmarks of how Clear Linux performs against other Linux distributions on the Ryzen Threadripper 3990X within the System76 Thelio Major. And, holy crap, with the Threadripper 3990X on Clear Linux I managed to build the x86_64 default Linux kernel in under 20 seconds!
The Clear Linux recommendation for the Threadripper 3990X was hardly a surprise to me given my experience with the platform, just a bit surprising AMD representatives acknowledging the Intel open-source software creation during a briefing. We've been benchmarking Clear Linux for years and were the ones to initially shine the public spotlight on its impressive performance capabilities -- that includes for AMD platforms too with numerous tests on different platforms we've performed the past few years. Just recently were our benchmarks looking at how Clear Linux offered the best performance on a $199 AMD laptop while this testing is at the opposite end of the spectrum with the 64-core $3990 USD processor.
»
Printer-friendly version

2631 reads

PDF version
More in Tux Machines
Android Leftovers

7 Best Free and Open Source Ruby-Based Web Content Management Systems

A web content management system (WCMS) is software designed to simplify the publication of Web content. In particular, it enables content creators to submit content without requiring technical knowledge of HTML or the uploading of files. A CMS is most commonly used in creating an intranet or in establishing a presence on the Web. This type of software that keeps track of every piece of content on a Web site. Content can be simple text, photos, music, video, documents, or just about anything you can think of. A major advantage of using a CMS is that it requires almost no technical skill or knowledge to manage. Not only do content management systems help website users with content editing, they also take care of a lot of "behind the scenes" work such as automatically generating navigation elements, making content searchable and indexable, keeping track of users, their permissions and security setting, and much more. To provide an insight into the quality of software that is available, we have compiled a list of 7 high quality free Ruby-based Linux WCMS. Hopefully, there will be something of interest for anyone who wishes to manage a website.

today's howtos

WireGuard is a modern VPN (Virtual Private Network) technology that utilizes state-of-the-art cryptography. Compared to other popular VPN solutions, such as IPsec and OpenVPN , WireGuard is faster, easier to configure, and has a smaller footprint. It is cross-platform and can run almost anywhere, including Linux, Windows, Android, and macOS. Wireguard is a peer-to-peer VPN; it does not use the client-server model. Depending on its configuration, a peer can act as a traditional server or client. It works by creating a network interface on each peer device tha

Compressed files with the .zip extension are commonplace throughout Windows systems, as it's been the native file compression method for the operating system since many years ago. On a Linux system, the nearest equivalent would have to be tar files and various methods of compression like gzip.

You would like to remove MySQL database from your Ubuntu system ? In this short tutorial, you will learn how to safely uninstall MySQL . Make sure however to create backups of your databases before starting the procedure.

Leaving Mozilla and Recalling One's Job in Mozilla

The web is getting darker. It is being weaponized by trolls, bullies and bad actors and, as we've witnessed, this can have extremely grave consequences for individuals, groups, sometimes entire countries. So far, most of the counter-measures proposed by either governments or private actors are even scarier. The creators of the Matrix protocol have recently published the most promising plan I have seen. One that I believe stands a chance of making real headway in this fight, while respecting openness, decentralization, open-source and privacy. I have been offered the opportunity to work on this plan. For this reason, after 9 years as an employee at Mozilla, I'll be moving to Element, where I'll try and contribute to making the web a better place. My last day at Mozilla will be October 30th.

I work full time on open source and this is how. Background I started learning how to program in my teens, well over thirty years ago and I've worked as a software engineer and developer since the early 1990s. My first employment as a developer was in 1993. I've since worked for and with lots of companies and I've worked on a huge amount of (proprietary) software products and devices over many years. Meaning: I certainly didn't start my life open source. I had to earn it. When I was 20 years old I did my (then mandatory) military service in Sweden. After having endured that, I applied to the university while at the same time I was offered a job at IBM. I hesitated, but took the job. I figured I could always go to university later – but life took other turns and I never did. I didn't do a single day of university. I haven't regretted it. [...]    I'd like to emphasize that I worked as a contract and consultant developer for many years (over 20!), primarily on proprietary software and custom solutions, before I managed to land myself a position where I could primarily write open source as part of my job. [...] My work setup with Mozilla made it possible for me to spend even more time on curl, apart from the (still going) two daily spare time hours. Nobody at Mozilla cared much about (my work with) curl and no one there even asked me about it. I worked on Firefox for a living. For anyone wanting to do open source as part of their work, getting a job at a company that already does a lot of open source is probably the best path forward. Even if that might not be easy either, and it might also mean that you would have to accept working on some open source projects that you might not yourself be completely sold on. In late 2018 I quit Mozilla, in part because I wanted to try to work with curl "for real" (and part other reasons that I'll leave out here). curl was then already over twenty years old and was used more than ever before.