Sailfish SDK 3.0 is now available
Submitted by Roy Schestowitz on Wednesday 8th of January 2020 04:21:01 PM
Filed under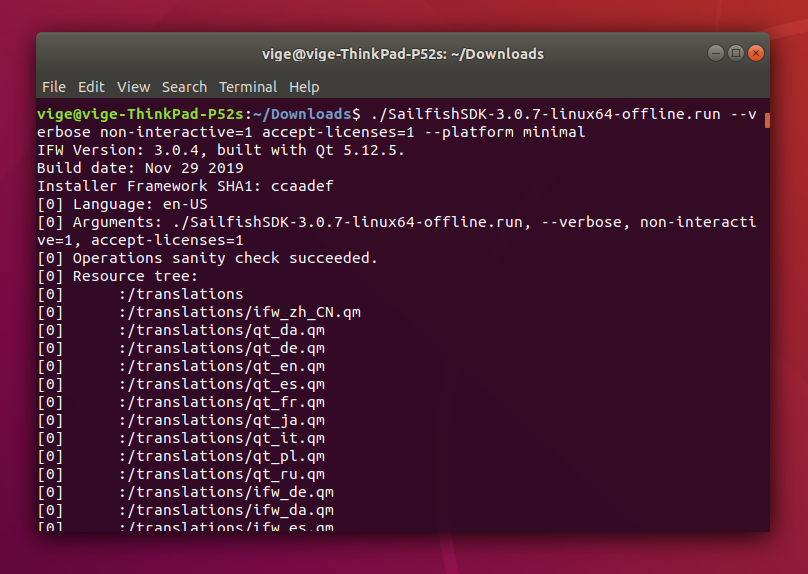 This new release contains several updates for the entire SDK system. Some of the changes are already visible through the interface within this update, but more will become available in future releases building on the enabling features we've included in this release. An example of these upcoming changes is the possibility to support different kinds of virtualization technologies for the build engine and the emulators.
Command line interface
Our command line tool (sfdk), which we already introduced in version 2.2, receives an upgrade in this release. As a result of these changes it is now possible to use the SDK within a continuous integration environment.
For users who are comfortable using Qt Creator you can continue using it as before. However, if you want to script parts of the development process, or if you're just happiest working from the command line, then sfdk provides important benefits. We'll look briefly at some of the things you can do below to give you a taste.
[...]
We hope you enjoy using the new SDK tools and we look forward to bringing you the other improvements we've been working on in the future.
»
Printer-friendly version

2004 reads

PDF version
More in Tux Machines
Fedora and Red Hat: Test Day This Thursday, Report on State of Enterprise Open Source 2020 and More

Thursday, 2020-02-20 is the Fedora 32 Gnome Test Day! As part of changes Gnome 3.36 in Fedora 32, we need your help to test if everything runs smoothly!

Last year we set out to determine how IT leaders think about open source, why they choose it and what they intend to do with it in the future. The result was The 2019 State of Enterprise Open Source: A Red Hat Report, and the findings were clear and confirmed what we see happening in the industry. Enterprise open source has become a default choice of IT departments around the world and organizations are using open source in categories that have historically been more associated with proprietary technology. Headed into the second year of the survey, we had a new directive in mind. We wanted to dive deeper into how IT leaders' intentions and usage have changed. We surveyed 950 IT leaders in four regions. Respondents had to have some familiarity with enterprise open source and have at least 1% Linux installed at their organization. Respondents were not necessarily Red Hat customers and were unaware that Red Hat was the sponsor of this survey. This allowed us to get a more honest and broad view of the true state of enterprise open source.

Telecommunications service providers have valuable assets that can be exposed, secured, and monetized via API-centric agile integration. They can derive additional value from new assets, developed internally or through partners and third parties and integrated in a similar way with OSS and BSS systems. Service providers can open new revenue paths if they enhance the value they deliver to customers and to their partner- and developer-ecosystems. APIs can help them accomplish this goal. Services that providers can potentially offer with APIs include direct carrier billing, mobile health services, augmented reality, geofencing, IoT applications, and more. Mobile connectivity, for example, is key to powering IoT applications and devices, giving service providers an inside track to provide APIs to access network information for IoT services. In mobile health, APIs can serve as the link between the customer and healthcare partners through the user's smartphone. Embracing this API-centric approach, service providers can realize increased agility by treating OSS/BSS building blocks as components that can be reused again and again. They may also innovate faster by giving partners controlled access to data and services, expand their ecosystem by improving partner and third-party collaboration, and generate more revenue through new direct and indirect channels.

today's howtos

Screencasts/Audiocasts/Shows: MX Linux 19.1 Run Through, Late Night Linux, Linux Headlines and More

Second Shortwave Beta

Today I can finally announce the second Shortwave Beta release! I planned to release it earlier, but unfortunately the last few weeks were a bit busy for me.