Microsoft admits Android is the best operating system for mobile devices
Submitted by Rianne Schestowitz on Thursday 17th of October 2019 09:38:02 AM
Filed under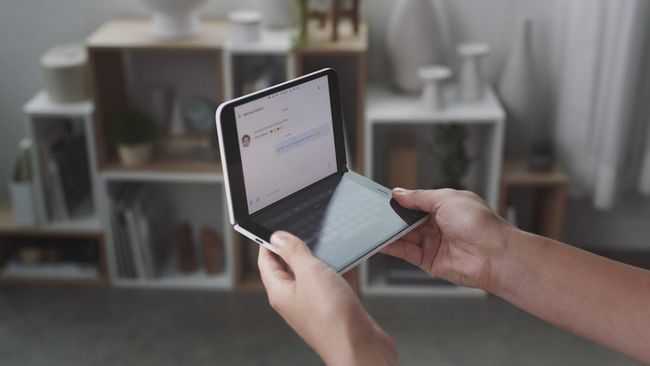 At an event at Microsoft's flagship store in London, Panos Panay, the chief product officer for the Microsoft Devices group, admitted that the company is using Android in its upcoming Surface Duo phone because, quite simply, the "best OS for this product is Android".
It's a noteworthy admission, as Google's Android mobile operating system is one of Microsoft's biggest rivals. In the past, the company has tried – and failed – to take on Android with its own operating system for mobile devices: Windows Mobile.
We've picked all the best 2-in-1 laptops of 2019
Black Friday laptop deals 2019: how to find the best laptop deals
How to buy a laptop on Black Friday and Cyber Monday
While Windows 10 Mobile is no more, it must have been tempting for Microsoft to revive the OS for its upcoming dual-screen handset, so it's commendable that it has gone for the much more popular Android operating system – while being so frank about its reasons.
On one hand, it seems like Microsoft has acknowledged just how hard it is to compete with Android – which is currently the most-used operating system on the planet – a title Microsoft's own Windows OS used to have. The failure of Windows 10 Mobile, and the Windows phones that ran the software, was likely a humbling experience that the company is in no rush to repeat.
»
Printer-friendly version

1660 reads

PDF version
More in Tux Machines
Fedora and Red Hat: Fedora's Modularity Initiative, Git, Servers, Buildah and Ansible

Fedora's Modularity initiative has been no stranger to controversy since its inception in 2016. Among other things, there were enough problems with the original design that Modularity went back to the drawing board in early 2018. Modularity has since been integrated with both the Fedora and Red Hat Enterprise Linux (RHEL) distributions, but the controversy continues, with some developers asking whether it's time for yet another redesign — or to abandon the idea altogether. Over the last month or so, several lengthy, detailed, and heated threads have explored this issue; read on for your editor's attempt to integrate what was said. The core idea behind Modularity is to split the distribution into multiple "streams", each of which allows a user to follow a specific project (or set of projects) at a pace that suits them. A Fedora user might appreciate getting toolchain updates as soon as they are released upstream while sticking with a long-term stable release of LibreOffice, for example. By installing the appropriate streams, this sort of behavior should be achievable, allowing a fair degree of customization. Much of the impetus — and development resources — behind Modularity come from the RHEL side of Red Hat, which has integrated Modularity into the RHEL 8 release as "Application Streams". This feature makes some sense in that setting; RHEL is famously slow-moving, to the point that RHEL 7 did not even support useful features like Python 3. Application Streams allow Red Hat (or others) to make additional options available with support periods that differ from that of the underlying distribution, making RHEL a bit less musty and old, but only for the applications a specific user cares about. The use case for Modularity in Fedora is arguably less clear. A given Fedora release has a support lifetime of 13 months, so there are limits to the level of stability that it can provide.

A while ago Fedora had pkgdb to configure ACLs for each package repo and package related admin actions. When we moved to 'pagure over dist-git', pagure already provided some of these capabilities. pkgdb would have needed a lot of effort to make it work with the modern package branching (modularity) [1] with different lifecycles for each package that are unrelated to Fedora releases and thus we've decided to retire it and replace it with a different solution. One of the missing parts after retireing pkgdb was the ability to set different default bugzilla assignees for EPEL and Fedora. This was solved by creating a new repository called fedora-scm-requests [2]. A script would then parse the contents of the repository, merge that information with the main package admins and repo watchers from dist-git and sync this information to bugzilla so that new bugs get assigned to the correct maintainers and all the interested parties get put on CC:. Each change required a pull request to this repo and someone from the infrastructure team to review and merge the patch. It is obvious that this doesn't scale with the huge number of packages that Fedora and EPEL have.

If you listen to some people, everyone and their corner office wants to move to the public cloud. Red Hat's global customers have a different take. Thirty-one percent of Red Hat's customers say "hybrid" describes their strategy best, 21% are leaning toward a private cloud approach, while only 4% see the public cloud as their first choice. There's only one little problem: Finding the staff with the right skills to make the jump from old-school IT to the cloud. Businesses prefer the hybrid cloud strategy for many different reasons -- but, overall, data security, cost benefits, and data integration led the pack. For years, the hybrid cloud wasn't that popular. With the rise of the Kubernetes-based hybrid cloud model and with Red Hat being one of the new-model hybrid cloud's leading proponents, customers are embracing the hybrid cloud.

VirtualBox 6.1 Officially Released with Linux Kernel 5.4 Support, Improvements

Oracle released today the final version of the VirtualBox 6.1 open-source and cross-platform virtualization software for GNU/Linux, macOS, and Windows operating systems. VirtualBox 6.1 is the first major release in the VirtualBox 6 series of the popular virtualization platform and promises some exciting new features, such as support for the latest and greatest Linux 5.4 kernel series, the ability to import virtual machines from the Oracle Cloud Infrastructure, as well as enhanced support for nested virtualization. "Support for nested virtualization enables you to install a hypervisor, such as Oracle VM VirtualBox or KVM, on an Oracle VM VirtualBox guest. You can then create and run virtual machines in the guest VM. Support for nested virtualization allows Oracle VM VirtualBox to create a more flexible and sophisticated development and testing environment," said Oracle.

Programming Leftovers

Kernel: LWN Articles and Radeon Linux 5.6 Changes