Dodging derailment by SUSE, OpenStack Train is scheduled to arrive this week
Submitted by Roy Schestowitz on Wednesday 16th of October 2019 01:37:30 AM
Filed under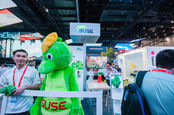 With its OpenInfrastructure summit mere weeks away, the OpenStack gang is emitting its next release in the form of "Train" with a focus on data protection and machine learning.
The release comes after foundation platinum member SUSE threw in the towel over OpenStack Cloud in order to move on to a bright, Kubernetes-based future.
Not that the "S" word was mentioned, even in a waveringly high-pitched tone, as OpenStack readied Train ahead of a release expected on 16 October.
As is the norm, OpenStack was keen to shout about the more than 25,500 accepted code changes this time around, from 1,125 developers over 150 organisations. A glance at the content of the release shows that OpenStack is as bewilderingly vast as ever, although a number of tweaks merit closer attention.
»
Printer-friendly version

1233 reads

PDF version
More in Tux Machines
Cleverly Reimagined Slax Distro Pushes Portable Linux's Limits

Slax runs on a wide range of different file systems, including EXT (ext2,ext3,ext4), btrfs, and even FAT and NTFS. It took me about one hour to download the must-have computing applications and accessory tools that fit my needs. The installation of each program takes longer than a distro installed to a hard drive. USB drives are much slower than an internal hard drive. Once I had all of my needed software up and running, I generally was pleased with how Slax Linux performed. Slax is not a perfect Linux platform, at least not yet -- but for me its convenience and flexibility outweigh its current shortcomings.

IBM: SystemD, Red Hat Stuff and Fedora

Mesa 19.2.6

Hi list,

I'm releasing a new mesa 19.2.x release to address being unable to compile on
PPC due to a bad backport. There are a couple of additional patches in here
because I didn't want to tease them apart and they're all stable anyway.

Dylan

Shortlog
========

Alejandro Piñeiro (1):
      v3d: adds an extra MOV for any sig.ld*

Dave Airlie (1):
      llvmpipe/ppc: fix if/ifdef confusion in backport.

Dylan Baker (4):
      docs/relnotes/19.2.5: Add SHA256 sum
      meson: generate .pc files for gles and gles2 with old glvnd
      docs: Add release notes for 19.2.6
      VERSION: bumpre to 19.2.6

Eric Engestrom (1):
      vulkan: delete typo'd header

Hyunjun Ko (1):
      freedreno/ir3: fix printing output registers of FS.

Jose Maria Casanova Crespo (1):
      v3d: Fix predication with atomic image operations

Yevhenii Kolesnikov (1):
      glsl: Enable textureSize for samplerExternalOES



git tag: mesa-19.2.6


Also: Mesa 19.2.6 Released Due To POWER Fallout

GNU Guile 2.9.5 (beta) released

We are delighted to announce GNU Guile 2.9.5, the fifth beta release in preparation for the upcoming 3.0 stable series. See the release announcement for full details and a download link. Besides the usual set of optimizations, this release adds an --r6rs option for better R6RS support out of the box, and also adds a new --r7rs corresponding to R&RS. Guile's core exception handling has also been rebased onto the raise-exception and with-exception-handler primitives, enabling better compatibility going forward with structured exception objects, which are more common in the broader Scheme community than Guile's old throw and catch. GNU Guile 2.9.5 is a beta release, and as such offers no API or ABI stability guarantees. Users needing a stable Guile are advised to stay on the stable 2.2 series.