Using the Elgato Stream Deck on Linux just got a whole lot easier with streamdeck_ui
Submitted by Roy Schestowitz on Wednesday 9th of October 2019 02:12:15 PM
Filed under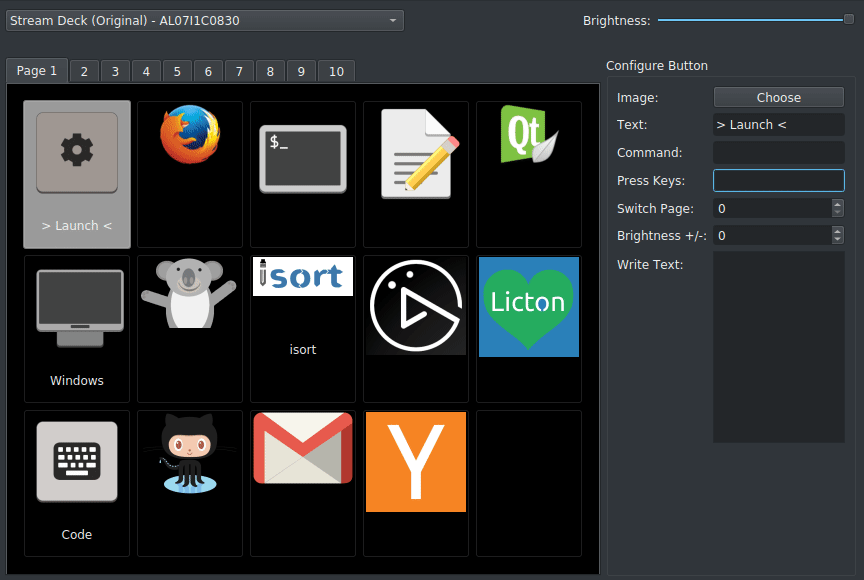 If you're a livestreamer, video creator or anything like that then the Elgato Stream Deck seems like an incredible useful bit of kit. However, it doesn't have official Linux support. Not so much a problem now.
The Stream Deck is a handy little pad with a bunch of LCD buttons, that allows you to configure each button to some sort of action and image. You could use it to one-touch launch an animation, show your contact details on screen, switch to a difference scene in OBS Studio and so on. There's a huge amount you can do with it and not having Linux support was a shame.
Announcing the release of streamdeck_ui on their blog, developer Timothy Crosley hooked into the also open source Python Elgato Stream Deck Library project to create a fully featured interface for working with the Stream Deck hardware on Linux.
»
Printer-friendly version

2366 reads

PDF version
More in Tux Machines
Puppy Linux 9.5 "FossaPup" Is Here to Revive Your Old PC, Based on Ubuntu 20.04 LTS

One of the coolest things about Puppy Linux is that it's a modular distribution, which means that it lets users swap out the kernel, apps and firmware in seconds. One top of that, it can be turned very easily into a minimal bare bones version just by removing a single file, followed by a reboot, of course. As its codename suggests, Puppy Linux 9.5 is based on Canonical's latest Ubuntu 20.04 LTS (Focal Fossa) operating system series. This means that users will have access to the official Ubuntu 20.04 LTS software repositories to install any packages they want.

Announcing Istio 1.6.10

This release contains bug fixes to improve robustness. This release note describes what's different between Istio 1.6.9 and Istio 1.6.10.

New GNOME Videos

Four days ago, the well-known Gnome environment came with a new release.

I keep hearing all this talk about a Gnome OS and so many people aren't bothering to read past the title and think this is somehow going to be some new major Linux distribution, it's not, it was never going to be and that was never the point of it.

Christian Hergert: GtkSourceView Next

Earlier this year I started a branch to track GTK 4 development which is targeted for release by end-of-year. I just merged it which means that our recently released gtksourceview-4-8 branch is going to be our LTS for GTK 3. As you might remember from the previous maintainer, GtkSourceView 4.x is the continuation of the GtkSourceView 3.x API with all the deprecated API removed and a number of API improvements. Currently, GtkSourceView.Next is 5.x targeting the GTK 4.x API. It's a bit of an unfortunate number clash, but it's been fine for WebKit so we'll see how it goes. It's really important that we start getting solid testing because GtkSourceView is used all over the place and is one of those "must have" dependencies when moving to a new GTK major ABI.